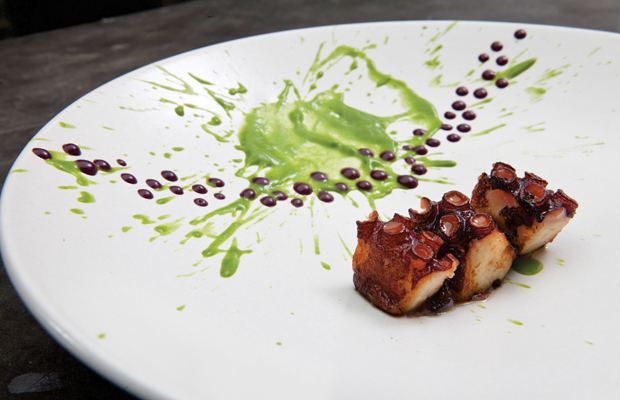 The annual list of Latin America's 50 best restaurants — compiled by the World's 50 Best organization and sponsored by San Pellegrino and Acqua Panna — was announced last night in Mexico City.
For the second consecutive year, Lima's Central claimed the top spot. Acclaimed chefs Gastón Acurio and Alex Atala saw their flagship restaurants, Astrid y Gastón and D.O.M., place at numbers three and four, respectively. Mexico City boasted three of the list's top ten selections, further highlighting the Mexican capital city's dining scene. Mexico and Argentina led the way, with each country receiving ten mentions on the final list, which is included below.
The list covers the Latin American regions composed of Argentina, Bahamas, Belize, Bolivia, Brazil, Chile, Colombia, Costa Rica, Cuba, Dominica, Dominica Republic, Ecuador, El Salvador, French Guyana, Guatemala, Guyana, Haiti, Honduras, Jamaica, Mexico, Nicaragua, Panama, Paraguay, Peru, Puerto Rico, Suriname, Trinidad and Tobago, Uruguay and Venezuela.
Central (Lima, Peru)
Boragó (Santiago, Chile)
Astrid y Gastón (Lima, Peru)
D.O.M. (São Paulo, Brazil)
Maido (Lima, Peru)
Quintonil (Mexico City, Mexico)
Tegui (Buenos Aires, Argentina)
Maní (São Paulo, Brazil)
Pujol (Mexico City, Mexico)
Biko (Mexico City, Mexico)
Parador La Huella (José Ignacio, Uruguay)
La Mar (Lima, Peru)
Pangea (Monterrey, Mexico)
Roberta Sudbrack (Rio de Janeiro, Brazil)
El Baqueano (Buenos Aires, Argentina)
Lasai (Rio de Janeiro, Brazil)
Gustu (La Paz, Bolivia)
Criterión (Bogotá, Colombia)
La Cabrera (Buenos Aires, Argentina)
Malabar (Lima, Peru)
Chila (Buenos Aires, Argentina)
Amaranta (Toluca, Mexico)
Olympe (Rio de Janeiro, Brazil)
Harry Sasson (Bogotá, Colombia)
Osaka (Santiago, Chile)
Epice (São Paulo, Brazil)
Sud 777 (Mexico City, Mexico)
Aramburu (Buenos Aires, Argentina)
Alto (Caracas, Venezuela)
El Cielo (Bogotá, Colombia)
Fiesta (Lima, Peru)
Ambrosía (Santiago, Chile)
Leo Cocina y Cava (Bogotá, Colombia)
Osso Carnicería y Salumeria (Lima, Peru)
Mocotó (São Paulo, Brazil)
La Picantería (Lima, Peru)
Elena (Buenos Aires, Argentina)
Remanso Do Bosque (Belém, Brazil)
Oviedo (Buenos Aires, Argentina)
La Bourgogne (Punta del Este, Uruguay)
Maximo Bistrot (Mexico City, Mexico)
Andrés Carne de Res (Chía, Columbia)
Restó (Buenos Aires, Argentina)
Rosetta (Mexico City, Mexico)
Don Julio (Buenos Aires, Argentina)
99 (Santiago, Chile)
Nicos (Mexico City, Mexico)
Tarquino (Buenos Aires, Argentina)
Dulce Patria (Mexico City, Mexico)
Rafael (Lima, Peru)