The holiday season is here, and you need a drink. Perhaps several. Maybe it's the stress of travel, visiting family members, gift shopping or a heavy end-of-the-year workload. Or you're just seeking warmth and a break from the winter cold. You seek a quality quaff, maybe at one of the top new bars that opened this year, which you've been meaning to check out. Here are 10 bars — and 10 drinks — to help you toast the season in style. Some places are among the best newcomers of 2015; others are just great spots worth a revisit.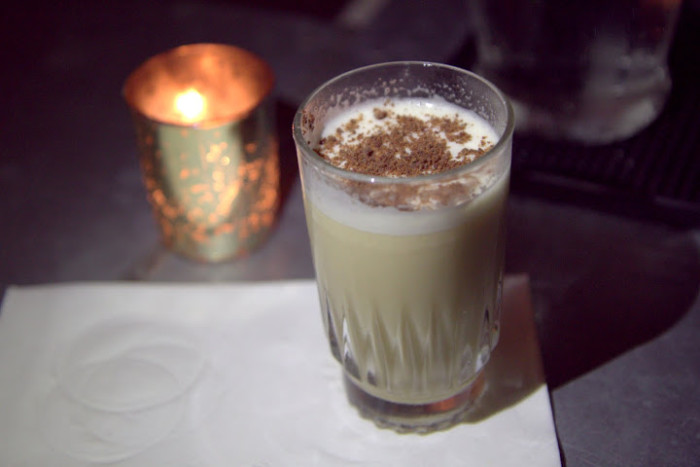 Mace
Mace, which opened in April in the far reaches of the East Village, wins on many fronts. It's easily one of NYC's best bars in its initial year thanks to no attitude, a romantic, chill setting and imaginative drinks heavy on culinary influence and harmonious balance. From Boilermaker's Greg Boehm, now-closed Louis 649's Zach Sharaga and barman Nico de Soto, cocktails showcase ingredients like mustard seed, Thai chili, pandan or dill. Expect drinkability and deliciousness in unique form. Until December 24, Mace's popular Christmas cocktail bar pop-up from last year, Miracle on 9th Street, returns with a special menu of cheekily-named holiday cocktails like Jingle Balls Nog and Redneck Flip. Drink This Now: Cocoa ($13), essentially a flip (i.e. whole egg) cocktail, wows with savory-sweet, earthy notes of banana and roasted cocoa nib–infused Avua Cachaça. Silky with pecan orgeat and olive oil, balanced by a dash of salt and fluffy-rich with a whole egg, it's not too sweet — but it is decadent. 649 E. 9th St., New York, NY 10009
The Up & Up
Open since February, the Up & Up is one of New York's best new bars and a welcome respite for excellent drinks in the Village. Vintage William Morris wallpaper and an engaging soundtrack of classic '80s pop hits invite conversation and lingering along a banquette or in an alcove. Cocktails ($14 each) are exciting and interesting without feeling fussy, thanks to owner Matt Piacentini and head bartender Chaim Dauermann, who ensure a friendly, laid-back vibe. Drink This Now: Go for Dauermann's cool, bracing Stone Crush, which combines Brennivin Icelandic Aquavit, Dolin Blanc Vermouth, Zucca Amaro and cucumber with a refreshing splash of Stiegl Goldbräu beer. It tastes like the crisp of winter blasted with warm rays of sun. 116 MacDougal St., New York, NY 10012; 212-260-3000

Bar Goto
Bar Goto is an oasis of Japan-level quality on the Lower East Side, thanks to Kenta Goto (formerly of Pegu Club). Goto, open since the end of July, recalls Japan with gracious, mannered service in an intimate space (though not as small as many of Tokyo's best cocktail bars) with impeccable cocktails ($15 each) and dishes like ridiculously good miso wings ($10) or five kinds of excellent okonomiyaki ($12). It's one of the best bar newcomers of the year. Drink to an engaging soundtrack, recently a rousing block of '80s hard rock. Drink This Now: The Yuzu-Calpico Fizz is delicate, balanced and soft, as Japanese fizzes are, and transports drinkers straight back to Japan in a Collins glass. With a gin base, it's tart with lemon, yuzu preserve and Calpico (a tangy milk soda) and garnished with a fluffy marshmallow. 245 Eldridge St., New York, NY 10002; 212-475-4411
Dante
One of NYC's great bartenders, Naren Young (formerly of the AvroKO group, Empellon, and also a frequent  Food Republic contributor) has done it again, but this time at a Greenwich Village institution, 100-year-old Dante. Breathing new life into a space that was closed in March but reopened in June by Linden Pride (formerly at AvroKO) of Figure of 8 Trading Inc., the proprietors lovingly preserved the checkered floor, tin ceiling and authentic charm of the space while upping the food and drink game with Young's elegant aperitivos and an entire page of Negroni variations. Drink This Now: It's hard to resist a well-made sherry cobbler, and the one at Dante ($13) is perfection, served the traditional cobbler way, over crushed ice. A blend of fino and amontillado sherries is simultaneously dry and lush, harmonizing with dry curaçao, marmalade and lemon; the drink is garnished with fresh berries and mint. 79 Macdougal St., New York, NY 10012; 212-982-5275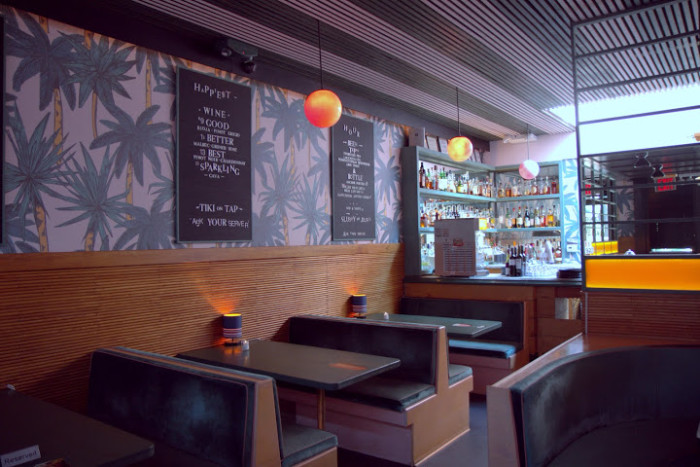 The Happiest Hour
Arriving on the scene at the end of 2014, the Happiest Hour (from Acme's Jon Neidich and bartender Jim Kearns, formerly of the NoMad Hotel and Pegu Club) is a retro jaunt to Los Angeles in the urban jungle of Manhattan. The bar is inspired by the L.A. retro classic Beverly Hills Hotel, right down to the pink and cream colors, which contrast nicely with green palm tree leaves. The already famed cheeseburger is as stellar as you've heard, a straightforward, meltingly good burger, while drinks are simple but gratifying. Be forewarned about the throngs (and noise), and go early on a weeknight for a more relaxed pace and welcoming staff. Drink This Now: Look for seasonal goodness in the signature cocktails ($13), like a rosy-bright Campari-strawberry-red-wine concoction, or try What the Doctor Ordered, a root beer–esque sipper of sarsaparilla, vanilla, wintergreen and soda with your choice of rye whiskey, aged rum or scotch as the base. 121 W. 10th St., New York, NY 10011; 212-243-2827
Pouring Ribbons
With a new Route 66–themed cocktail menu released this fall, Pouring Ribbons — established in 2012 — is better than it's ever been. The doorman scenario is more low-key than it was in early days, meaning there is always room for you in the spacious upstairs bar, and the helpful graph that rates each cocktail on a scale of "refreshing" to "spirituous" or "comforting" to "adventurous" aids in choosing a drink. And the place still offers a stellar vintage Chartreuse selection. Drink This Now: What Came Before ($15) leans to the adventurous side, doing wondrous things with Mellow Corn whiskey, balancing the whiskey's robust sweetness with orange cordial, chili-infused Pueblo Viejo reposado tequila, cinnamon and clarified corn milk, resulting in a silky texture. 225 Ave. B, New York, NY 10009; 917-656-6788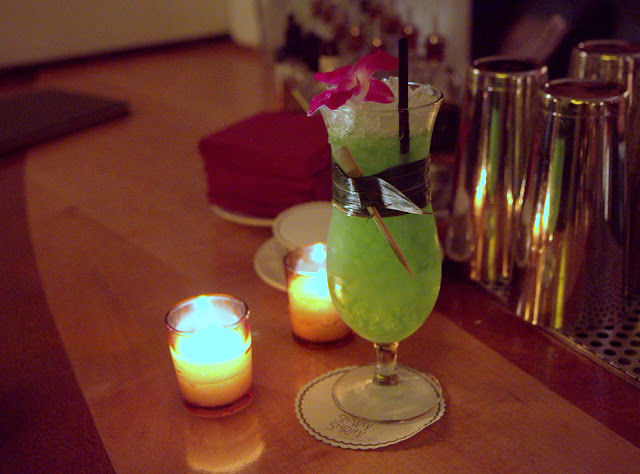 Slowly Shirley
Downstairs from the Happiest Hour, Slowly Shirley is a dim, 1940s-esque escape from the streets above. Where upstairs is festive and lively, Shirley is seductive and mellow, with exotica and lounge music playing in the background and photographs of popular and obscure classic film and TV stars lining the walls. Service can be cold, which is too bad given the intimate nature of the space (and pricey cocktails — generally around $16), but drinks are lovely and taste even better while listening to Esquivel. Drink This Now: The vivid green Cleopatra ($16) highlights Avua Cachaça, balanced by Żubrówka Bison Grass vodka and lime; it tastes like vacation on the beach with pandan (a tropical plant) extract and banana cordial. 121 W. 10th St., New York, NY 10011; 212-243-2827
Death & Co.
Open since 2006, Death & Co. is one of those NYC bars that has gotten better with age. Though it still gets packed, the hype has blessedly died down, keeping the crowds steady but not overwhelming. Bar manager Eryn Reece keeps quality high and the vibe inviting, while the deep cocktail menu offers something for lovers of everything from gin to rum, whiskey to brandy. Drink This Now: Wishful Thinking ($15) is a lovely showcase for Encanto Pisco, contrasted by Dolin Dry Vermouth, the subtle bitter backbone of Aperol, herbaceous Green Chartreuse and a rosy splash of Merlet Creme de Fraise (strawberry) liqueur. 433 E. 6th St., New York, NY 10009; 212-388-0882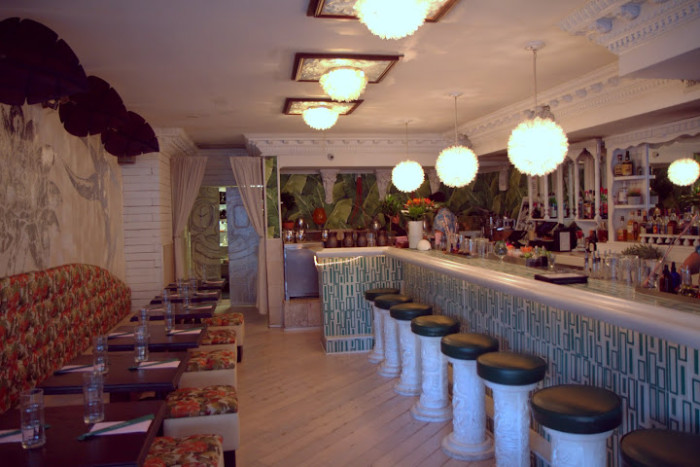 Mother of Pearl
Open in July, it's hard to beat Mother of Pearl's charming, tropical feel, with its green and white tiles, giant leaf fans and palm tree wallpaper in a crisp white space that is open-air during warmer seasons. Though bar service can be lackluster, the space's island appeal draws perpetual crowds while the menu offers tiki cocktails alongside crudo, Spam fried rice and corned beef spring rolls. Drink This Now: Despite the tiki influence, a mezcal drink is one of the best cocktails on the menu. Tide Is High ($15) combines pineapple and lime with mezcal and reposado tequila, but it's the addition of cashews that adds nutty, creamy intrigue. 95 Ave. A, New York, NY 10009; 212-614-6818
Saxon + Parole
Saxon + Parole has been one of New York's bar greats for years, with a program formerly run by the aforementioned Naren Young at Dante, expertly helmed by Masa Urushido, who came from top bars in Tokyo to NYC in 2008. Seasonal cocktails wow with fresh balance and drinkability, while the restaurant's enticing food makes a happy accompaniment to the drink menu. Drink This Now: Winter is exemplified in the Rum & Raisin cocktail ($14), a creamy, spiced combination of Mount Gay Black Barrel rum, Greek yogurt, vanilla, cinnamon and a splash of Perrier to cut the lushness with a bit of effervescence. 316 Bowery, New York, NY 10012; 212-254-0350