12 Tokyo Bars For Exceptional Cocktails And Shockingly Rare Whisky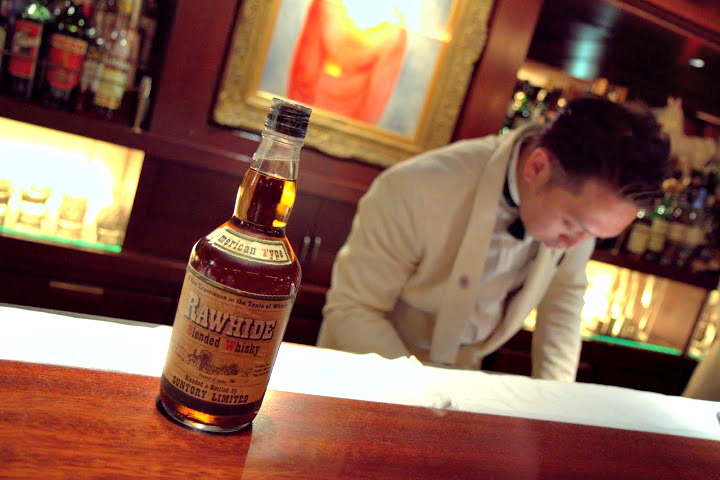 You might have heard about the hand-carved ice. Suited bartenders. The world's most exquisite barware. The famed Japanese "hard shake" technique, of which there are varying styles. Intimate bars hidden in tough-to-find basements and high-rises around the most populated city on earth. All of this is true of Japan's best bars.
But during my recent visit to Tokyo, I found out that there was so much more to this story. Service is not only respectful, a dominant trait prized in Japanese culture, but is beyond any I've experienced around the world. Bartenders often went so far as to escort me to the street as I left, bowing until I was out of sight. Most surprising, though, was finding rare and extinct Scotch and Japanese whiskies available by the pour — and at reasonable prices. And it doesn't stop with whisky. True to all-or-nothing Japanese form, you'll find the world's biggest sherry collection in Tokyo and bar managers who can't wait to educate you on absinthe, Calvados or all manner of spirit rarities.
Not even in my travels through Scotland's top scotch bars, from the Highlands down to Edinburgh, have I seen such scotch available by the glass, and certainly not at attainable prices. Granted, most of Tokyo's best bars charge a "cover," but it tends to be no more than $10 USD per person — worth it if you linger and try a range of whiskies. I found most of the best cocktails cost a typical big-city price of $15 to $20 plus a $5 to $10 cover charge, which, given that there is no tipping in Japan (hallelujah!), works out to be no more than many a London or NYC bar visit.
Tasting at several Tokyo bars, I was able to educate myself on now-defunct distilleries and decades-old vintages of Japan and Scotland. I learned quickly that most whiskies are also available by the half pour. When a rare 1970s or '80s scotch is $20 to $30 a pour (which is insanely low and would be unheard of in the States or Europe, if they even had such bottles on the shelves), a half pour is a doable $10 to $15 — and the ideal way to taste a flight of hand-selected rarities. When bar managers spoke English, I'd ask how they could keep the prices low and how they found such rare bottles. I'd get the same discreet answers, bar after bar: Without excessive licensing overhead, they can offer a more "at cost" pour. And they claim private collectors are where they get the majority of rare bottles.
If you visit bars and distilleries around the world, as I do, it can be tough to be wowed. But Japan is where you will be blown away, time and time again, in a way nowhere else in the world can match. Tokyo isn't necessarily your cutting-edge, experimental cocktail city — although that is on the rise — so much as the service and cocktail-technique capital of the world. Here are some of Tokyo's best bars for whisky and cocktails:
1. Shot Bar Zoetrope
Zoetrope is among the quirkiest, coolest bars in Tokyo, appealing to film buffs as well as whisky lovers. Owner Atsushi Horigami shows off his impressive collection of hundreds of movie soundtracks (which play in the background), plus sci-fi and fantasy-movie memorabilia, as classic films are projected on the back wall. He has one of the best collections of Japanese whisky in the world, including many from cult favorite Ichiro (yes, the Malt Card whiskies and rare Chichibu bottlings), which have all but disappeared everywhere else. Here you can sip Ichiro malts from the 1980s and even after six to ten half pours of these rarities, walk away a reasonable $100 lighter (consider the $1,000+ a single bottle can go for). Horigami speaks English and makes you feel welcome and cared for. 3rd Floor, Gaia Biru Number 4, 7-10-14 Nishi Shinjuk, Shinjuku-ku, homepage2.nifty.com/zoetrope
2. Bar Bennfiddich
Open since summer 2013, Bar Bennfiddich is one of the most unforgettable bars in the world, thanks to absinthe-obsessed owner Hiroyasu Kayama. The intimate bar is lined with spices and looks like a colonial-era tavern, all rustic woods with an apothecary feel. Kayama goes further than ubiquitous whisky offerings, educating Tokyo on absinthe with his extensive collection as he crafts made-to-order cocktails and spirits from his magical lab of herbs and spices. He distills and steeps in bar-top equipment, inspired by recipes in a dusty, old distilling book he'll pull from behind the bar to show you. Try his house green chartreuse, absinthe or his stunner of a root beer botanical cocktail, served in a copper mug and infused with everything from coriander to sarsaparilla-root powder. 9F Yamatoya Building, 1-13-7 Nishi-Shinjuku, Shinjuku-ku
3. Park Hotel Tokyo: The Society 
Up on the 25th floor of the Park Hotel, the Society is not just any hotel bar. Besides lovely cocktails (think Matcha Highballs) from bar manager Kouji Nanmoku, the sleek bar is home to a collection of Scotch Malt Whisky Society whiskies, a rare joy outside of the private, members-only society in Scotland. They have discounted pricing for members, but everything is available by the pour, with special bottlings from Scotch and Japanese distilleries. Shiodome Media Tower 1-7-1 Higashi Shimbashi, Minato-ku, en.parkhoteltokyo.com/the-society
4. Gen
Prepare for a "wow" experience in the intimate, eight-seat bar Gen, where Gen Yamamoto himself serves you individual drinks or a tasting menu of cocktails he crafts from a handful of rare spirits in categories ranging from gin to sake at an austere bar made of single, hand-hewn wood. He utilizes an impressive array of Japanese produce at its peak, thoughtfully matched with each spirit (think chestnuts and sencha green tea with All Koji sake). Anniversary Building 1F, 1-6-4 Azabu-Juban, Minato-ku, genyamamoto.jp
5. Campbeltoun Loch
Yes, the spelling of the name is correct, and this closet-sized basement bar is well worth hunting for if you're a Scotch or Japanese whisky aficionado. The owner is passionate about whisky, walking you through a treasure trove of obscure bottlings that might include no-longer-produced Karuizawa Japanese whisky or a 1980s Mars Single Malt from the Shinsyu Distillery. Best of all, there's no cover charge, and his pours are the most affordable I found anywhere (let's keep that a secret between us, shall we?). 1 Chome-6-8 Yurakucho, Chiyoda
6. Cask Strength
Cask Strength (aka Cask) has a 1,000-yen cover charge (roughly $10) plus a 10 percent service charge, but if you linger for more than a couple pours in the mesmerizing basement bar — entered through a castle-like turret and stone hallway — the incredible Scotch and Japanese whisky selection makes it more than worth it. These eye-popping rarities can average around $20 a pour, as with an eight-year Glen Mhor scotch from 1980 or a stunning 1989 Karuizawa Japanese whisky. B1, Main Stage Roppongi Biru, 3-9-11 Roppongi, Minato-ku, cask-s.com
7. Bar High Five
Tiny Bar High Five is all about owner and bar great Hidetsugu Ueno. Though he might be traveling the world training bartenders and industry folk, if you are lucky enough to catch the stylish Ueno (who came from Tokyo's legendary Star Bar Ginza), you'll get a first-class lesson in precision and service. He hand-carves ice into diamond-like spheres and perfects classics, whether his signature White Lady or a Black Whisky Negroni, mixing Kirin Japanese whisky with sweet vermouth and Fernet Branca. No. 26 Polestar Building, 4th Floor, 7-2-14 Ginza Chuo-ku, barhighfive.com
8. Y & M Kisling
Legendary Y & M Kisling (hidden on a seventh floor in Ginza) is sheer magic, like stepping into another time period. The dark wood-lined bar glows with 1930s elegance, jazz softly playing in the background, bartenders in cream-colored jackets. You'll find an ever-impeccable collection of Japanese barware and glassware, perfectly stirred or shaken cocktails and the house drink, a frothy-beautiful Kaikan Fizz, created by head bartender Mitsugi Yoshida, who has bartended for over 55 years. Look for quirky rarities like a Western-themed Rawhide bottling of Suntory Japanese whisky from the 1970s. 7th floor, 7-5-4 Ginza, Chuo-ku
Four more:
Sip perfect cocktail classics and whiskies amid vintage radios and suited bartenders at the romantic, legendary Bar Radio. Try experimental cocktails and molecular mixology alongside an extensive whisky selection at Code Name Mixology's two locations. Hipster Japanese youth flock to Bar Tram and Bar Trench for elegant cocktails, plenty of spirits and a daytime coffee bar, Coffee Tram. For locals' under-the-radar whisky spot (note: no English spoken), visit Odin. For Tokyo's famous cocktail great — also boasting a fine whisky collection — visit the quiet, intimate Star Bar Ginza.
See what else is going on in Tokyo on Food Republic: