Though they just met in person a day ago, chefs Bernard Fiemeyer and Jamilka Borges already appear to have a good working relationship, with a clear division of labor. Fiemeyer is busy stuffing tomatoes while Borges is breaking down a whole cod inside the remarkably spotless kitchen of the Bull and Bear restaurant at the Waldorf-Astoria Orlando. Except for the vigorous sounds of knives chopping corn and blenders shredding kernels into puree, the room is noticeably quiet, as the chefs are deeply immersed in the task at hand.
Cooperation will be key if the pair hope to prevail in A Taste of Waldorf Astoria. Now in its second year, the international cooking contest, a partnership between the hotel company and the James Beard Foundation, challenges chefs to create the next iconic dish in the Waldorf canon, joining such now-famous creations as eggs Benedict, red velvet cake and, of course, the Waldorf salad.
Five teams of two — a Waldorf executive chef and a James Beard Rising Star Chef of the Year semifinalist — compete to create a dish that, if chosen, will be featured at all 25 Waldorf resorts and hotels around the world. Borges and Fiemeyer comprise Team Orlando, and they're up against four other pairs: Mark Majorie and Jeremy Wayne (La Folie, San Francisco) representing New Orleans; Benoit Chargy and Erik Bruner-Yang (Toki Underground, Washington D.C.) representing Beijing; Sidney Schutte and Grae Nonas (Olamie, Austin) representing Amsterdam; and Itzik Mizrachi Barak and J.J. Johnson (the Cecil and Minton's, New York) representing Jerusalem. All James Beard chefs have visited their mentor's stomping grounds, where they work together to create a dish for battle. All teams will reconvene on February 24, 2016, for the cook-off in New York City. Last year's winning dish was a celery root "risotto" with apple, hazelnut and black truffles made by chefs Heniz Beck (Waldorf Rome) and David Posey (formerly of Blackbird, Chicago).
Food Republic was invited to witness Team Orlando hard at work in creating their dish last month. Borges, who hails from Puerto Rico, has spent the past 10 years working in restaurants in Pittsburgh. She's now the chef de cuisine at Bar Marco, where her work has earned her a James Beard nod. The restaurant was also recognized on Bon Appétit's Best New Restaurant List in 2013 and observes a now-fashionable no-tipping policy. Playing mentor on this team is the executive chef of the 12 restaurant and lounges at the Waldorf Astoria Orlando and Hilton Orlando Bonnet Creek estate, Fiemeyer, who has been with the property since it opened in 2009. He has also worked in restaurants in France, Japan and Thailand.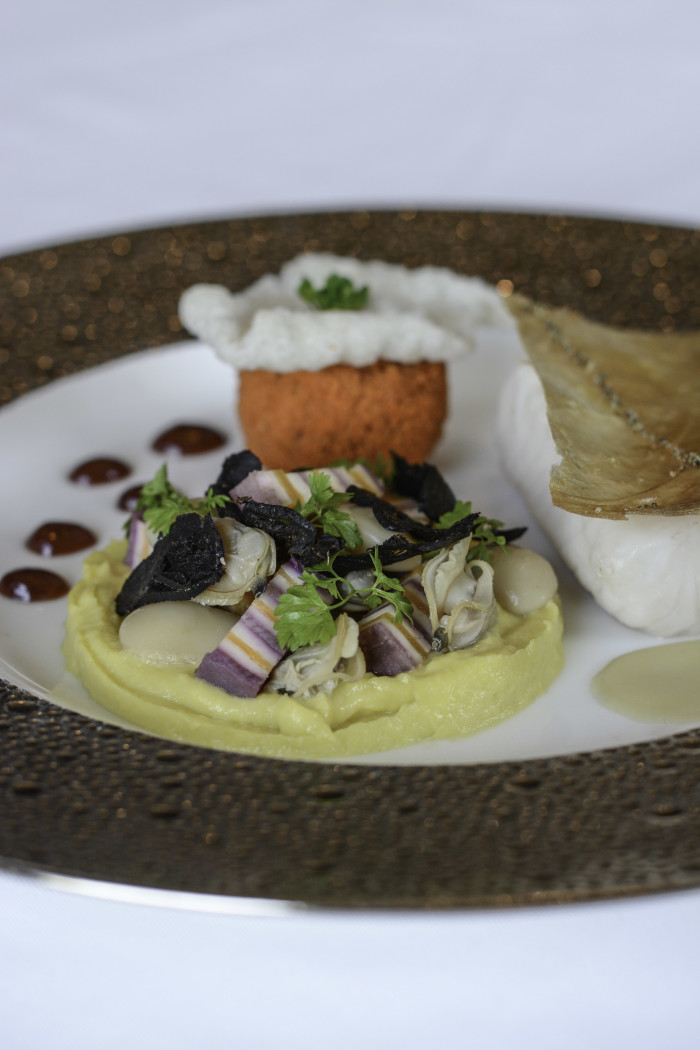 Their dish, which has three major components, first appeared to be a daunting task for Borges, one that may not have panned out. A pine needle–infused butter sauce dresses a steamed cod, which was also steamed over a bed of pine needles. The fish is topped with a fish chip (dehydrated fish skin) and is situated next to a blanched tomato stuffed with a roasted tomato reduction and coated in a mixture of sumac and bread crumbs. Topping the tomato is a chicken cracker made of skin, similar to that of a shrimp cracker. From Pittsburgh, Borges brought dried sweet corn, which she mixed into the Zellwood corn puree with a caramel-y finish. The puree is topped with a terrine of orange and purple sweet potatoes with house-made cheese, Tuscan white beans, clams and shavings of "Florida truffle" — a lemon that has been preserved into resembling a truffle. A sauce made of elderberry vinegar, also brought by Borges, and pomegranate dresses the plate.
"It's so different when all the elements are together," Borges says. "I wasn't super-sure in the beginning, but it totally works. All the components are delicious by themselves and all together, they work pretty well."
Much like the different elements of the dish, Borges and Fiemeyer differ widely in their work but came together to create a deliciously cohesive dish.
"It's not always easy because we come from different places and have different-style restaurants," Fiemeyer says. "I think the dish represents what we are and what we believe. We didn't change anything too much, we respected the ingredients and they're from [real farmers]."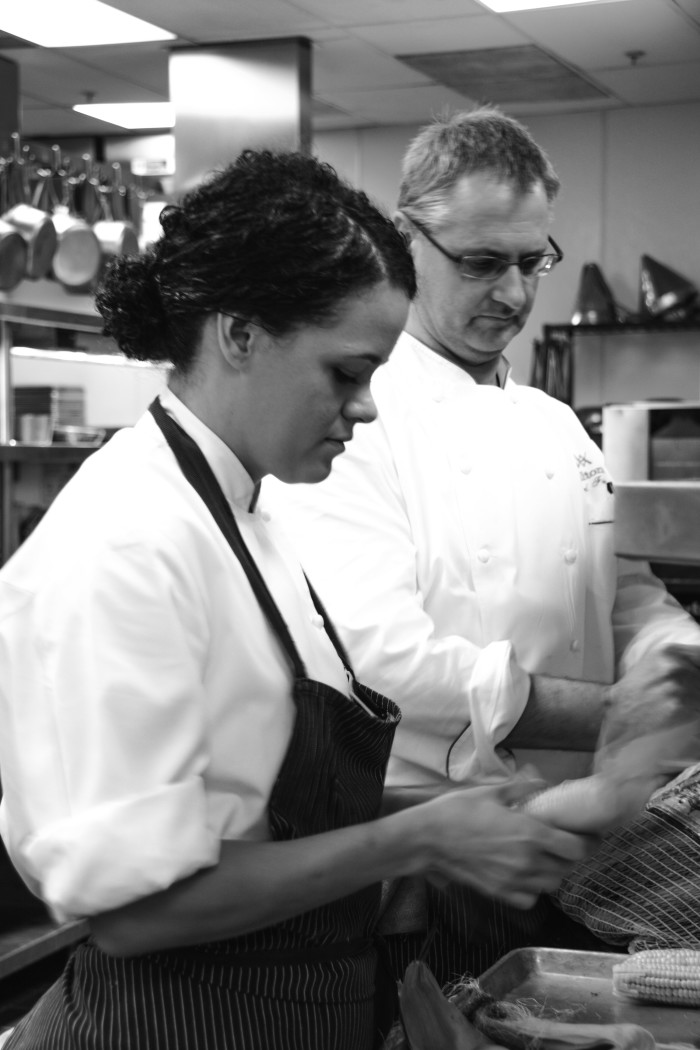 When Fiemeyer and Borges weren't dehydrating fish skin into chips or preserving lemons into Florida truffles, they ventured into the emerging culinary wonderland that is Orlando. Oxymoron? Think again. While Orlando's known gastronomical delicacies are most often mouse-shaped, Borges and Fiemeyer were pleasantly surprised to find East End Market, a two-year-old neighborhood establishment full of local vendors and restaurants, including a raw food juice bar, a cheese and charcuterie café and a seven-seat Japanese restaurant that specializes in omakase. The market, seemingly something that came straight out of Austin, caught the chefs by surprise as they roamed around looking like children in a candy store, eyes full of wonder. Fiemeyer prides himself on his usage of premium ingredients, a sensibility that he and Borges share. This shared passion brought them to Long and Scott's Farm, an Orlando-area establishment and an exclusive grower of Zellwood corn, the sweet, bicolor grain that is highlighted in the chefs' competition dish.
Borges says that A Taste of Waldorf Astoria provides younger chefs with a mentorship that may be lost upon the new generation of chefs. She also says that the structure of an operation as large as the one Fiemeyer runs at the Waldorf estate was something she appreciated seeing.
"I've always worked in places where the structure isn't really like that," she says. "I like to call [my structure] whimsical. [The Waldorf] is the most structured system that I've ever seen, which is awesome. But at the end of the day, I'm a restaurant person. I like doing weird things and not having to go through all the ranks."
As the development phase concludes for Team Orlando, anticipation for the February face-off with the other teams begins to settle in. Who has what it takes to represent Waldorf in 2016? Stay tuned.