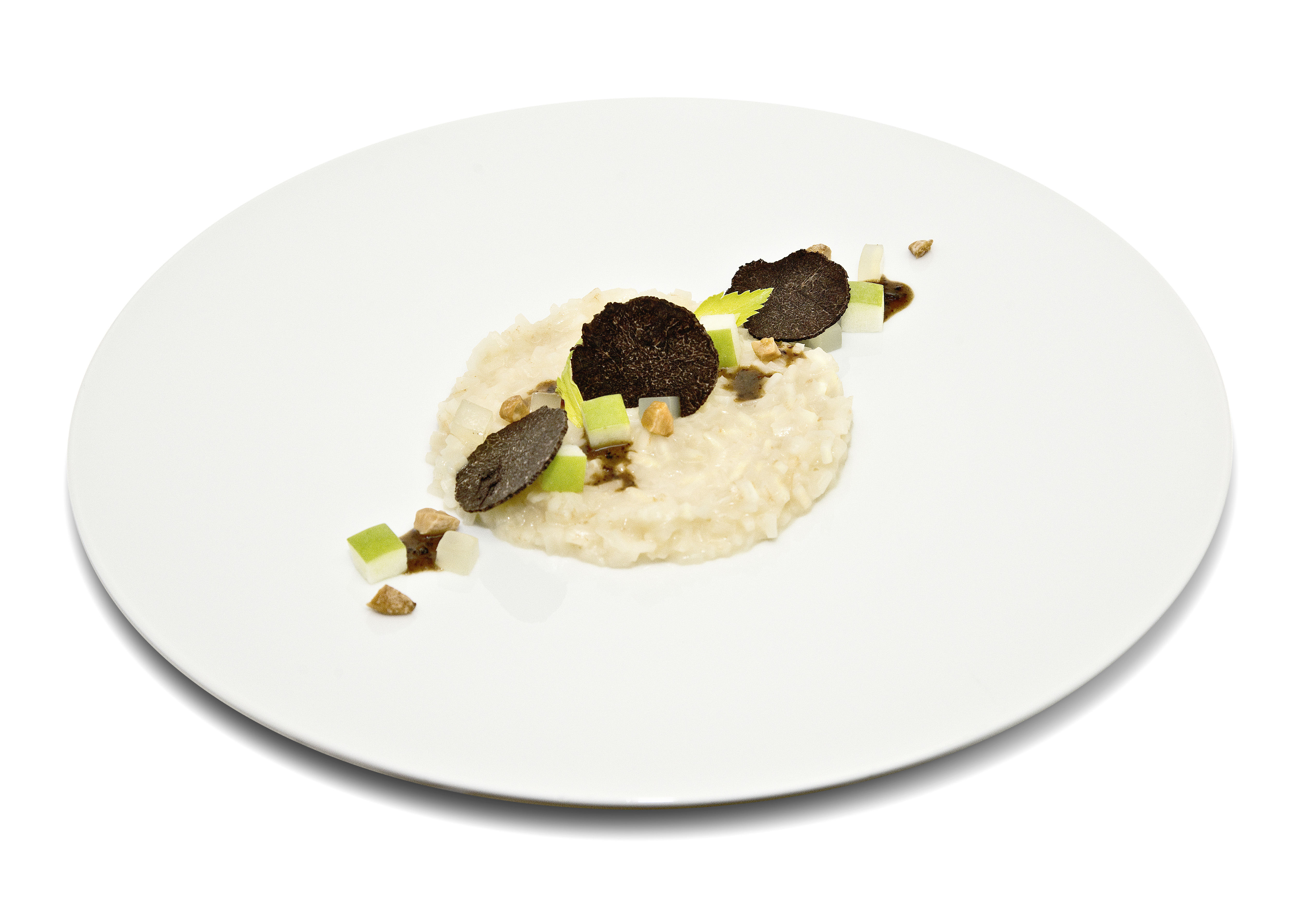 I'm sitting in an executive suite at the Waldorf Astoria Towers in New York City, listening to a three-Michelin-starred chef muse about going to school. But not just any school. Gladiator school. "Have you seen the film Gladiator?" German-born Italian chef Heinz Beck asks me gleefully. "He was Russell Crowe," he continues, pointing at Chicago chef David Posey. "I was the small one, defending myself."
Beck is talking about Posey's first-ever trip to Italy earlier this year, in which the chef of Rome's La Pergola — located in the Waldorf's Cavalieri and the city's only three-Michelin-starred restaurant — showed around his younger counterpart for a week. The two chefs had been paired together as part of Waldorf Astoria's cooking competition to determine the next iconic dish of the upscale hotel chain. While in Rome, they visited markets, restaurants and, yes, gladiator school for inspiration before deciding on an "Italianized version of a healthy Waldorf salad" as their final dish, according to Posey.
The "Taste of Waldorf Astoria" event partnered emerging chefs (like Posey) with chefs working at Waldorf properties around the globe. Each of five teams was tasked with creating a signature recipe to be featured on menus at 29 Waldorf Astoria restaraurants worldwide. The event culminated last Thursday evening at the Waldorf Astoria in New York City, where all five teams presented their dishes to a panel of esteemed chefs, editors and industry experts. Each of the four judges' choices counted as one vote, while around 100 audience members (mostly press) jointly made up the fifth vote.
Here is a menu description of the dishes served:
Pierre Gagnaire and Chris Kajioka: Pumpkin and foie gras velouté with brioche of comte and beet root
Heinz Beck and David Posey: Celery root "risotto" with apple, hazelnut and black truffle
The Galvin brothers and Cara Stadler: Venison Scotch egg
Jimmy Schmidt and Eduardo Ruiz: Tierra y mar
Jan Van Dyke and Marjorie Meek-Bradley: Rack of suckling pig with xiaolong bao and wolf berry scallop
Judging by a quick peek at the voting boxes, the crowd appeared to be split between the risotto and the tierra y mar (for what it's worth, these two dishes were my personal favorites as well). The former featured a nice contrast of smooth carnaroli rice and crunchy hazelnuts, plus a hint of fruitiness from apple juice and sweetness from a glaze to complement the fragrance of the truffles and Parmesan cheese, while the latter used wagyu beef belly, wagyu beef polenta and wagyu beef butter (believe it) as the "land" component of a classed-up version of surf and turf. After brief deliberation, each judge submitted his or her vote and the results were tallied. In the end, it was Beck and Posey's faux risotto that won the honor of being re-created on all of the world's Waldorf Astoria restaurant menus.
So, will this "Italianized healthy" celery root risotto become the next trademark dish in a long line of iconic items to come from the Waldorf? After all, the hotel is the birthplace of the Waldorf salad, Thousand Island dressing, eggs Benedict and red velvet. With a victory in the Taste of Waldorf competition — not to mention a certification from gladiator school — under the chefs' belts, anything seems possible.
Read more about cooking competitions on Food Republic: