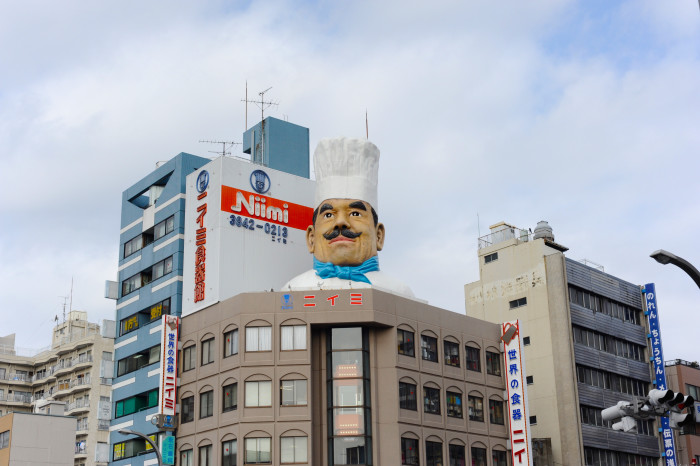 Most Tokyo guidebooks will tell you to head straight for Tsukiji fish market. But the first stop for any food-obsessed traveler really should be Kappabashi — or Kitchenware Town, as English speakers tend to call it — in the city's Asakusa neighborhood. This is the restaurant-supply district, where you can find all kinds of hibachi grills, fine china, handcrafted chopsticks and even stainless-steel stockpots that are large enough to fit a whole pig.
Small shops line the main street, which starts at Asakusa-dori and continues for many blocks. Many stores cater to culinary tourists, so expect to be treated with kindness and take home mountains of kitchenware and souvenirs.
This street is not hard to find, just a five-minute walk from the popular tourist spot Sensoji Shrine and Namikase-dori. You can't miss Kappabashi‐dori because of the giant chef statue on top of the Niimi building. Across from the chef is a small apartment building with teacups for balconies.
Like the stretch of the Bowery in New York City dotted with restaurant-supply shops, Kappabashi‐dori is the place to go for restaurant furnishings. And because Japan is obsessed with food, this place is a waking dream for food enthusiasts, filled with fantastic kitchen gadgets, ceramics and foodstuffs to stuff in your suitcase.
Here is a small sampling of the best stores that line Kappabashi‐dori. If you like to cook, be sure to give yourself at least two hours here. It's a lot to take in. Try to find one of the English maps provided by the Tokyo Kappabashi Dougu Street Promotion Union for an extremely helpful guide to every shop. The free maps can be found in most shops participating in the union. The stores are easy to identify, as each flies a flag depicting a frog and a number that corresponds to the map. Happy hunting!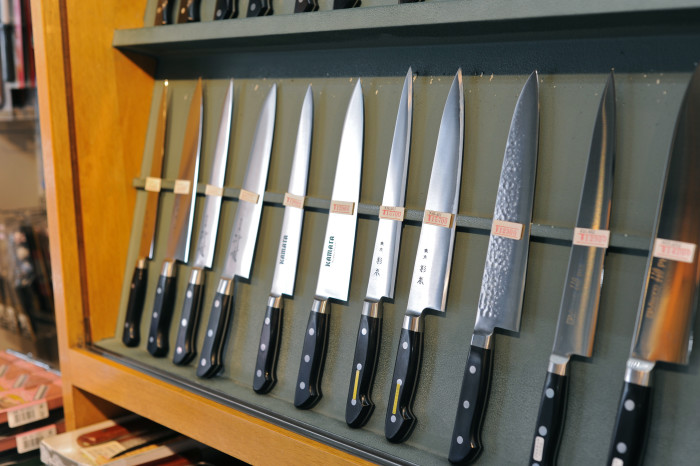 1. Kamata
Japanese steel is a very special thing to have in your kitchen, and Kamata is one of most respected knife brands in Japan. It doesn't have the worldwide reach of, say, Global or Shin, but that just makes a Kamata knife a more unique tool to have in your kitchen. A nice paring knife or small chef's knife can be had for about 7,000 yen, or $60 USD. The master craftsman is often at work on his grindstone at the front of the store, and helpful staff, who speak both English and French, can help you select the perfect knife. You can even have your knife engraved on the spot for a little extra. The strange emerald green Germanic lettering is the signature stamp on many of the knives. Bonus: If you have no plans to visit Japan, Kamata has an online shop that ships worldwide. 2‐12‐6 Matsugaya, Taito‐ku, 111‐0036 Tokyo, Japan; phone: 03‐3841‐4205; kap-kam.com
2. Kitchen World
This two‐floor megastore has just about every cooking implement known to man. If you have only a few minutes, this should be your stop. The first floor covers everything from salt shakers to ceramic cookware, and the large section of hard-carved wooden bowls in every shape and size is a highlight. Here, you can find the full line of beautiful Japanese cast-iron pots from the brand Oigen, which will rival your Lodge or vintage Wagner. Upstairs, rows upon rows of industrial kitchen appliances and bakeware beckon. 1F SPK BLDG,1‐9‐12 Matsugaya,Taito‐ku, 111‐0036 Tokyo, Japan; phone: 03‐5827‐3355; kwtdi.com
3. Tokyo Biken
While you may not be able to read every menu at every restaurant you come across, chances are you know what you're getting based on the hyper‐realistic plastic food models of soba noodles or fried chicken on display outside the restaurant. Tokyo Biken, along with a few neighboring stores, is the best place to find these bizarre food sculptures. Come here to ogle the realistic plastic food on display. From a faux fire charring plastic meat on sticks to beer cans with convincing plastic ice and water droplets, this place is not to be missed. Most plastic models are pricey, but mini versions are sold on key chains for tourists. Show loved ones back home that you care with a small slice of realistic kobe beef on a keychain. 1‐5‐15 Nishi‐Asakusa, Taito‐ku, Tokyo 111‐0035, phone: 03‐3842‐5551; kotsu.metro.tokyo.jp
4. Union Coffee
If you like pour-over coffee, you are going to love Union Coffee. There are Chemex pots, vintage Peugeot hand-crank coffee grinders, filters, espresso pots and Japanese siphon coffee contraptions the size of small children crammed into a tiny space. It's a mad barista's laboratory in there. Many of the siphons and pour-over kettles are made in Japan and therefore are actually affordable. Union Coffee feels like a museum of the past century of coffee innovation, and brands from all over the world are crammed into the tiny front space together. A stovetop pour-over kettle with an extra-long spout made its way into my suitcase for just under $25. 2‐22‐6 Nishi‐Asakusa Taito‐ku, Tokyo, 111‐0035, phone: 3 3842 4041; yelp.com
5. Dengama
While many of the shops in Kappabashi sell ceramics, Dengama has a huge selection in its beautiful, cavernous store. It's the mother lode. Located on Asakusa Street across from the Niimi chef, this rustic shop has everything, from inch-long porcelain chopstick rests to massive stone serving bowls. Japanese pottery is often simple and elegant. And with these prices, you won't have trouble outfitting an entire dinner service. Sale baskets on display along the sidewalk outside are perfect for bargain hunting. Stunning replicas of authentic Japanese pottery cost just a few hundred yen (less than $5). 1‐4‐3 Nishi‐asakusa, Taito‐ku, Tokyo, Japan  111‐0035, phone: 03‐5828‐9355; dengama.jp/en