In the early 1990s, Greg Koch and Steve Wagner, founders of the Stone Brewing Co., ran into each other during a one-day brewing seminar at the University of California, Davis. But they had met before.
Koch was a Southern California native who grew up in Ohio and returned to the area to pursue rock stardom. While he did attend the Guitar Institute of Technology in Los Angeles, probably the closest Koch got to true rock stardom was working as the tour photographer for famed guitarist Steve Vai. Koch eventually earned a business degree from the University of Southern California and started a company that rented rehearsal space to musicians in downtown L.A.
One of those musicians was Wagner. He was born in Chicago and grew up there and in Los Angeles. Wagner had translated his English literature degree at UC-Santa Cruz into 15 years on the road as a touring musician playing bass and keyboards — and had also become quite the homebrewing hobbyist. In fact, Wagner saw it as a possible route to a new career and a way out of life on the road.
Thus, the UC-Davis class. Koch's motivation was not career change but simple curiosity. (The course was called A Sensory Evaluation of Beer, and it was taught by Michael Lewis, an immensely influential researcher who in 1970 had become the nation's sole full professor of brewing science.) Koch and Wagner barely knew each other — Wagner's band had always paid its rehearsal-space rent on time, so there had been little need for interaction. Still, they kept in touch after the class. Koch went back to L.A. and Wagner to a brewery job in Oregon. In early 1995, things began to pick up steam.
---
"This is an aggressive ale," read the copy Koch wrote to run with Arrogant Bastard's gargoyle-dominated packaging. "You probably won't like it. It is quite doubtful that you have the taste or sophistication to be able to appreciate an ale of this quality and depth."
---
The American craft beer movement was flowering in all sorts of directions, with hundreds of new breweries crafting dozens of styles for a swelling population of consumers. California breweries in particular were well known as successful envelope pushers, though that reputation was confined almost entirely to the immense state's northern half (think Lagunitas and Anchor).
Koch and Wagner wanted in. On February 2, 1996, with Koch handling sales and Wagner the brewing, they set up shop in rented warehouse space in San Marcos, about 35 miles north of San Diego. In late July, they sold their first keg, a pale ale. A porter and an India pale ale followed. They were solid offerings, but none really helped Stone stand out. The brewery lost tens of thousands of dollars a month. The entire craft beer industry started wobbling, beginning to look more faddish than enduring.
Then, in November 1997, Stone released what Koch and Wagner called Arrogant Bastard Ale. It had few peers on the market. If it could be classified at all, Arrogant Bastard was (and is) an American strong ale — just a lot stronger than most. Even on a West Coast becoming increasingly known for bitter alcohol bombs, this new creation definitely stood out.
And not just because of the taste. "This is an aggressive ale," read the copy Koch wrote to run with Arrogant Bastard's gargoyle-dominated packaging. "You probably won't like it. It is quite doubtful that you have the taste or sophistication to be able to appreciate an ale of this quality and depth."
On and on the label copy went in this, well, arrogant vein. Stone had settled on a risky approach to making and marketing craft beer: over the top and in your face. No genteel gab about the subtleties of hops or the beauty of brew kettles. No mild brown ales, either. Just fleshy, forceful brews, one after the other following Arrogant Bastard.
The approach paid off. Stone found itself expanding production and distribution, a thriving survivor of the crash that struck the craft beer industry in the late 1990s. It eventually moved to a roomier headquarters in Escondido, also near San Diego, and plans to open both an East Coast brewery in Richmond, Virginia, and a European facility in Berlin in early 2016.
As for Koch and Wagner, they are still with the brewery they cofounded: Koch as CEO and Wagner as president. Mitch Steele, formerly of Anheuser-Busch, is the brewmaster now.
Here are seven widely available Stone beers to help you familiarize your palate with this fast-growing and unapologetically type A brewery.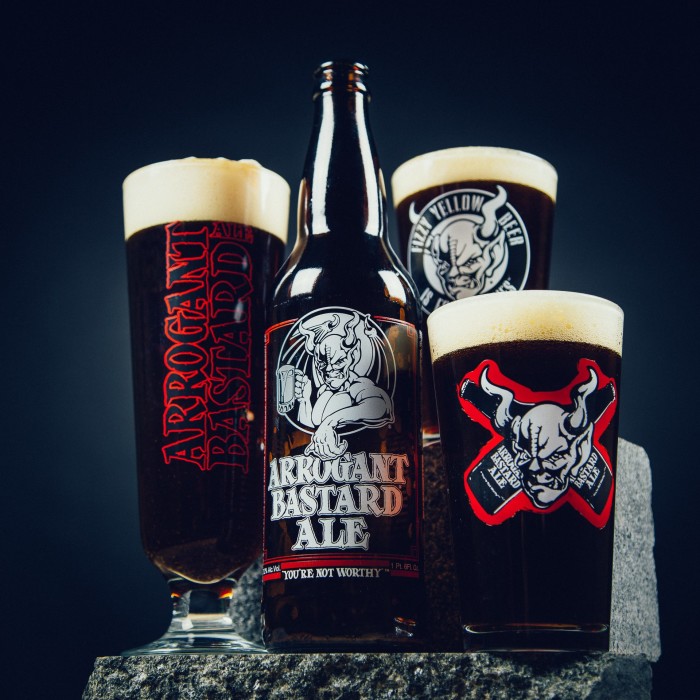 Arrogant Bastard Ale
As we intimated earlier, it's difficult to pin down exactly what this beer is. What it definitely is not is mild nor thin. The bitterness can be tongue-numbing, yet Arrogant Bastard, for all its sound and fury, goes down rather smoothly. With the caramel malt taste offset by clearly generous amounts of hops, Arrogant Bastard is rather nicely balanced — which just might be Stone's secret weapon with this and other beers. It's about 7 percent alcohol by volume. (Note: Arrogant Bastard and its arrogant-branded brethren are now brewed through a Stone spinoff called the Arrogant Bastard Brewing Co.)
Double Bastard Ale
See above. Then add even a few percentage points of ABV and a lot more malty sweetness (so much so that you'll have trouble picking up that alcohol). In the end, Double Bastard Ale had us thinking barleywine, and that was a good thing.
Stone Pale Ale 2.0
The successor to that original (and discontinued) pale ale, this updated version is bready and sweet, with only a barely perceptible bitterness in the aftertaste. A wonderfully accessible American spin on the classic English style. It's a mere 6 percent ABV.
Stone Smoked Porter
Originally introduced as Winter Stone in December 1996, this porter is unbelievably smooth throughout and, yes, smoky, too. You'll invariably pick up hints of roasted malt and dark chocolate as well as a sort of fresh-coffee aroma. Even with its complexity, the porter is the least forceful Stone offering we've ever had, just a well-done take on the classic English style. It's a relatively low 5.9 percent ABV.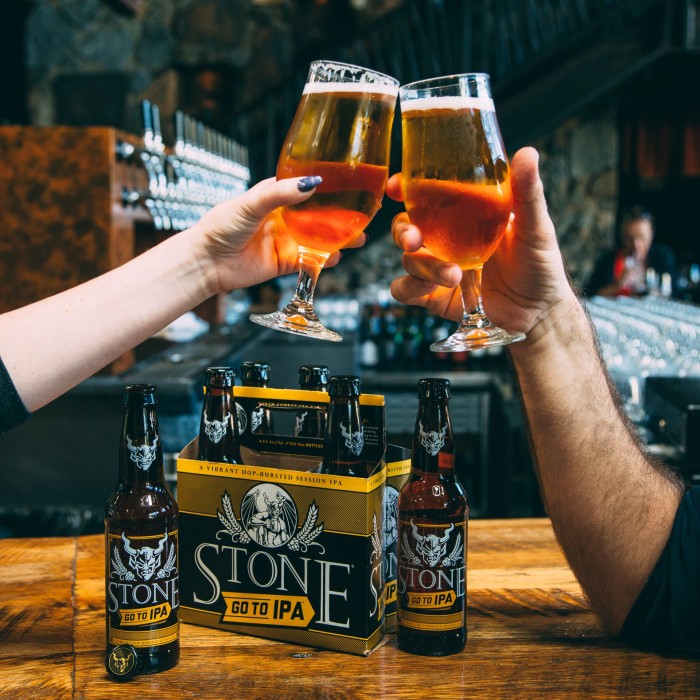 Stone IPA
Leave it to one of the consummate West Coast breweries to produce an especially delicious India pale ale. It begins with a spicy aroma, builds through a fruity sweetness and ends with a bold bite from the hops. It's just under 7 percent ABV.
Stone Go To IPA
Stone's contribution to the ever-burgeoning session-beer trend is especially citrusy and has a heavier mouthfeel than 99.9 percent of the session beers you will encounter. True to stylistic form, though, it is only 4.5 percent ABV.
Stone Enjoy By 10.31.15 IPA
We bought our bottle of this Stone series about four miles from the Atlantic Ocean, meaning it made its winding way across the continent and still tasted exceedingly fresh, all juicy, sweet hops up front and not too heavy at all on the finish. Sometimes the simplest things…
Tom Acitelli is the author of  The Audacity of Hops: The History of America's Craft Beer Revolution and the new fine-wine history, American Wine: A Coming-of-Age Story.