Get To Know Scotch Ales, A Strong And "Wee Heavy" Beer Style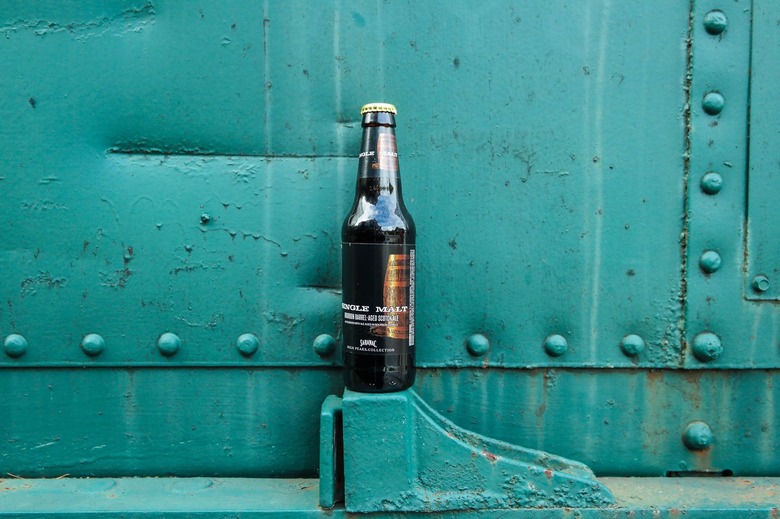 We may receive a commission on purchases made from links.
The first beer to come out of America's first post-Prohibition brewpub was a Scotch ale — or, at least, that's what the beer maker called it.
Bert Grant started the Yakima Brewing and Malting Company in an old opera house in Yakima, Washington, in late 1981. Grant was a piccolo operatic himself, given to wearing kilts and waving a claymore at anyone who dared break his brewpub's smoking ban. He also blasted through the Cascade Mountains in a Rolls-Royce with a license plate that read "Real Ale" and carried a vial of hop oil to spice up any beers that he deemed too bland — and there were plenty in America back then.
Grant's Scotch ale was not one of them. Yet that inaugural offering seemed...a little off.
---
Scotch ale should taste malty and not too bitter; it's a heavy, strong beer meant for long, appraising sips.
---
Michael Jackson, the great English beer critic, put it to Grant straight during an early-1980s visit to Yakima. "Isn't this a bit hoppy for a Scotch ale?"
"Yes," Grant replied. "All beers should be hoppier."
Jackson pressed him. "Is it really fair to sell it as a Scotch ale?"
"It is Scotch because I created it," Grant said. "I am Scottish."
"When did you leave?"
"When I was two years old."
Indeed, Grant's family had, when he was a toddler, left Scotland for Canada, where he grew up and worked for bigger breweries, before doing the same in the U.S. and then launching Yakima Brewing and Malting with that enigmatic Scotch ale.
Grant's ambivalence toward the style was appropriate, for it is one that is difficult to define beyond a reliance on sweeter malt rather than bittering hops for its signature heavy mouthfeel and textured taste. The style, not surprisingly, also goes by the names "Scottish strong ale" and "wee heavy."
A true Scotch ale does not taste spicy and juicy like an India pale ale, but smoother and heavier, like a barleywine. In fact, Scotch ale might be seen as merely the Scots' answer to the similarly rich barleywine style from south of the border in England — it's certainly as difficult to find in the U.S.
Others, however, wager that Scotch ale emerged largely because Scottish brewers did not have ready access to hops and because their countrymen already preferred smokier malts for their beers, roasted in many cases over burning peat — much in the same way they, and later the world, preferred them for their whiskies.
Whatever the genesis and whatever spins brewers would like to put on it, Scotch ale should taste malty and not too bitter; it's a heavy, strong beer meant for long, appraising sips — in other words, the perfect accompaniment to a winter's evening. To help you find your own particular companion, here are four Scotch ale options on the American market.
One final note: Michael Jackson was right. Bert Grant's first commercial beer was not a Scotch ale. It was a Scottish ale, the lighter-tasting, lower-alcohol cousin to Scotch ale — the packaging for the bottled version called it as much: Bert Grant's Scottish Style Ale. (It can get confusing, we know.) Grant died in 2001, three years before the brewpub he sold in 1995 went out of business. Jackson died in 2007.
Here are four good examples of the Scotch ale style:
Serving suggestion: Like with barleywine, serve this one in a bulbous snifter and near room temperature, with a roaring fire nearby, if possible.
Old Chub Scotch Ale
Oskar Blues Brewery, Lyons, Colorado
From the folks who brought you the souped-up Dale's Pale Ale comes a particularly lush and complex Scotch ale that is a perfectly sessionable 8 percent alcohol by volume. It has a smoky aftertaste and barely any bitterness — an outstanding example of the style.
Saranac Single-Malt Scotch Ale
FX Matt Brewing Co., Utica, New York
One of the oldest continuously operating breweries in America (born in 1888) swung for the fences with this limited release. For the most part, it's a home run and represents the potential for Scotch ales in the hands of American craft breweries. F.X. Matt blended the ale with ale aged in barrels used earlier for aging bourbon. What comes steadily across is a faint hint of whiskey on top of the relentless malty sweetness. Checks in at a clobbering 10 percent ABV — definitely one for sipping.
Claymore Scotch Ale
Great Divide Brewing Co., Denver, Colorado
Named for the Scottish sword, this Scotch ale interpretation is the least likely of the bunch to cut you down: It's a mere 7.7 percent ABV. Great Divide's Claymore is also rather bitter, at least when it comes to Scotch ales. For some, that might serve as a nice complement to the bready sweetness throughout.
The Duck-Rabbit Wee Heavy Scotch Style Ale
Duck Rabbit Craft Brewery, Farmville, North Carolina
This toasty offering comes from a brewery specializing in darker beers (Duck Rabbit's Milk Stout is a revelation). A candy-like caramel taste prevails, with a slight bitterness at the end — another excellent Scotch ale example and "only" 8 percent ABV.
Tom Acitelli is the author of  The Audacity of Hops: The History of America's Craft Beer Revolution, and the new fine-wine history, American Wine: A Coming-of-Age Story.