The Multisensory NYC Food Film Festival Begins Tomorrow Night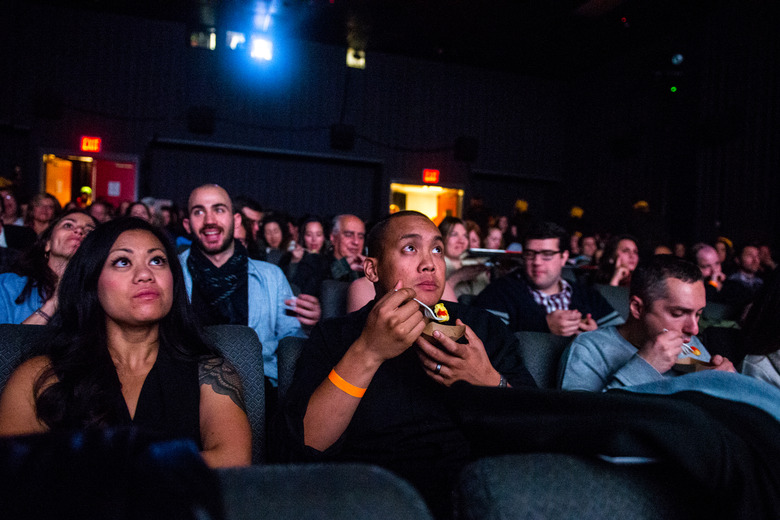 Forget dinner and a movie. How about dinner while watching a movie? The ninth annual Food Film Festival: New York City begins tomorrow night, with more than 30 screenings planned, including eight world premieres and seven NYC premieres. Once again, the four-day festival will offer a unique series of events where food and film lovers will taste what they see on the screen, as attendees are simultaneously served the food that is seen in the films. All events this year will be hosted at AMC Empire 25 in Times Square.
This year's festival will benefit the Billion Oyster Project, an initiative we profiled just a few weeks ago. Over the course of eight years, the festival has hosted more than 30,000 guests from New York City to Charleston to Copenhagen. A judging panel will present awards in seven categories, including Best Feature and Best Food Porn Film.
"This year, chefs and filmmakers from Berlin to California are flying in to take part in what will be truly memorable events, like Sunday's Restaurant Revival, where chef Jodie Royston will help us re-create his since-closed lunch counter for one day only. I hope you like fried chicken," says Seth Unger, the festival's executive producer. This year, the festival will also feature a new Saturday-afternoon event suitable for the entire family.
So what about the food itself? Brooklyn favorite Hometown BBQ will dish out grub, as will Michelin-starred restaurants Public and Uncle Boons, SoHo-based David Burke Kitchen and veggie haven Dirt Candy. Ramen burger creator Keizo Shimamoto and pitmaster Kent Black of Texas's famed Black's Barbecue will also be among those on hand over the course of the festival. VIP parties before the screenings offer viewers the opportunity to mingle and snack.
Check out the full schedule below (more details are available by clicking on the links), and buy your tickets today.
Food Republic readers can receive 15% off all ticketed events by using the code REPUBLIC15 at checkout.
Tender: Stories of Love and MeatThursday, October 22,  7 p.m. (VIP party at 6:30 p.m.)
Opening night features passionate stories of American meat. Special appearances by renowned Texas pitmasters Scott Morales of Taylor Cafe and Kent Black of Black's Barbecue, from the film Central Texas Barbecue. Pork stories from Maine to Oklahoma, as well as a visit to the Certified Angus Beef test kitchen.
Films: Central TX BBQ, Course of Food, Growing Local: Pig Not Pork
Tickets: General admission, $89; VIP, $119
The Food Porn PartyFriday, October 23, 7 p.m. (VIP party at 6:30 p.m.)
The Food Porn Party returns for another steamy night of extreme eats, close-ups, and food burlesque. Expect a visit from the World Famous Food Porn Star himself, Larry Caldwell, as well as tasty bites from chef Amanda Cohen's restaurant, Dirt Candy.
Films: Cocolo Ramen, Choco Thriller, Fork and Beans: Gluten-Free Moon Pie, La Botanique des Amours, Pasta With Ratatouille, Ravioli Perfection, Rosemary Gin Smash, Slowberry, The Cut
Tickets: General admission, $99; VIP, $129
Eat Your Movies! A Family EventSaturday, October 24, 12 p.m.
For the first time, the Food Film Festival has an event for the whole family! The afternoon will feature short films about kale smoothies, omelettes, goats, chocolate cranberry scones, and a puppet musical about Milano Cookies starring Lolly Lardpop!
Films: Baby Got Kale, Chef Do Re Mi, Cranberry Choc Scones, Milano
Tickets: Adults, $32; children 12 and under, $23; family of four, $100; Big Family Pack (two adults and up to four children), $125; children under 3, free
Edible Adventure #013: Hungry for LoveSaturday, October 24, 8 p.m. (VIP party at 7:30 p.m.)
The 13th installment of the Edible Adventure Series features food films about matcha from Japan, soul food from Harlem and sweets from Brooklyn. The night also features an alarming but touching story of love and food in Hungry for Love, and a fantastic short from the Michelin-starred SoHo restaurant Uncle Boons.
Films: Edible Films: Garrett Oliver, Brooklyn Brewery; Edible Films: Liz Gutman, Liddabit Sweets; Food Warriors – 125th St., Hungry for Love, Matcha: An Ippodo Story
Tickets: General admission, $99; VIP, $129
Restaurant Revival: Jodie's Diner (1989-2014)Sunday, October 25, 12 p.m.
Jodie's Restaurant, a beloved lunch counter in Albany, California, closed on June 14, 2014. Along with Jodie and his family, we're bringing his restaurant and his lifelong dream back to life for one day only in NYC. Grab a seat!
Film: Nothing With Something: Death of a Diner
Tickets: $49