San Francisco Chefs Are Taking Sushi To The Next Level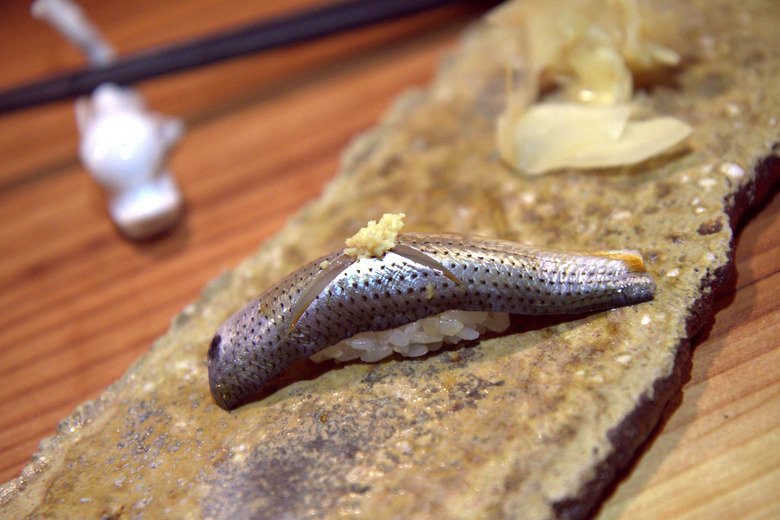 Guest chef Jiro Lin showcased his nigiri skills during a five-month-long pop-up at the acclaimed San Francisco restaurant Saison earlier this year. (Photos: Virginia M
Chef Joshua Skenes's acclaimed San Francisco restaurant Saison, the recipient of three coveted Michelin stars, is perhaps best known as having the most expensive tasting menu in the United States. But for nearly five months this year, tucked away in a back room, Skenes's restaurant offered a very different experience from its usual fare. For $225 — a relative bargain compared to Saison's typical $398 tasting — guest sushi chef Jiro Lin showcased the sort of Japanese cuisine that garnered a cult following for his omakase-style (chef's choice) menus at Hamano Sushi in the city's Noe Valley neighborhood.
On one night, Lin began with a few courses served kaiseki-style (traditional multicourse dinner), featuring local seasonal ingredients done up in artful, tweezer-food fashion, including an incredible Monterey red abalone, cooked inside artichoke leaves with wild thistle and dipped in a sauce of abalone livers. Then he followed it up with 17 pieces of pure nigiri perfection, serving rarities like needlefish and bafun uni from Japan.
It was like being quickly whisked away to Tokyo via some hidden portal at Saison — but with a definite San Francisco feel, from furs draped over the chairs to the relaxed vibe and music soundtrack.
---
"While there is still the opportunity to gain understanding of more upscale kaiseki-style cooking in this market, sushi omakase menus are now requested and expected by many diners."
---
"Aside from a handful of exceptional restaurants across the country, I'm afraid that sushi restaurants here [in the U.S.] are mediocre," says Saison's Skenes, who became a regular at Lin's usual sushi spot before partnering up on the pop-up, which just ended its five-month run on October 6. "I definitely would like to see the quality improve.... I would like to enable talented chefs, such as chef Jiro Lin, to get their start."
Skenes and Lin are now seeking a space where the sushi chef can serve up his most elevated fare on a permanent basis. It's a partnership borne of the two chefs' shared culinary sensibilities, Skenes says. "Our ethos at Saison is about finding the best products that exist regardless of the difficulty, and getting these to the guest when they taste their best," he says. "In that sense, our outlook is similar."
Saison's recent sushi experiment is emblematic of a current sushi renaissance sweeping through San Francisco, exemplified by a new generation of chefs who are laser-focused on technique and upholding the traditions of regional sushi styles, such as edomae/edomeaezushi (Tokyo-style, Edo being the old name for the city), Kansai (Osaka-style) or the modern sosaku ("creative sushi"). You will often find them in tiny rooms with very few seats, fresh-grating real wasabi straight from the root — not the fake stuff most places serve.
California is home to the largest Japanese population by far of any U.S. state. So it's no surprise that sushi has become such an integral part of the Golden State diet, first becoming popular in Los Angeles back in the 1960s. But San Francisco's Japantown, a thriving, dense neighborhood of six square city blocks, was actually the first and largest Japanese enclave in the U.S. Prior to the 1906 earthquake, there used to be two Japantowns: one near Chinatown, the other in the city's SoMa neighborhood. Even SF's first sister city was from Japan: Osaka, to be precise, earning SF the nickname "Little Osaka" in 1957.
Early sushi pioneers in the Bay Area include Okinawa native Yoshi Tome, who opened Sushi Ran in 1986 on charming, quiet Caledonia Street in the waterside town of Sausalito, just across the Golden Gate Bridge from the city. Tome's continuously popular Sushi Ran actually predates legendary Nobu Matsuhisa's first restaurant, Matsuhisa, which opened in Los Angeles in 1987.
Not long after, in 1990, Tokyo native Ken Tominaga opened Hana Japanese Restaurant in Rohnert Park (Sonoma County), earning a devoted following for his inspired sushi. But ask Tominaga and he'll tell you that it has taken decades for sushi to really gain a lasting place in the appetites of the average diner. "Finally, people are starting to understand sushi to a greater degree in the last five years," says Tominaga, who just recently celebrated his 25th year in business. "While there is still the opportunity to gain understanding of more upscale kaiseki-style cooking in this market, sushi omakase menus are now requested and expected by many diners."
The increased seriousness about sushi is readily on display at places like the recently relocated Ichi Sushi, husband-and-wife team Tim and Erin Archuleta's beloved restaurant, where a playful mural issues helpful directives on eating the stuff: "no soy sauce."
Since 2005, maybe the most fascinating omakase in SF has been Roger Chong's ever-changing offerings at Zushi Puzzle. Only by reserving ahead at the eight-seat sushi bar with the gruff Chong, who warms up as you show both respect and appetite, is one treated to a stunning array of different salmon (ivory, for example) from multiple continents and other surprises that could fall in the sosaku ("creative sushi") category. As public interest in omakase has risen, so has the cost of dinner at Zushi. Once priced at about $80 per person, it now hovers around $200.
A recent wave of newcomers in San Francisco signals a new era and an even greater understanding of and palate for sushi.
Michelin-starred Maruya opened in late 2013 with a more traditional take, feeling like an escape to Japan with omakase-only menus, clean woods and staff who bow and greet in true Japanese form. After an inauspicious start and subsequent ownership split in 2014, the restaurant is really hitting its stride under executive chef Shinichi "Sam" Kawaguchi, who hails from Tokyo's Asakusa neighborhood, where he honed his edomae sushi skills at places like the famed Imperial Palace Hotel. With $80 and $92 omakase menus, Kawaguchi sticks to tradition without feeling staid, offering unusual seafood like shima-aji (striped jack) from Wakayama, Japan, or tairagi, a shellfish akin to scallops, served in its massive shell.
In May 2014, Sushi Ran's sushi master of a decade, Mitsunori Kusakabe, opened his namesake Kusakabe in the Financial District, also garnering a Michelin star in its first year. He was born in Kyoto, honing his craft at the likes of Nobu Tokyo. The $95 omakase menus (à la carte is available only as an add-on) weave seamlessly through an array of textures and tastes, heavy on immaculate nigiri sushi in a soothing, blonde wood space that seats a total of 30 between the long sushi bar and a few tables. The Zen-like space is a reverent setting for cool sakes and harmonious kaiseki-inspired menus, the seasonal style his native Kyoto is famous for.
Also in 2014, famed SF restaurateur Michael Mina opened long-anticipated Pabu with the aforementioned Ken Tominaga of Hana Japanese. Though Pabu's lively bar (heavy on Japanese whisky and cocktails), izakaya and robata dishes and Mina's neighboring Ramen Bar pull in the crowds, it's the sushi omakase ($110) that stands out. Chef Tominaga and sushi protégé, Yoji Harada, turn out nine to ten courses of more than 12 different cuts of fish, ending with shabu-shabu (using high-grade American Wagyu or A5 Japanese Wagyu beef) and dessert. Though fish changes, it can include the likes of an ethereal course of tuna nigiri, from fatty bluefin to wild bonito. Going further than most sake menus outside Japan, sake sommelier Stuart Morris's unusual sake pairings will change the way you think about sake, offering pours that range from funky to herb-laden, well beyond the clean lines many know sake for.
Even more newcomers have joined the party in 2015. This June, Omakase opened in SoMa, a 14-seat only sushi bar and edomae-style sushi experience from restaurateur Kash Feng and chef Jackson Yu of SF's Live Sushi Bar restaurants. Yu trained in Ginza, Japan, and works alongside chefs Ingi Son and Yoshihito Yoshimoto. With fish flown in three times a week from Tokyo's legendary Tsukiji Fish Market, Omakase serves only three set omakase tasting menus ($100, $150, $200). Yu patiently — and with a sense of humor, despite the reverent space — talks you through each cut of fish and sushi techniques from the nigiri-dominant menu as he grates fresh wasabi root and plates fish. Courses are served on custom Japanese plating — some even on antique plates from Japan's Meiji era (1868-1912). Proper edomae-style, vinegar-tinged rice undergirds exquisite nigiri courses with uncommon cuts like tachiuo (beltfish) or the likes of kohada (gizzard shad) artistically braided.
As the city continues to be flush with tech and international money, pricey sushi experiences don't seem out of step with the climate. Some thankfully provide more approachable price points for a traditional or elevated omakase experience. At both Hana and Pabu, Tominaga explains that he sees the next challenge as educating diners on aging fish, seasonal fish and the difference between wild versus farm-raised fish. "I'm trying to protect overfished species like blue fin tuna, but some diners expect a certain fattiness or source," he says. "When in season, I balance overfishing by sourcing blue fin tuna from Boston and Spain, as well as wild blue fin from Japan when it is in prime season. At Hana, I serve five different cuts of blue fin, from [fatty] o-toro to [medium-fatty] chūtoro."
With greater patience for traditional omakase experience, it seems the Bay Area is primed to keep digging deeper into long-held sushi traditions. Hold the soy sauce, please.