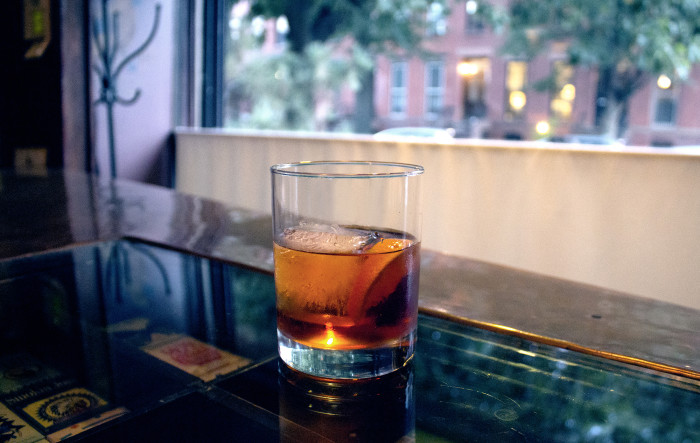 Whereas the martini was a front-runner of the 20th century cocktail lexicon, the Negroni appears on track to be this century's preferred stirred favorite. Adventurous adaptations are plentiful, and sometimes it's those found outside of the purist cocktail bars that end up being the most memorable. Take Brooklyn's Locanda Vini i Olii in the heart of Clinton Hill, which features a menu of authentic Tuscan fare, along with an assortment of Negroni options that includes an inspired and surprising scotch variation.
"I've always been a big whiskey nerd," says co-owner Michael Schall on the origin of his Highland Negroni. "I didn't want either the bitter Campari or the sweet herbal notes of a red vermouth to overpower the scotch." The bitter that Schall feels works best is Aperol instead of Campari, along with Amaro Montenegro instead of sweet vermouth. The result is a clean expression of the young Highland single malt framed in a much darker, almost cigar-worthy take on the Negroni; it's a clear departure from the classic's bright flavor profile.
The restaurant is housed in a 130-year-old pharmacy, making the unique juxtaposition of old and new even more apparent. One might seldom expect a Northern Italian restaurant to throw scotch in a Negroni, but it's this kind of progressive thinking that's at the heart of Locanda's philosophy. The restaurant even experiments with blending its own amaro and grappas, hoping someday to discover its own take on Campari. It's this attention to detail and craft that will lead the inventions of the past to a more interesting and exciting place. Enjoy.
Negroni
Servings: 1 cocktail
Ingredients
1 ounce Beefeater gin
1 ounce Campari
1 ounce Carpano Antica sweet vermouth
Directions:
Combine ingredients into a chilled rocks glass.
Add a large ice cube and stir for 10-15 seconds.
Add an orange-twist garnish.
Highland Negroni
Servings: 1 cocktail
Ingredients
1 1/2 ounces Deanston Virgin Oak single-malt scotch
3/4 ounce Aperol
3/4 ounce Amaro Montenegro
1 dash orange-blossom water
Directions:
Combine ingredients into mixing glass. Stir for 10-15 seconds.
Strain over a large ice cube and garnish with orange wedge.
Difficulty: Easy
Prep Time: 3 minutes