I've seen the light. Once a lost, flat water–drinking wanderer, now I am found.
The newest release from carbonation giant SodaStream is the Power, conceptualized by Swiss designer and noted sustainability advocate Yves Béhar. Unlike its predecessors, the Power's defining feature is automatic, push-button carbonation. Gone are the days of awkwardly pumping and priming CO2 canisters. With a simple push of a brushed-steel button, the SodaStream Power rapidly carbonates a liter of water. The Power also features three carbonation levels, allowing for more accurate user customization. It accommodates a CO2 tank that carbonates about 60 liters (depending on the level) sleekly tucked away behind a curvaceous back panel. I like sparkling water that is very heavy on effervescence, so a 60-liter tank produces about 30 to 40 liters of fun water for me.
The Béhar team clearly considered the user in every detail. Not only is this machine efficient; it's downright sexy. It features a chic, well-balanced combination of textured white plastic and brushed steel throughout the main housing and foot stands. The LED indicators are a bright, cheery blue and quietly advise when your water is ready — there is no shouting with this machine, unlike its ancestors. There's a tiny opening in the rear panel that allows for the power cable to pass through to preserve a flush seal with the main unit, and the twist-in bottle lock only requires a subtle wrist gesture — no more screwing in at an awkward angle. The Power is a worthy advance for the SodaStream line of products, no longer strictly utilitarian like the earlier models, but instead an eye-catching appliance you can feel comfortable displaying on your countertop.
With such thoughtful design, I found myself wondering why SodaStream would present this chic, minimalist device with an array of cloying stickers, all in clunky packaging. There are cues to be taken from Apple, in this instance. If one of the goals of product design is establishing a resonant connection between user and object, then SodaStream may have undermined the reason for bringing in a big-name designer like Béhar. SodaSteam is so close to catapulting its product line into the sublime that this seems like a bit of an oversight.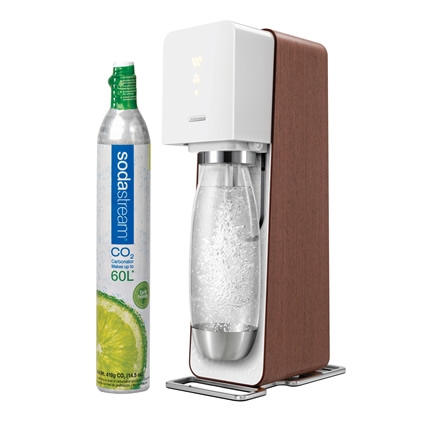 That all said, I'm whining about some disposable inserts and residual sticker glue. These hiccups certainly didn't impede my use of the machine. I whipped through three CO2 canisters in a month, which, given SodaStream's canister exchange program, cuts the replacement cost in half. I also tested out some of SodaStream's more health-conscious flavor syrups with high hopes for the cucumber-lime flavor, but ultimately all the options tasted at least somewhat artificial. Luckily, making homemade soda is an easy, tasty weekend activity. Grab some fresh fruit before summer ends and get going!
At $149, the Power starter kit isn't a casual purchase. However, if you're an avid drinker of sparkling water, there is immense value in an unlimited supply of the homemade stuff. Over time you'll recoup the costs of the canisters, and you'll feel good knowing that you're sparing the environment a mountain of single-use plastic bottles.
SodaStream Power, $149, available online.