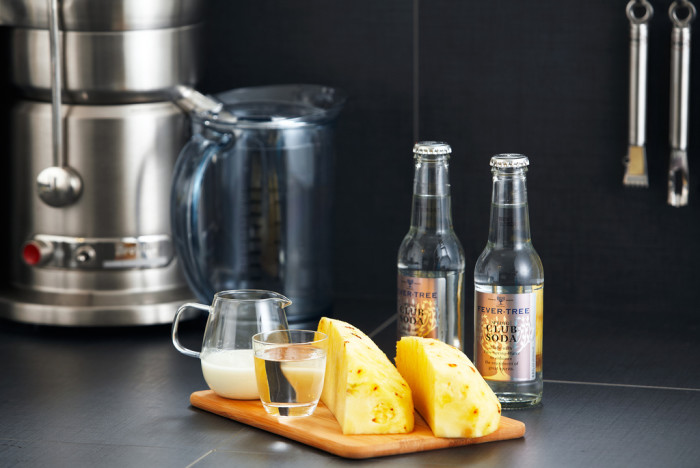 Maybe you've had pineapple soda when bouncing around India or Africa. Perhaps you're just back from the Bahamas and tried it for the first time. You've probably had a form of pineapple soda if you live in the US, where Fanta is widely available, or the UK, where a close approximation is Lilt. And that's all well and good, but did you know that you can make it yourself?
First, you make the syrup, which isn't all that hard. You can do all sorts of things with this syrup, but for the purposes of today's lesson, we're going to make pineapple soda with a touch of mint just for added refreshment. Follow the directions below, sit under the nearest palm tree and feel the tropical vibe envelop your body. Suddenly, all is right withe the world, thanks to pineapple soda.
Ingredients
7

cups

pineapple chunks, (from about a 2-pound fruit)

1

cup

dark brown sugar

2

cups

white sugar

1

bunch

fresh mint, well washed

2

tablespoons

fresh lemon juice, (from 1 lemon)
Directions
Combine the pineapple and both sugars to coat in a large, covered pot and let it macerate, stirring occasionally to help the sugar dissolve, for at least 12 but no more than 24 hours. (Setting this up after dinner and stirring periodically before bedtime is sufficient.) The fruit will shrink in size and release its juice and the sugar will dissolve in the liquid. If necessary, cover the bowl loosely with a kitchen towel tied with string to protect the sweet syrup from insects.
When the fruit has macerated, move the pot to the stovetop. Tie the mint together at the stems with kitchen string or unwaxed, unflavored dental floss and dunk the leaves into the fruit and syrup. (Leaving the stems sticking out will help with easy removal later.) Cover the pot and bring to a gentle boil over high heat, then lower the heat and simmer for 3 minutes. Turn off the heat and let the mixture steep, still covered, for 30 minutes.
Remove the mint with tongs or your fingers and squeeze out as much of its liquid as you can through a sieve back into the pot. Strain the pineapple from the liquid and save it for another use (such as eating). Stir in the lemon juice.
How to Store It:
Pour the syrup into a glass bottle for storing in the refrigerator, where it will keep for up to 6 weeks.
Plus: Pineapple Mint Soda (two ways)
Stir 3/4 cup Pineapple Mint Syrup into 1 1/2 cups sparkling water (or any quantity in a ratio of 1:2). Add ice cubes and enjoy. Shot of rum optional. To make carbonated soda, see How to Carbonate It. Drink within 5 days. Note that soda left for longer than that, even at cold temperatures, is in danger of becoming explosively overcarbonated.