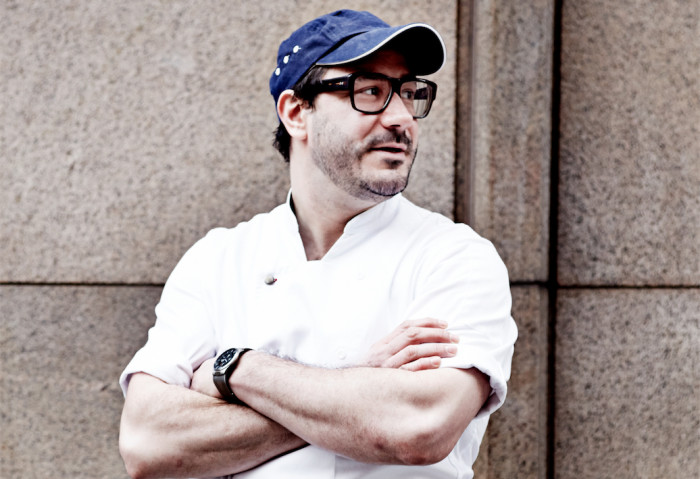 Francis Derby: executive chef, sausage scholar, pâté deity and all-around MVPP (Most Valuable Pork Person). The longtime NYC restaurant vet (and no-contest winner of 2015's Cochon 555) helms the protein dream team at the Cannibal Beer & Butcher, a beer lover's dream of a gastropub in New York's Flatiron District with an outpost in Hell's Kitchen. Take a look inside his compact but mighty kitchen to see why classically trained isn't always better, ogle a few pig's head terrines and learn a sausage hack that will have you scurrying to the nearest butcher with a smile on your face and a bottle of wine in your hand.
What was your very first experience with making charcuterie?
My first experience creating charcuterie was at the Belfort Restaurant when I was young — 16 or 17 — making country pâté. I didn't really get it, I thought it was kind of gross, like "I'm just going to grind all this stuff up and pack it into bacon? That's kind of gnarly." It just wasn't my thing when I was younger, but I wanted to learn it, so when I started at Ssäm Bar with Tien Ho, he got me hooked on doing different pig heads. I never did the mass amount of charcuterie that I do now until I started working here. I really got a bug for it. I spend hours each day working new terrines, pâtés and sausages.
Where have you traveled that has the best charcuterie/cured meat/curing practices?
Well, it's not really fair because I've never been to France, which is a damn shame.
Have you worked with French charcuterie chefs?
No. I'm really self-taught.
Usually you study under a French master who refuses to teach you anything for the first three years.
I feel like once you know basic techniques or understand food on a certain level, then you can grasp charcuterie a little better. I know how to make a scallop mousse; I know how to make an emulsion. Every emulsion after that is just another emulsion, whether it's boudin blanc or chicken liver mousse, mortadella or scallop mousse or mayonnaise. In my brain, they're all the same because they're all emulsions, the suspension of fat. A lot of people I've met are timid when they make boudin blanc or mortadella because they can break. Make sure you're using ice cubes — keep it packed on ice. If you understand what an emulsion is, it's a lot easier to attempt stuff like boudin and mortadella.
What and where was the last best charcuterie you ate? 
I think I had some of my best charcuterie on a recent trip to Belgium. I went with Christian Pappanicholas, one of the owners here. We had a pâté en croute that was layers of foie gras and pork. That was pretty phenomenal. I love pâté en croute — if someone has one in their case, that shows real technique. It's pastry meets charcuterie, if the crust is just right and it's cooked through and you haven't overcooked the inside and the gel is set right, it shows so much skill.
Do you have one on the menu here?
We had one on the menu for a little while that sold okay. If it doesn't sell, we have to start giving it away. No matter how much I love something, if I put up a pâté en croute with squab mousse layered with foie gras and we sell four orders in two days, I'm going to waste a whole lot of pâté.
Speaking of elaborate pâtés like that, especially en croute, how do you feel about those long terrines that have an inlay you see when you slice it?
I think that shows great technique. I've done pâtés with different inlays to get circles down the middle.
It's got to be so satisfying. It's like making a sandcastle for grown-ups.
It's exactly that, except you don't know what's going to happen until the next day. You set it, you think "I got it," then you bake it…
…you slice it open and look, it's…Elmo!
And then what do you do? But yes, there's definitely something incredibly satisfying about nailing that. I think that's great. It shows there was love there; it shows that someone really took the time and spent a long time doing this. I think that's really special.
---
For me, it's the sausage dishes and the pâtés — you can do whatever you want. I could make them taste like a McDonald's cheeseburger if I wanted.
---
How do you feel about the origins of charcuterie being subsistence food? You go from"we've got to preserve this meat for the winter" to artistic boards composed of the finest food at some of the best restaurants in the world.
It's funny because some of my favorite hams, which are country hams, a lot of people send back because they're too salty. I feel like that's a funny thing because…compared to what? [Laughs.] What's your reference point here? The whole idea is this is an old recipe. This recipe goes back hundreds and hundreds of years.
This is how we lived!
Exactly — this was made for preservation. We were doing a sandwich for a while, a country ham sandwich, and we would only use Edward's ham for it because of the story. If you don't know the story, the way that Edward started is that they were making ham sandwiches and selling them on a riverboat. People started asking where to get the ham, so he started making lots of ham and mail-ordering to people. That's pretty cool.
What do you think of the advent of charcuterie onto mainstream menus that never would have featured it ten years ago? 
I think it's great that everybody is into charcuterie now. Ten years ago, it was not a thing. Now everybody's got a country pâté on their menu, there's chicken liver toast on almost every "bites" section of menus. That's normal stuff now. So I'm happy; I embrace it; I'm having fun doing it. I think what's different about the stuff that we do here is that I approach it from a less classical sense. Maybe that's because I didn't train classically. We like to have fun with the combination of a dish.
Speaking of combinations, I've noticed a few offerings on your menu that I can only describe as "fusion charcuterie."
For me, sometimes the goal is just to show classic pâté grand-mère and just walk away. But then there's another side of me who likes to have a little fun, like we do a beef cheek and tongue terrine that's braised in all Thai seasonings: kaffir lime, coconut milk, ginger and lemongrass, and we serve it with soy, tapioca and wild watercress. That's by no means classic French. The technique is, but the flavors come from a different place.
Right now we're doing two pig head terrines: a maitake mushroom and pig head terrine that we serve with blueberry mostarda, which to me is more classic (even though it's not). Then we're doing one pibil-style: achiote paste, coriander, cumin and sour orange. It sets in this beautiful bright red color, and we serve with corn salad and cilantro. That's where I get to have fun. For me, it's the sausage dishes and the pâtés — you can do whatever you want. I could make them taste like a McDonald's cheeseburger if I wanted. We can take it to Spain, we can do it Japanese-style. There are ways to get those flavors. We can do a Korean one if we want. It could be bulgogi, it could be anything. If you have the technique down, you can approach it that way. Right now I'm playing with chicken liver and green tea — a matcha powder chicken mousse.

Matcha is so hot right now.
That's how things come about for me. There was literally matcha on the shelf when I was puréeing the chicken liver, and I was like, "Huh."
What does it look like? Does it turn brown?
No. It doesn't turn green either. It still looks like chicken liver, but when you eat it, you get that green tea floral thing going on. It's one of those things where people are like, "What? It's green tea and chicken? Oh, that actually works!" So we're playing with that right now. It's by no means menu-ready. But that's what I'm saying, that's where the fun is for me.
Is fusion charcuterie the next logical step for everybody?
I don't know about everybody.
French chefs probably aren't going to get on that bandwagon.
Let's not forget the Italians.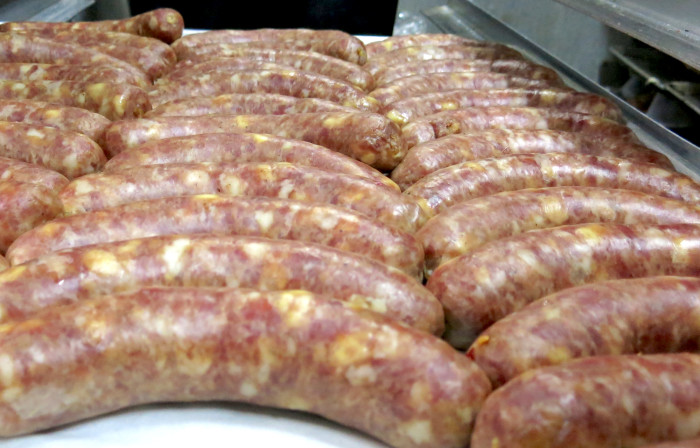 Right, and the Spanish and Belgians and everyone else making charcuterie will be like, "Great, the Americans are here. Thank you for doing this to our beautiful ancient practice."
Maybe. Sausages are a really big playground for me like that. Right now, on the menu, we have a sausage that's studded with chunks of cornbread and flavored with root beer, and we serve it with smoked cauliflower purée. We dice the cornbread, freeze it, then fold it in the sausage mix. I always like putting chunks of stuff in sausage. We have a lamb sausage with big chunks of halloumi in it. I think that's fun.
What do you have to say to people who think old, moldy hams hanging from the ceilings are gross?
No, no, no. I mean, if they were grosser, or if they were dangerous, there would be a lot of cultures that would be dead. [Laughs.] We wouldn't have made it this long. Think about it: People have been making hams since the days of the Vikings. There's a reason that this works. There's nothing gnarly or dangerous to it. Granted, if you do it wrong, you can get people very sick, if not kill them outright.
What is something charcuterie enthusiasts could make at home without killing their loved ones?
Anything that's not cured.
What's the first thing the home cook who wants to try charcuterie should make?
I would start with something simple. I think chicken liver pâté is a good start. It's one of the first things I made. I think a country pâté is a nice place to start as well. As long as you have a good thermometer, those two are kind of hard to screw up. Just patience and the right temperatures. You want everything to be cold when you grind it; you want to just bring it to the right temperature. When I started doing charcuterie, I was just using the KitchenAid attachment, the grinder. Not until I got here did I use a real grinder and all the different plates and stuff. So you can do it. You can pull it off.
What's it like to make the transition from KitchenAid to commercial grinder?
Faster [laughs], much faster. Instead of making one terrine, I made eight terrines today. I don't think anyone should be scared to do that. Get good product from your butcher. If you're going to go down this road at home, it's important to make friends with your butcher, rather than weeding through what's in the cold case at the supermarket.
Could you do it in a Manhattan kitchen if it's not chicken liver mousse?
Have you seen the size of my kitchen? Wait until you've seen it. It's the smallest kitchen I've ever worked in. When we did Cochon 555 this past year, I didn't have a table long enough to put the whole pig on. I got a whole 300-pound Old Spot and butchered it hanging from the ceiling hanging off a speed rack. It was kind of hilarious. Our walk-in is really small, though; I'm sawing 300-pound pigs in half to store them. You have to be creative and have a little know-how when it comes to space. I didn't have space for a sausage stuffer at one of the places I worked at, so I'd get the meat from the butcher, grind it, make the sausage, then I'd bring it back to my butcher and he'd case it for me.
Good lord, is that the greatest butcher hack of all time or what?
I think it's a butcher hack, yeah. If you really want to get into making sausage, be nice to your butcher. Bring him a bottle of wine or something, strike up a conversation and they'll case it for you.
Lastly, what is your spirit salumi and why? It's like a spirit animal, but dead, cured and delicious.
That's tough. I'd have to say Ibérico ham. It's just so special to me. It represents the time I spent in Spain, and I could never replace that. You couldn't get Ibérico in the States at that time. Anyone who went to Spain at that time would have to smuggle it. My buddy Tom smuggled a whole leg. He was going through the airport with his carry-on, and the whole hoof was sticking out of his bag. I got presliced Ibérico and put it in between the pages of a bunch of books and wrapped them up like gifts so nobody saw.