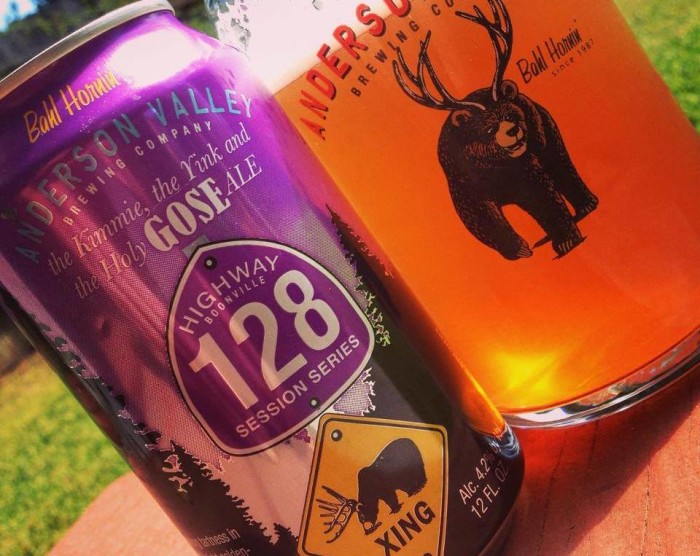 If mild, malty brown ales are the antithesis of bitter, hoppy India pale ales, gose is its stylistic antichrist — night-and-day divergent from what has become the most popular American craft beer style. In fact, gose (pronounced goes-uh) tastes almost like nothing on the American beer market, which is exactly why you should want to explore it. Gose is quickly becoming the craft-beer geek's craft beer, one that becomes more and more intriguing — and rewarding — the longer you sip.
Gose's origins stretch back to at least the Middle Ages, though some say it's in its second millennia now. The style was developed in the German town of Goslar on the Gose River (hence the name), though it soon migrated to the larger city of Leipzig about 100 miles to the east, probably in the 1600s. Ever since, it has been associated with that city even though its roots cling to Goslar soil.
The water in that area of modern-day Saxony was salty, and thus gose traditionally has a saline taste. And aftertaste. Gose is as close as modern beer may get, then, to the French-born wine concept of terroir, wherein the geography-slash-environment that produces the ingredients has a profound effect on the finished product.
By the 1800s, gose's heyday had already started passing and the style itself soon drowned in a sea of pilsner, IPA and porter. Michael Jackson, the late, great critic who did so much to resurrect so many styles, did not mention gose even in the revised edition of his classic World Guide to Beer. He would note in later writing that by the late 1980s German brewers were resurrecting the style, and American ones followed, especially in the last few years.
Aside from the saltiness, there are four other features that define gose.
First, the bitterness. There is none. Or, nothing like even a typical pale ale these days. As heretical as it may seem to modern-day craft-beer aficionados, especially in the U.S., almighty hops just do not play a big role in gose. Instead, herbs and spices, especially coriander, are the order of the day.
Which leads us to the second feature: the sourness. Sour beers in all their puckering iterations — lambic, gueze, faro, Flemish red, berlinerweisse and the like — have justifiably been in vogue in the States since at least the early 2000s. Gose is a sour beer, and like many sours, wheat comprises a significant portion of its grain profile (at least 50 percent traditionally and often more). But while a faro might be sugary sweet on the finish, or a berlinerweisse might be crisp, gose is often relentlessly sour from first tongue-touch to the lingering aftertaste.
Finally, two more things: Gose usually does not produce a head of foam, or at least not one that clings lacily to the glass. And it's generally lower in alcohol (around 5 percent by volume or less) than most craft beers out there.
So, to summarize: Salty, not bitter, extremely sour, no head and not much kick. Tempted yet? Here are six gose beers, both domestic and from its natal nation of Germany, to ease you into the unlikeliest beer du jour ever.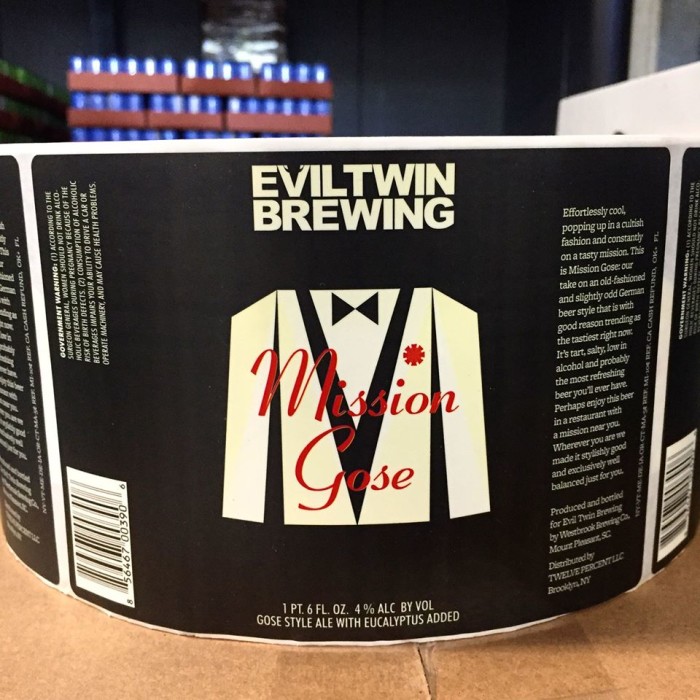 Jammer
Sixpoint Brewery, Brooklyn, NY
This gose was the mildest of the bunch, not as sour, with the herbal tastes and smells upfront. Definitely salty—Sixpoint says it adds "hand-harvested sea salt." It's 4.2 percent ABV.
The Kimmie, the Yink and the Holy Gose
Anderson Valley Brewing Co., Boonville, CA
This was the least sour selection and not very salty, either — probably the best introductory gose in wide circulation (we got the California-produced beer in Massachusetts). It had an almost lemony finish and was also 4.2 percent ABV.
Westbrook Gose
Westbrook Brewing Co., Mount Pleasant, SC
Very sour from beginning to end, this number also had a very salty aftertaste. It is 4 percent ABV and, just to give you a sense of how mild goses can be, Westbrook's offering clocked in at a mere five international bittering units. Sam Adams Boston Lager, for comparison, registers 30 IBUs.
Gasthaus & Gosebrauerei Gose
Gasthaus & Gosebrauerei at Bayerischer Bahnhof, Leipzig, Germany
While this offering from the heart of traditional gose country was not as overtly salty as most of these selections, it tasted a lot more sour. And, at 4.6 percent ABV, it's positively a double gose (we're making that style up).
Original Ritterguts Gose
Brauerei Reichenbrand, Chemnitz, Germany
This gose, from a brewery about an hour's drive southeast of Leipzig, was both sweet and sour, only vaguely salty and nearly transparent in body — thin and unobtrusive. (Gose light? We're making that up, too.) It's 4.2 percent ABV.
Mission Gose
Evil Twin Brewing, Brooklyn, NY
Face-puckering sour, with a very strong and persistent herbal smell and aftertaste. The eucalyptus that's added comes punching through with each sip. Evil Twin's Mission Gose, which is contract-brewed through Westbrook and is only 4 percent ABV, will prove challengingly unfamiliar for any hophead. Then, again, today's unfamiliar beer is sometimes tomorrow's best-seller.
Tom Acitelli is the author of  The Audacity of Hops: The History of America's Craft Beer Revolution. His new book, American Wine: A Coming-of-Age Story, is available for preorder.