Filipinos are one of the largest and most intimately connected immigrant groups in the United States, attuned to American tradition in a manner that other cultures, Asian or not, do not enjoy. (More than 3.4 million people in the country identify as Filipino or part-Filipino, according to U.S. Census figures from 2010, making it the second-largest Asian population in the country, behind Chinese.) Their distinctive food — synthesizing Malay, Spanish, Chinese and American elements — tightrope-walks the narrow causeway separating adventure and accessibility. The flavors are big, the regionality is exciting (if not unknown to most outsiders) and the family-style format of the typical Filipino meal seems customized for contemporary eaters warming to communal dining.
So what's prevented Filipino fare from reaching the level of Chinese, Japanese, Korean or Thai food in this country?
The answer seems to be more cultural than empirical. Filipinos' close association with America — 1898's Treaty of Paris resulted in Spain ceding control of the archipelago to the U.S., and that stood until 1946 — meant massive pressure to assimilate for many Filipino immigrants. Points of pride, like food, weren't really celebrated outside of the household. "I think this factors quite a bit into Filipino cuisine not making significant headway into mainstream American dining," says Resa Mueller, a bartender and student of Philippine history who's involved with Philadelphia's Pelago Pop-Up Kusina. "What a family eats in the home isn't necessarily something that we search for outside."
In other words, Filipino food has long been made by Filipinos for Filipinos, with little attention paid to packaging the tradition for non-natives. But that's finally changing, thanks to a few young, innovative Filipino-Americans who know potential when they see it.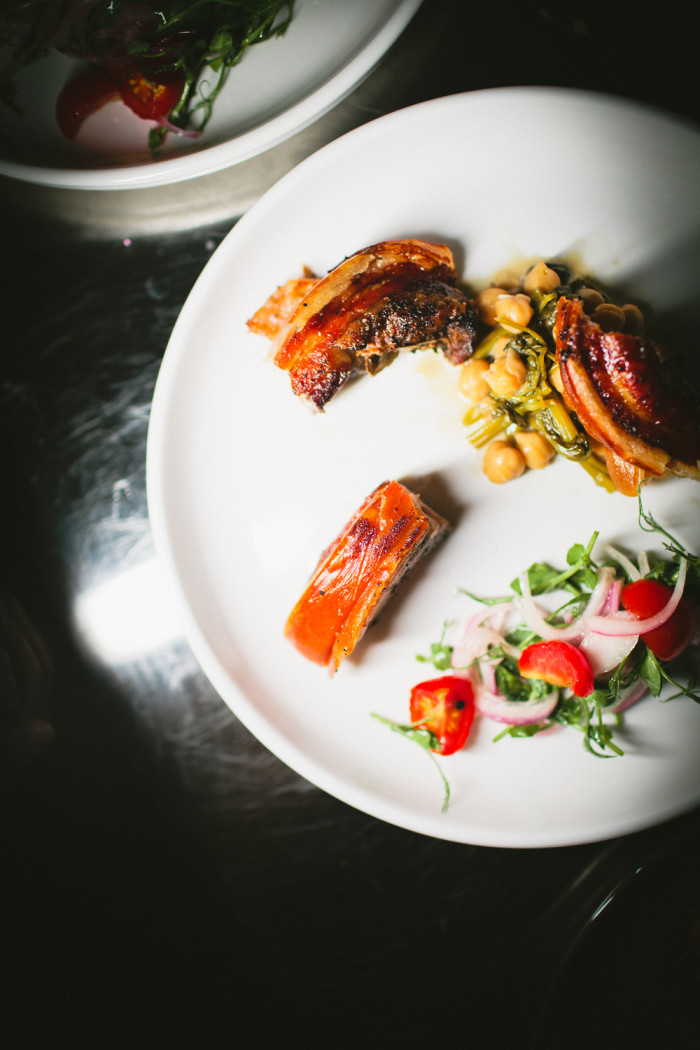 New York City's Maharlika came about in 2011, when owner Nicole Ponseca established a pop-up in the East Village. Now joined by sister restaurant Jeepney, a Filipino gastropub, the now-permanently located Maharlika is a prime example of "Filipino Moderno" in action, with contemporary tweaks and touches attracting a new, and perhaps unfamiliar, audience. The restaurant's ginataang isda, typically a humble one-pot dish of seafood cooked in coconut milk, comes artfully plated; ube, the widely used purple yam, gets beaten into waffle batter and served with fried chicken and bagoong butter. "We have to bridge between a homage to Filipino food and an introduction to Filipino food," says Ponseca.
The Maharlikans are joined in this approach by a number of Pinoy chefs around the country: Leah Cohen, who slings sizzling sisig (chili-spiced pork head) at Pig & Khao, also in New York; Paul Qui, who works versions of dinuguan (pork blood stew) and kare-kare (spicy oxtail-based stew) onto the menu of his eponymous Austin restaurant; and Cristina Quackenbush, who brings a soulful approach to Milkfish in New Orleans, to name a few. A number of other major cities currently host Filipino pop-ups — Philly's Pelago, L.A.'s LASA, Seattle's Food & Sh*t — that might just go brick-and-mortar in the near future.
The D.C. metro area has been particularly busy on the contemporary Filipino front recently, with Bistro 7107, Purple Patch and Urban Heights leading the way for pending additions, like the forthcoming Bad Saint as well as a planned Filipino concept from acclaimed Restaurant Eve chef Cathal Armstrong.
However much these operations differ in approach and philosophy, the core motivation remains the same: to prove to Filipinos and non-Filipinos alike that this cuisine is versatile and viable within the American restaurant scene. But no matter how much the look, feel and makeup of classic dishes might morph in order to sync up with contemporary American tastes, the honest essence of Filipino cooking is what requires the fiercest protection.
"If we're going to compromise, it shouldn't be the greatness of the food itself," says Prometheus Brown of Seattle's chief Pinoy pop-up. "Let's believe in our food."