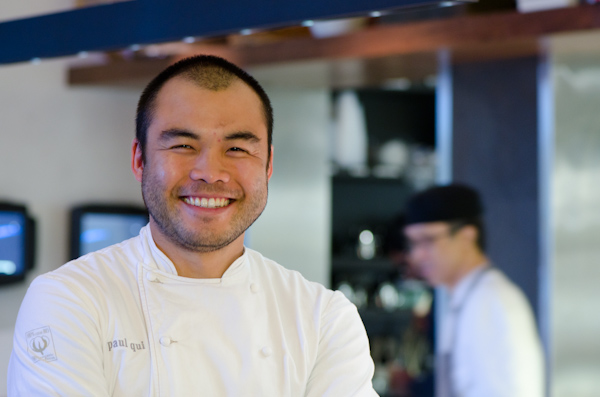 As we've well documented on this here website, Austin chef Paul Qui had one hell of a 2012. The Top Chef Season 9 winner also took home the coveted Best Chef: Southeast at the James Beard Awards in May for his work at Uchiko. He also served one of our favorite dishes at the Aspen Food and Wine Classic. But the biggest news yet is a namesake restaurant that he hopes to have open by spring. While he will be staying mostly grounded in 2013, Qui wrote in to recall his most insane travel year.
Where are you planning to traveling in 2013?
Once Qui's doors are open, most likely nowhere. We may try to sneak away to Mexico for a weekend if time permits and I'd like to go back to Copenhagen for MAD 3. (Related: René Redzepi: Help Support MAD Symposium!). Oh and the Top Chef Cruise in April.
What was your most memorable trip from the past few years?
I feel that all of 2012 has been one long journey. The most memorable leg of last years trips started off in Kentucky for the Derby, on to NYC for the James Beard, then Paris, London and finally ended in Tokyo
If you could travel anywhere (else), and had infinite resources, where would you go in 2013?
Hong Kong, Singapore, Malaysia, Cambodia, Korea and Australia as one trip. Iceland, Croatia, Turkey, Morocco and South Africa on the second leg.
What airlines do you fly, prefer to fly? Do you have any frequent flier programs?
We've flown on quite a bit on a variety of airlines this year, mostly on American and Continental. I've never experienced Singapore, Korean or Virgin airlines, but I've heard amazing things about them. I prefer to fly business or first class and I like Jet Blue for local flights.
What about hotels? Any standout places that you've stayed or would like to stay?
Marques de Riscal in Alava, Spain, Hotel Maria Cristina in San Sebastian, Hotel La Belle Juliette in Paris, Mondrian Soho and the Hotel Americano in NYC and the St. Cecilia in Austin, Texas are some of the exceptional places we've stayed at.
What are you favorite cities for food, and if not mentioned above, where are you yearning to go to try the local cuisine?
Tokyo, Copenhagen, Paris, NYC, PDX, LA, Seattle, Vancouver, Montreal, Toronto, Bangkok, Manila, Cebu. I'm dying to go to explore more of SE Asia. (Related: You Travel, You Eat: Where To Find The Best Food & Drink In Bangkok, Thailand)
Is there a food you have traveled over 1,000 miles for?
My grandmother's Dinuguan. It's a Filipino pork blood stew with chilies. I'll fly to Manila for that.
Best food-related souvenir that you have ever brought back?
It's a tie between my notes from MAD 2, signed Ryugin cookbook and knives from Nenohi.
Any favorite cocktail/beer/wine spots from your travels?
Sochu from Japan. It's almost hangover proof.
Have you ever brought beer/wine/booze back from someplace, and if so, how'd you carry it?
When my grandfather passed away a few years ago, I inherited some of his bar from the Philippines, which included some really old bottles of whisky. I wrapped it in newspaper, boxed it up and checked it in on my flight back. I realized later that it was illegal for me to bring back so many bottles. I think that shipping it is the way to go. Hotel towels are also a good way to wrap bottles up.
Any must-have travel items?
IPad, sketch book, neck pillow, good headphones, having an extra bag tucked away in my luggage just in case there's some shopping to be done.
Best travel nightmare story…
Trying to move out of the Soho Grand, and fly hone, during Sandy. We ended up staying two nights there with no electricity before we were able to move up to Midtown and finally getting on a flight out the night before I had to do an event for 600 people in Austin.
More Fantasy Travel Week on Food Republic: