In just a few short years since opening their first restaurant together, Andrew Michael Italian Kitchen, Andy Ticer and Michael Hudman have set the Memphis dining scene on its (pig's) ear. With multiple nominations as a team from the James Beard Foundation, and another successful restaurant, Hog & Hominy, right across the street from their original eatery, the dynamic duo continues to wow diners with their fusion of traditional rustic Italian dishes and Southern soul food. This combination is quite natural to the pair since they both grew up in Memphis as members of Italian families and spent many weekends learning and cooking in the kitchens of each other's homes.
Now they've expanded their culinary empire even further, although not off the same block as their other two restaurants. Porcellino's Craft Butcher is located next door to Hog & Hominy, but the vibe is worlds away from that fun and funky pizzeria/trattoria. At Porcellino's (Italian for "piglet"), Ticer and Hudman are aiming to become an all-day destination, with a café serving bracing espresso affogatos and pastries to early risers and a selection of sandwiches and salads for the lunch hour. In the evening, the community bar offers classic cocktails, wine and aperitifs. The cocktail bar also serves a more substantial menu of cichetti, an Italian small-plate style of food, with daily specials wheeled around on carts, dim sum style.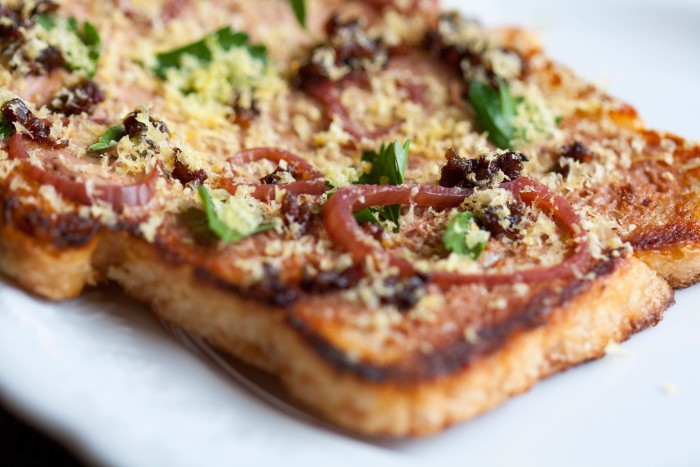 Specials run the gamut from simple to elaborate, but all of them feature the chefs' predilections for using seasonal local produce in concert with Italian specialty ingredients and techniques. Chicken liver bruschetta is topped with pickled shallots, parsley salad and bacon jam accented with shavings of cured egg yolk. The recently ubiquitous roasted Brussels sprouts are jazzed up with the addition of lemon conserva, ricotta salata, tonnato and crispy slivers of pig's ears.
Porcellino's has an abundance of those pig's ears because they also operate a full-service butcher shop at the location, with a meat case filled with custom cuts of beef and pork from nearby ranches. The talented butchers also cure their own sausages and hams, and a window allows customers to peek into the cure room, where legs and shoulders hang from hooks like Dexter Morgan's garden shed. Prepared foods such as chutneys, pickles, cookie dough, gelato, gravies and stocks made using slow-cooked bones from the butcher shop are also available for purchase at reasonable prices. House-made pastas, both fresh and dried, emerge from the production kitchen directly to shopping bags for a quick and impressive meal at home.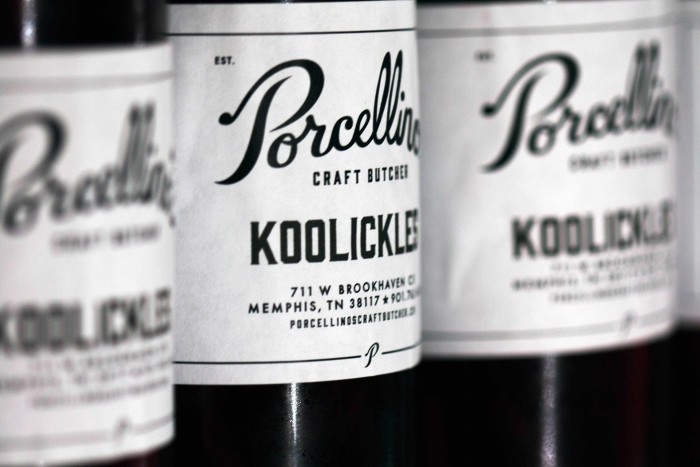 You can even pick up one of Memphis's soul-food classics, the Koolickle. What's a Koolickle, you ask? Check that big jar on the counter filled with bright red dill pickles soaking in a brine of Kool Aid. Sweet and tart and soft, with just a bit of snap, these culinary contradictions prove that in the traditional soul-food world of the Mississippi Delta, red is more than just a color. It's a flavor. And family, friends and flavor are the centerpieces of Porcellino's Craft Butcher.