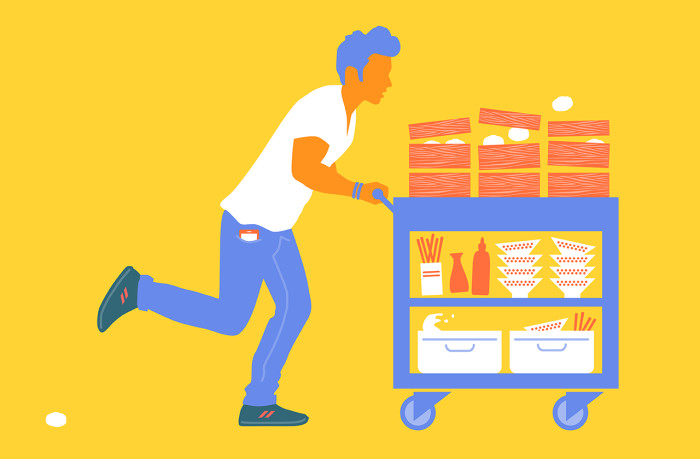 In June, Food Republic is counting the many reasons to love Asian food in America right now. Here's one of them.
"One of the most common things that I see in the American food press is the fundamental misunderstanding that dim sum must be served in carts," says Ed Schoenfeld, a man who knows about the evolution of Chinese cooking in America. Dim sum served without carts? If anyone can make a case for it, it's Eddie Glasses (as he's affectionately known around New York City). He has been a major figure in the Big Apple's dining scene for over 40 years. Once dubbed "the curator of Chinese food in America" by Gourmet magazine, Schoenfeld has been involved in many of the city's renowned Chinese kitchens. His most recent project is Red Farm, which has locations in the West Village and on the Upper West Side of Manhattan, both of which are far outside of Chinatown. And you won't find any carts in his restaurants.
Dim sum is, of course, the time-honored Cantonese tradition of bite-sized foods served with tea, often arriving in steamer baskets or on small plates. Most commonly offered during the day and into the early afternoon, dim sum can evoke images of vaporous platters of har gow (shrimp dumplings), shao mai (steamed dumplings) and char siu bao (pork buns) being wheeled around spacious, elegant banquet halls. It's usually a pretty inexpensive affair, and always a popular move for groups (sometimes hungover) — you can expect to wait in line at the most well-known spots in Chinatowns in major cities across the United States. But in recent years, dim sum has evolved from this seemingly traditional presentation, popping up in more modern settings and outside of Chinatown. Red Farm is just one of the examples of this dim sum migration of sorts.
Schoenfeld is quick to set the record straight. "Some of the younger food media come in to Red Farm and say, 'Ugh, they don't have a cart, they're not authentic!' When I hear someone say that, there's only one word that comes to mind, and that's ignorant," he says. Why ignorant? "Dim sum is not about eating food from a cart. It sometimes is, but in Asia, if you go to a better-quality dim sum restaurant, you order off of a menu and everything gets cooked to order." And that's exactly what you do at both Red Farm locations.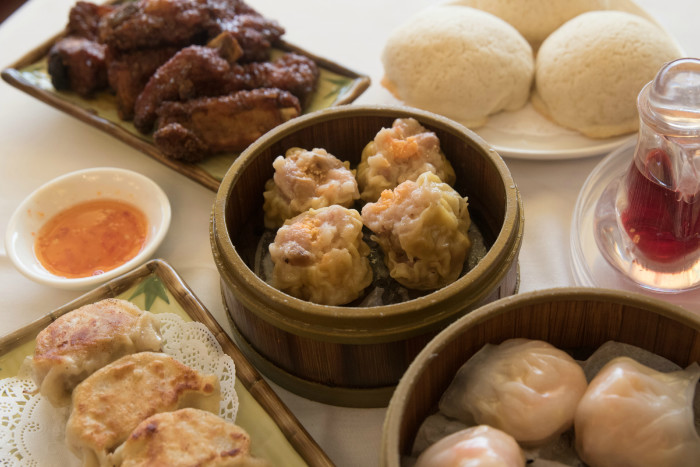 Elsewhere around the country, chefs with little background in dim sum cooking are making noise with restaurant openings exploring the Cantonese dining style. One of the newest restaurants to open in Philadelphia's rapidly growing East Passyunk neighborhood is Bing Bing Dim Sum. You'll find Chinese-influenced small plates here…and no carts. Founded by two lifelong friends (and partners in the city's successful Cheu Noodle Bar) and full of wildly colorful murals, Bing Bing could not differ more from an old-fashioned banquet hall. Meanwhile, in Madison, Wisconsin, Tory Miller — a former James Beard Award winner for Best Chef: Midwest and the man behind two acclaimed farm-to-table restaurants in town — recently opened Sujeo, a sleek space complete with purple booths located on the first floor of a new high-rise development.
Miller serves an expansive melting pot of Asian cuisines and features a dim sum menu for weekend brunch. A rotating cart service also offers weekly specials. Dim sum carts certainly aren't going anywhere anytime soon; establishments new and old continue to trot them out in dining rooms across the country. They're just not the only way to enjoy dim sum these days.
As a matter of fact, dim sum carts have found their way into some rather unexpected venues. San Francisco's State Bird Provisions — a James Beard Award winner for Best New Restaurant in 2013 — features a variety of globally influenced items (most of them without any Chinese ingredients) passed around the dining room on dim-sum-style carts, in addition to a more conventional menu. These carts and trays are often manned not by waiters but by the chefs themselves.
Similarly, a revolving selection of passed plates is rolled around the dining room at David Chang's Momofuku Má Pêche in New York City to accompany an à la carte menu. Chef Kevin Gillespie's Gunshow in Atlanta experiments with a similar concept. In many cases, these ventures give either the waitstaff or the chefs an opportunity to try and sell diners on certain dishes, which has always been an interactive, playful part of the whole dim sum experience. What does Schoenfeld think of these restaurants? "Doing the whole cart thing is going backwards a little bit, but it's good. I like the whole tableside idea — it's sort of retro-style."
So whether you're eating food straight from a cart pushed around a banquet hall, served directly from a kitchen or from some hybrid combination of the two, one thing's for sure: There have never been more ways to experience a dim sum meal.