The increasingly desirable microhood of NoMad has become somewhat of a lunch haven for fast-casual restaurants over the past couple of years. Witness the openings of hip salad spot Sweetgreen and "farm-to-counter" chain Dig Inn within a few blocks of each other on Broadway. Faced with a steady increase in competition for lunch business in the area, Tyler Kord's No. 7 Sub — home to some of New Yorkers' favorite inventive sandwiches — underwent a full menu revamp and renovation period earlier this year.
Reopened since late May, the shop — located adjacent to the Ace Hotel — has made better use of its small space, allowing for a proper fryer and a more efficient sandwich line, among other things. Originally best known for incorporating unorthodox items like Brussels sprouts, BBQ chips and "pico de lettuce" into its sandwiches, No. 7 Sub now features grain bowls, a fast-growing industry staple over the past few years. Each sandwich — new and old — is also available as a bowl, which includes quinoa, amaranth and brown rice. "A lot of people ask for gluten-free options, and I've never had a gluten-free bread that I really loved. So now that we have the space, we wanted to make sure that we had something awesome for the folks who don't eat bread," says Kord.
The expanded menu (which has essentially doubled in size) incorporates items like crispy chicken, smoked salmon, slow-roasted pork and Korean-style pickles. Kord's creative spin on sandwich artistry is perhaps best expressed through the names. "I have a strange imagination," he explains. "Some are dumb references, like the R.K. Maroon, which is a reference to the owner of Maroon Cartoons who blackmails Marvin Acme in one of my favorite films, Who Framed Roger Rabbit. And we buy our lox from Acme Smoked Fish." Almost all New Yorkers will chuckle when they spot the Dan Smith Will Teach You Guitar sandwich — an in-joke reference to fliers found on just about every city street corner. Kord's inspiration for that one? "I'm really not sure what Dan Smith likes on his sandwiches, only that he can and will teach you guitar." A strange imagination, indeed.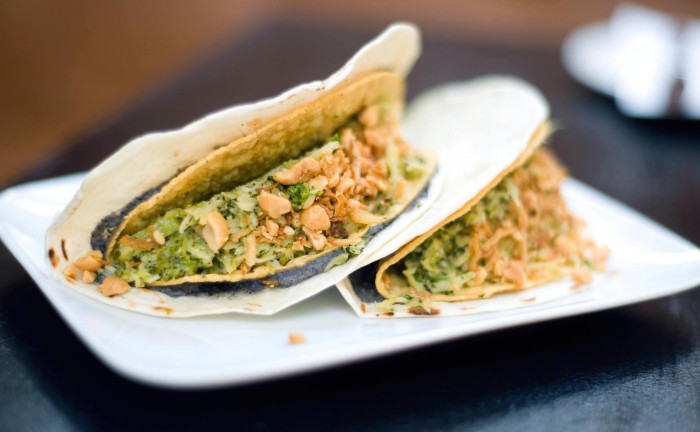 One of No. 7 Sub's specialties has always been broccoli, which Kord continues to use in many of his innovative subs and in his broccoli tacos, newly available at the Ace Hotel location. They've been received exceedingly well since the shop's reopening. "The tacos were a no-brainer because they're the best-selling item at our restaurant in Fort Greene," explains Kord. After all, the chef did write a cookbook solely about broccoli just last year.
As for any complaints about the new digs? It appears that customers have taken a liking to most of the new menu, with the possible exception of the bread. "The only complaints we've gotten are that some people are bummed that we're not toasting the bread anymore. We get this awesome fresh bread every day from Caputo's in Carroll Gardens [Brooklyn], and for me it doesn't need to be toasted, so we stopped automatically doing it because it also slows down the sandwich-making process," says Kord, who adds that he's still happy to toast bread upon request.
In addition to the sit-down restaurant in Fort Greene, No. 7 Sub has grab-and-go locations in the Plaza Hotel and in Dumbo, the latter of which has employed similar menu changes. Even though the trio of sandwich shops seems to be doing quite well, don't think that Kord will cease tinkering with the menu anytime soon. He mentions that a mix of new items and old classics (like the zucchini parm and broccoli classic) have been selling particularly well. "But I have some fun changes coming in the next week or two, so stay tuned!"
No. 7 Sub
1188 Broadway
New York, NY
212-532-1680
no7sub.com