It's easy to be overwhelmed when planning a dinner out in New York City. And even if you're able to eventually narrow down your preferred choice to "Japanese," there are still myriad options to consider. Should you take advantage of some of the country's best sushi restaurants? Dive into the ongoing ramen craze? Or perhaps explore something a little more out of the box, like DIY tableside grilling, foie gras and cherry gyoza or tubed calf brain? Luckily for you, we've got you covered regardless of the route you ultimately elect to take. Yes, even the tubed calf-brain route. Here's our exhaustive guide to the Big Apple's best Japanese eats, sorted by type of food.
Ramen
It's safe to say that New York City is in the midst of a ramen craze, and that the craze isn't going to fade away anytime soon. It's been a couple of years since the Japanese noodle soup really started to make its mark on the city. Ramen is fast turning into a year-round comfort food for the masses, and its popularity is understandable: It's accessible, filling, inexpensive and, quite simply, delicious. Capitalizing on the trend, Japanese chefs have opened a number of ramen joints in the past few years, providing locals with several new slurping options.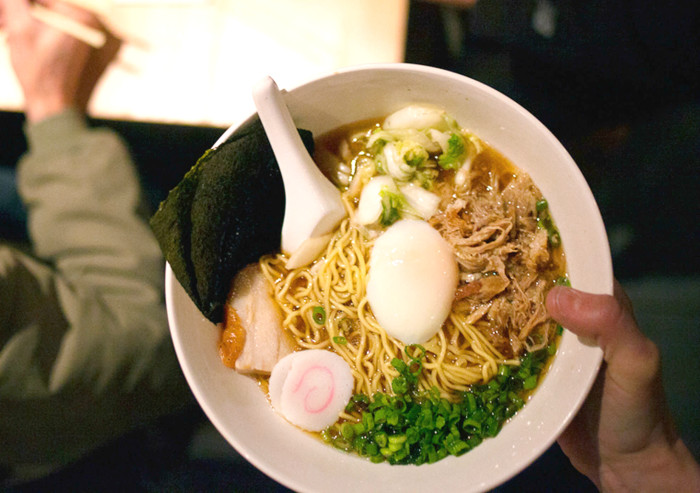 Momofuku Noodle Bar
David Chang may preside over a rapidly growing empire that includes five Momofuku restaurants in New York (Fuku-sanity!), but it's this decade-old noodle bar that marked his first city success. Chang's simple East Village establishment — the interior is composed of wooden benches, tables and barstools — helped usher in the city's early ramen movement some 10 years ago. The Momofuku ramen makes use of the same tender, fatty pork belly found in the restaurant's famous buns (order them to start, as well as the perfectly crisped spicy rice cakes), and the spicy miso ramen rivals any variation in the city. 171 1st Ave., New York, NY 10003, 212-777-7773; momofuku.com
Totto Ramen
In keeping with Japanese tradition, Totto Ramen serves its noodles in a minimalistic setting, and the menu consists of just a few appetizer options. The specialty here is soups made with chicken broth, a rarity considering the majority of the city's establishments use pork as a base. The result is a subtler, lighter flavor, though items like the extra-spicy Totto ramen and garlic- and onion-loaded mega ramen certainly pack quite the kick. A Midtown East branch recently opened to complement Totto's existing Hell's Kitchen shops. Note that all locations are cash only. 366 W. 52nd Street, New York, NY 10011, 212-582-0052; 248 E. 52nd St., New York, NY 10022, 212-421-0052; and 464 W. 51st Street, New York, NY 10019, 646-596-9056; tottoramen.com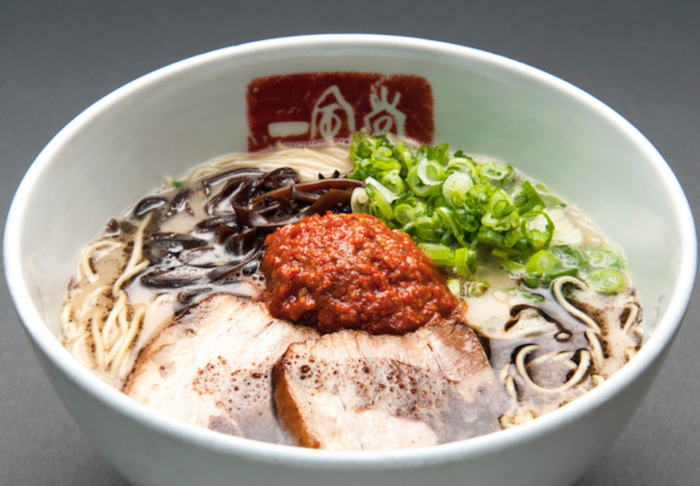 Ippudo
Since Ippudo opened its first location in New York's East Village in 2008, diners have consistently had to brave multiple-hour wait times. And for good reason. The international chain (there are now locations in a dozen countries) dishes out some of the city's finest noodles in complex tonkotsu (pork bone) broths. Traditionalists opt for the Shiromaru Hakata Classic, featuring silky soup noodles topped with char siu, kikurage mushrooms, bamboo shoots and scallions, while those looking for a more adventurous meal can go for the wasabi shoyu, a wasabi-oil-infused mix of noodles served with bean curd and tempura flakes. Pork buns and fried chicken wings glazed with black-pepper sauce lead an impressive collection of appetizers. Head to the Hell's Kitchen location for (slightly) more manageable lines. 65 4th Ave., New York, NY 10003, 212-388-0088, and 321 W. 51st Street, New York, NY 10019, 212-974-2500; ippudony.com
Ramen Lab
Ramen Lab was one of New York City's most anticipated restaurants last winter, finally opening its doors in Nolita in early 2015 after months of speculation. Expect lines down the block at the 10-seat (actually, 10 standing-only counter spots) restaurant helmed by Jack Nakamura, the corporate chef of artisanal ramen-noodle maker Sun Noodle, which provides Ramen Lab's noodles. You'll find just two bowls of ramen on the menu — the current one consists of a classic take on shoyu (soy sauce) ramen and a surprisingly hearty XO miso vegetarian ramen, unconventionally topped with a dollop of butter. Our suggestion is to order the latter option and add char siu. Best of both worlds! [Editor's note: The restaurant has expanded its menu since our last visit, and there are now four bowls of ramen available to order.] 70 Kenmare St., New York, NY 10012, 646-613-7522; ramen-lab.com
Mu Ramen
It's hard to designate one place as serving the city's "best" ramen, yet that's exactly what New York Times critic Pete Wells did last year with Mu Ramen. The original pop-up — found in a bagel shop — was soon flooded with thousands of reservation requests, leading it to secure permanent digs on Jackson Avenue in Long Island City. Per Se alum Joshua Smookler and his wife, Heidy, are again behind the new venture, which features exposed brick and two communal tables as well as a bar. Quirky starters include okonomiyaki, a scallion pancake of sorts served with smoked trout, tobiko, shaved bonito and syrup, and foie- and brioche-stuffed fried chicken wings. The inventive bowls of thick noodles — especially the namesake Mu ramen, a cloudy oxtail-and-bone-marrow broth that is filled with brisket — are as deeply satisfying as Mr. Wells recalls. Make sure to bring cash. 12-09 Jackson Ave., Long Island City, NY 11101, 917-868-8903; ramennyc.wix.com/popup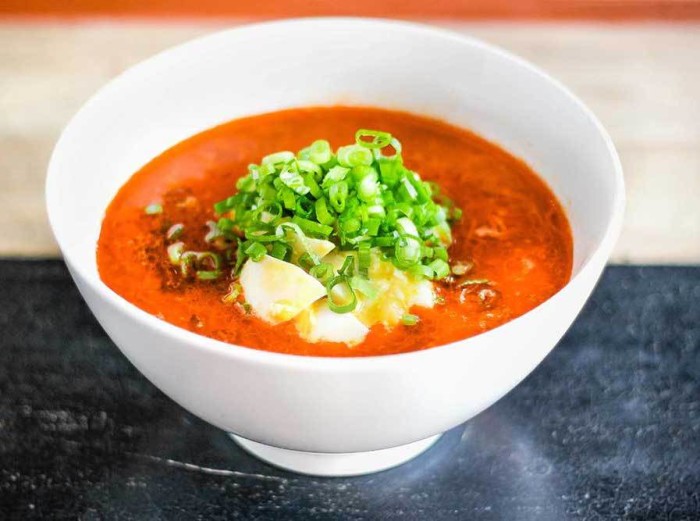 Ivan Ramen
A Jewish kid from Long Island moves to Japan, takes up noodle making and opens up one of Tokyo's most renowned ramen restaurants. It's not quite a conventional route, but it's the path that Ivan Orkin followed. The chef relocated to New York City a couple of years ago to unveil his first two Stateside endeavors, a stall inside Gotham West Market in Hell's Kitchen and a stand-alone noodle joint on the Lower East Side. It's at this latter, colorful establishment — be sure to grab a seat in the backyard patio over the summer — that Orkin serves an extensive menu of innovative small plates, complemented by his famous shio (salt) and shoyu bowls, and original mazeman (brothless) rye and whole-wheat noodle creations. The sinus-clearing red-chili ramen just may be our favorite bowl of noodles on this entire list. Those in the know order them all "fully loaded" with egg, char siu and roast tomato. 25 Clinton St., New York, NY 10002, 646-678-3859; ivanramen.com
Jin Ramen
Quality ramen in Harlem? You'd better believe it. Tucked away under the 125th Street subway station is Jin, a neighborhood (and Columbia University) favorite since opening in 2012. Start with crunchy green beans doused in a sweet sesame paste and crispy, charred pork buns before moving on to a generously portioned bowl of spicy tonkotsu ramen. Made by boiling pork bones over high heat for hours on end and mixing in roasted garlic paste and spicy soybean, the milky-colored soup achieves a creamy texture ideal for a cold winter evening. Green coconut Thai curry and kimchi variations give a nod to influences from other Asian cuisines. An Upper West Side outpost just opened, too. 3183 Broadway, New York, NY 10027, 646-559-2862, and 462 Amsterdam Ave., New York, NY 10024, 646-657-0755; jinramen.com
Hide-Chan Ramen
Hide-Chan operates under the same ownership as Totto (and is found adjacent to Totto's East Side location), but showcases more starters and side dishes. The sister restaurants also have different noodle specialties. This longtime business-crowd favorite is famous for letting its customers choose the firmness and texture of their noodles and features a number of rich, dense broths. The spicy black-garlic ramen bursts with sharp flavor, and the togarashi (Japanese chili pepper) and seafood dashi-based red dragon bowl packs intense amounts of heat. 248 E. 52nd Street, New York, NY 10022, 212-813-1800; hidechanramen.com
Honorable mentions: Chuko, ZuZu Ramen, Bassanova
Please note that this list only features places that serve ramen daily. It does not include restaurants that offer a "special" ramen dish or two at certain times of the day or night each week.
Sushi
Enter some variation of the phrase "best sushi in New York City" on Google and chances are that you'll find yourself with more questions than answers. The simple truth is that there's just no way to crown a single place as having the city's "best" sushi — too much variation and too many personal preferences exist to make such a bold declaration. This list is separated into high-end (over $100 per person) and modestly priced categories, mixing old and new, traditional and contemporary, full menu and omakase-only. We'll stop short of calling them the best sushi spots in the city — and implore any potential commenters to first scan our honorable mentions section before unleashing their fury. Well, say what you will. But we promise that a meal at any one of these establishments would be money well spent. Also see: The Food Republic 12 Sushi Commandments
High End | $100 per person or more
Kurumazushi
Located on the second floor of a nondescript Midtown office building, Kurumazushi is a sedate oasis for its mostly Japanese clientele and others in the know about these matters. Joyful chef Toshihiro Uezu shuffles around a large L-shaped sushi bar, plating some of the city's freshest cuts as part of his sublime omakase offerings, which start at $300. Less-extravagant sets of sushi can be ordered at the few tables in the back of the restaurant, and there's a killer $25 sushi plate for lunch. 7 E. 47th Street, New York, NY 10017, 212-317-2802; kurumazushi.com
Shuko
Nick Kim and Jimmy Lau's second venture (you'll find their first restaurant, Neta, in the honorable mentions section) has A-list celebrities and investment-banker types jostling exactly one month in advance for a spot at the 20-seat, U-shaped counter. Open for just over half a year, the Union Square sushi bar has just two menu options: a $175 kaiseki menu with both cooked dishes and sushi, and a $135 sushi-only omakase. Splurge for the former and enjoy dishes like toro and Osetra caviar alongside homemade milk bread before digging in to a sushi portion that includes a spicy tuna roll — made with red Thai chilies — quite unlike (read: better than) any other you've had. Wash it all down with a selection from a relatively affordable list of sake bottles and save room for the chefs' take on traditional apple pie. 47 E. 12th St., New York, NY 10003; shukonyc.com
Ichimura at Brushstroke
Consisting of an eight-seat sushi counter tucked into a corner of a TriBeCa Japanese restaurant owned by a world-famous chef, Ichimura at Brushstroke certainly possesses quite the intriguing résumé. Of all his projects, David Bouley's smallest — it is nestled within Brushstroke, which is found across the street from the chef's namesake French restaurant — may be the one making the most noise. There are two nightly seatings for Ichimura, which features a mix of edo-mae-style sushi and cooked items as part of its outstanding omakase, beginning at $195. 30 Hudson St., New York, NY 10013, 212-791-3771; davidbouley.com
Sushi Nakazawa
There are few buzzier restaurants than Sushi Nakazawa, which is approaching its two-year anniversary of opening on a quiet side street in the West Village. Accolades for Jiro alum Daisuke Nakazawa's spot have been almost uniformly positive, with Pete Wells of The New York Times awarding it the highest possible distinction of four stars. Reservations to sample the omakase-only menu ($120-$150) were recently made available via OpenTable. Grab a seat at the interactive sushi bar — complete with live shrimp and pick-your-own uni ­— and be sure to request the sake pairing, an absolute bargain at $40 for eight glasses. 23 Commerce St., New York, NY 10014, 212-924-2212; sushinakazawa.com
Jewel Bako
You'd be hard-pressed to find a restaurant in this category that is suitable for an intimate date night. It typically isn't that kind of affair. But tack on a Michelin star for nine consecutive years, and that's exactly what you have at Jewel Bako, located in the East Village. A cozy bamboo-filled room is home to a variety of innovative pieces of nigiri and rolls, which manage to maintain authenticity despite often utilizing exotic ingredients. 239 E. 5th St., New York, NY 10003, 212-979-1012; jewelbakosushi.com
Honorable Mentions: Kura, Neta, Sushi Yasuda, Sushi Seki, 15 East, Sushi Zen, 1 or 8
Modest | $70 per person or less
Sushi Dojo
There's no better bang-for-your-buck sushi in New York City than Dojo, the year-old East Village venture helmed by twentysomething French-Moroccan (yes, you read that right) chef David Bouhadana. His superb omakase selections — starting at a mere $45 for 10 pieces — are on par with the city's best, and a sake sommelier assists with an impressive list. With its engaging chefs known to enjoy a drink or two from this list with their young and hip crowd, the lively Sushi Dojo is proof that you can eat your top-quality sushi and have fun with it, too. 110 1st Ave., New York, NY 10009, 646-692-9398; sushidojonyc.com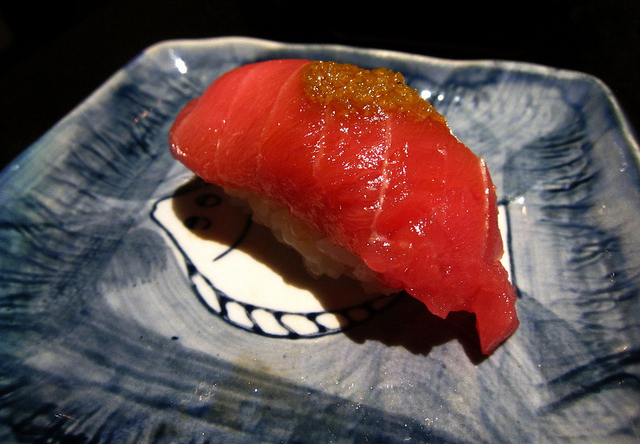 Sushi Yasaka
The Upper West Side has seen an influx of promising restaurants lately, but it has been largely devoid of stellar sushi (with the exception of the pricey Sushi of Gari on Columbus Avenue). Until now. Neighborhood gem Sushi Yasaka doles out reputable slivers of fish and rolls in a casual setting to complement its exceedingly well-priced omakase ($40 for 12 pieces and a hand roll). 251 W. 72nd St., New York, NY 10023, 212-496-8460; sushiyasaka.com
Tanoshi Sushi Sake Bar
Possibly the very definition of "hole in the wall," this 10-seat sushi bar on York Avenue is guided by the steady hand of chef Toshio Oguma, whose stated goal is to "bring back classical sushi." Having initially opened in relative obscurity in late 2012, the omakase-only joint (around $70 for 10 pieces of sushi, half a roll and one hand roll) was soon flooded with reservation requests, thanks to a number of glowing reviews. Today, Tanoshi Sushi Sake Bar (don't let the name fool you —it's BYOB) is bookable on its website through SeatMe. 1372 York Ave., New York, NY 10021, 917-265-8254; tanoshisushinyc.com
Tomoe Sushi
No reservations. No frills. No…tables available? The easiest way to identify this Greenwich Village vet is by the lines that form consistently each night outside its somewhat (charmingly) dingy confines. Those who brave the wait are rewarded with generously sized portions of nigiri and sashimi and one of the city's finest renditions of a negitoro (fatty tuna scallion) roll. Best of all, lunch specials are a steal, and tabs remain modest for dinner. 172 Thompson St., New York, NY 10012, 212-777-9346; tomoesushi.com
Hatsuhana
With so many flashy Japanese restaurants popping up these days, it's easy to overlook some of city's most classic spots. Since opening its doors in 1976, Hatsuhana has served uncomplicated takes on sushi and sashimi to traditionalists. Its location on a busy stretch in Midtown ensures that it's consistently packed with businessmen looking for a simple, top-notch meal. It's also a Seamless favorite for the corporate folk who don't want to (or can't) leave the office. 17 E. 48th St., New York, NY 10017, 212-355-3345; hatsuhana.com
Poke
No-reservation, cash-only and BYOB policies are not typically the key to sushi enthusiasts' hearts, but this Upper East Sider somehow manages to make out just fine with all three. Named after the eponymous Hawaiian raw salad, Poke combines the feel of a homey spot with stellar fish and creative, albeit Americanized — good luck finding a California roll anywhere else on this list — rolls to present a more affordable alternative to nearby stars Sushi Seki, Sushi of Gari and Sasabune. 343 E. 85th St., New York, NY 10028, 212-249-0569; pokesushinyc.com
Wondering why we haven't included any "low-budget" options? We all enjoy grabbing sushi from neighborhood joints and even (sometimes) grocery stores. And, really, oftentimes nothing beats a well-priced sushi lunch special. But the fact is that there's little variation in quality between the majority of these places in New York City. We think it's worth ponying up a bit extra to elevate the taste experience.
Beyond Sushi
Think about Japanese food in New York City, and chances are the first thing that pops in your head is sushi. And we're not hating on that (see above). The fact remains, however, that there's a lot more to Japanese cuisine than raw fish on rice, and NYC is a prime example of just how diverse the food really is. From freshly made soba noodles to unique cuts of grilled beef to matzo-ball ramen, there are a ton of quality Japanese restaurants — both traditional and contemporary, authentic and authentically inauthentic — to be found in the Big Apple.
Sobaya
Popular culture has anointed this the Year of Ramen in New York City. That's fine and all, but we're high up on the more nutritious, lighter soba. The buckwheat noodle can be ordered in many of the city's Japanese slurp shops, and there's no fresher rendition than the one found at East Village mainstay Sobaya. Located on the same block as a few other Japanese-owned places worth a visit (including next-door neighbor Robataya and speakeasy Angel's Share), the cozy establishment dishes out hot and cold preparations of fresh soba noodles with a wide variety of accompaniments. (Pro tip: Go with the version topped with a generous portion of fresh uni.) If you're lucky, you'll get to see a noodle maestro hard at work, kneading and cutting dough in a see-through cubicle near the front door. 229 E. 9th St., New York, NY 10003, 212-533-6966; sobaya-nyc.com
Sakagura
Come early and beg (pray?) for a table at this cavernous izakaya in Midtown, near Grand Central. The hidden jewel, located in the basement of an office building and accessed via a nondescript stairwell, is a lunchtime favorite for the area's in-the-know businessmen and fortunate clients. An extensive menu simplifies at lunch, highlighting a selection of homemade soba noodles and small-portion tasting sets that include sashimi, tempura and an assortment of grilled fish and meats. An impressive list of imported sakes completes the meal. 211 E. 43rd St., New York, NY 10017, 212-953-7253; sakagura.com
Cherry
Ritzy ambience and quality Japanese grub don't usually go hand-in-hand, but that's what diners can expect at Cherry, located on the bottom floor of Chelsea's stylish Dream Hotel. Red velvet chairs and banquets make up the restaurant's sexy interior, and a menu focused primarily on small shared plates features contemporary takes on dishes composed with traditional ingredients. Stick to non-sushi offerings and try the two variations of crispy rice, foie gras and cherry gyoza, tuna tarts with white truffle oil and miso-glazed sea bass. A unique cocktail list and a diverse portfolio of Japanese sakes set the tone for a glamorous date night. Cherry recently opened a more casual izakaya in Williamsburg. 355 W. 16th St., New York, NY 10011, 212-929-5800; cherrynyc.com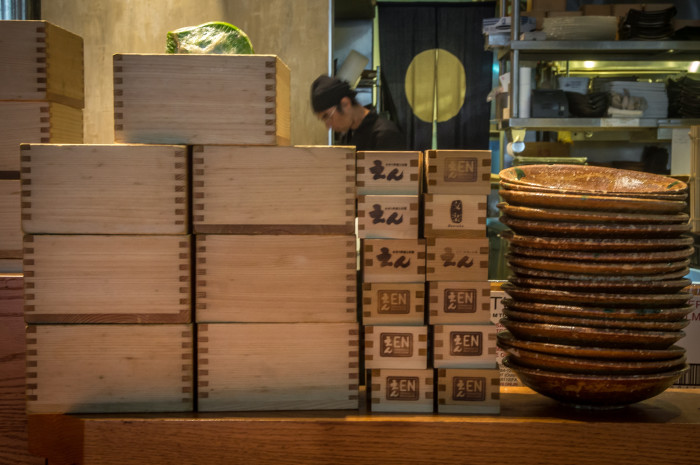 EN Japanese Brasserie
It's hard to believe that EN has been open since 2004, having just celebrated its 10-year anniversary in September. The elegant West Village staple has spent the past decade dishing out its trademark freshly scooped tofu to a crowd of A-list regulars, and holds the distinction of being one of only eight U.S. restaurants licensed to serve the highly toxic fugu. The seasonally inspired menu can be a little overwhelming, so our advice is to trust chef Abe Hiroki and order from one of the set multi-course kaiseki options. Request the sake and shochu accompaniment to taste from a diverse spectrum of junmai, gingo, honjozo, daiginjo and nigori styles. 435 Hudson St., New York, NY 10014; 212-647-9196, enjb.com
Yakitori Tori Shin
Did you know that you could grab a last-minute table at a Michelin-starred restaurant in New York at pretty much any time and leave with the contents of your wallet still (mostly) intact? You should. Sit at the counter at the Upper East Side yakitori specialists and order from an array of three-bite-sized skewers that include different parts of chicken, Kobe beef, vegetables and various meat organs. Tasting plates (either skewers only or appetizers, sides, skewers and rice dishes) that start at $50 are one of the best bargains and little-known treasures of the city. Don't wear anything too fancy, as a U-shaped seating configuration means that the open kitchen's many aromas tend to stick. 1193 1st Ave., New York, NY 10065, 212-988-8408, torishinny.com
Gyu-Kaku
We're hesitant to include a chain in any of our "best of" lists, but there's too much goodness going on here to omit the Japan-based restaurant (there are three branches in NYC). DIY Japanese grills aren't exactly rare in the city, but many are known to skimp on quality. That's certainly not the case at Gyu-Kaku, where diners — you're just as likely to see a newlywed couple as an entire family here — order plates of raw beef, chicken, seafood and vegetables to grill tableside with instruction from helpful waitstaff. Cut out the daunting decision process and go for one of the well-balanced tasting menus. Just make sure you tack on an extra order of Sukiyaki bibimbap and chicken garlic noodles. 34 Cooper Square, New York, NY 10003, 212-475-2989; 805 3rd Ave., New York, NY 10022, 212-702-8816; and 321 W. 44th Street, New York, NY 10036, 646-692-9115; gyu-kaku.com
Cagen
You'd be forgiven for walking right past Cagen and failing to notice the two East Village basement-level dining rooms it inhabits. Once inside, diners are transported to a Japanese oasis of sorts, a simple, austere room with a large counter and a few scattered tables. Shuffling behind the counter is chef Toshio Tomita, a 16-year veteran of Nobu, who uses traditional aspects of the famed restaurant's cuisine to create pioneering results. How else to explain a bite-sized morsel of goat cheese, white chocolate and wasabi that's part of an appetizer course? The proper way to experience Tomita's creations is via the seven-course omakase kappo menu ($120), which combines cooked delicacies, sashimi, ponytail-shaped braids of fresh soba noodles and a few pristine pieces of sushi (we'll give them a pass). 414 E. 9th St., New York, NY 10009, 212-358-8800; cagenrestaurant.com
Shalom Japan
Our sole non-Manhattan representative takes us to Williamsburg, Brooklyn, where the husband-and-wife team of Aaron Israel and Sawako Okochi have fused — you guessed it — Japanese and Jewish foods. Besides the catchy name, the duo has put together a rotating menu of inventive shared plates that show just how well the two cuisines can mesh. Sake challah, toro toast with scallion cream cheese, matzo-ball ramen and a lox bowl with rice, daikon, avocado and ikura are among the must-order items when they're listed on the chalkboard menu. Ask for an outdoor table — weather permitting — and hit up the bar early to try from a creative list of cocktails and surprisingly large collection of wine and craft beer. Be sure to make a trip to the bathroom. It'll have you searching online for a Japanese-style toilet in no time. 310 S. 4th St., Brooklyn, NY 11211, 718-388-4012; shalomjapannyc.com
Donguri
Look for exposed brick at this quaint gem, located on a quiet side street on the Upper East Side. Closed in the summer of 2014 as a result of its longtime chef moving back to Japan, Donguri reopened under the direction of Yorinobu Yamasaki, whose new menu offers the choice of ordering à la carte or springing for a superbly seasonal $150 omakase. The tranquil, no-frills neighborhood favorite made sure to retain a few of its most popular dishes, including housemade soybean tofu, crispy sweet corn tempura and green tea buckwheat soba noodles. 309 E. 83rd St., New York, NY 10028, 212-737-5656; donguriny.com
Takashi
Chef Takashi Inoue is the man behind this eponymous West Village spot specializing in grilled offal meats and cuts of beef that are popular in Japan but not commonly found in the U.S. He also dabbles with horse sashimi and bacon-wrapped foie gras. Sit at one of the wooden tables opposite the open kitchen and sample from selections that include brain, heart, aorta, cheek, stomach, tongue and testicargot (that's cow balls, served escargot-style). Go as crazy as you can possibly stomach — pun intended — while grilling tableside, as long as you save space for an order of the signature niku-uni, chuck flap topped with sea urchin and fresh wasabi. 456 Hudson St., New York, NY 10014, 212-414-2929; takashinyc.com