1 Language Barrier, 4 NYT Stars And 7,000 Reservation Requests Later...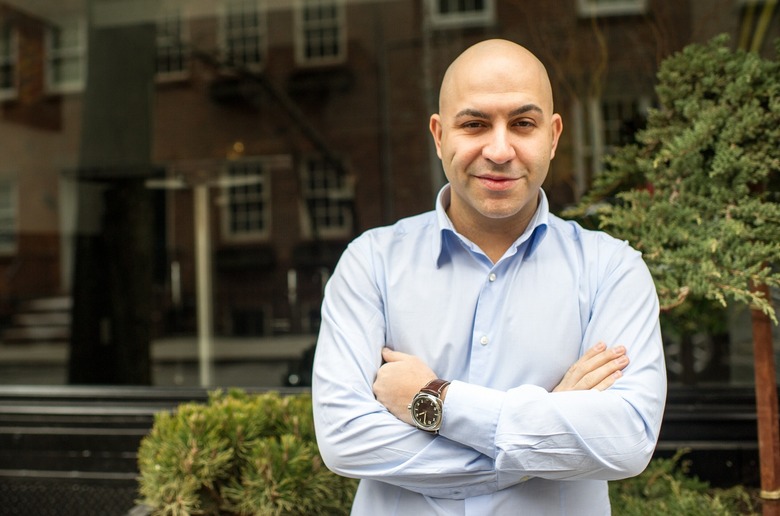 Just like you, Alessandro Borgognone rented the 2011 hit documentary Jiro Dreams of Sushi at home one evening. Just like you, he was astounded by the hard work and persistence of its main characters and dreamed of a day when he could sample Jiro apprentice Daisuke Nakazawa's famed egg custard for himself. Unlike you, Borgognone is now the man behind New York City's – possibly the country's – buzziest Japanese restaurant. With the help of Facebook and Google Translate (Nakazawa spoke no English), the Italian businessman convinced the chef to visit New York City to talk about embarking together on a restaurant project. A deal was reached and the rest is history. Creamy, buttery, orangey uni history.
Fresh off a stint in charge of his family's 20-year old Bronx restaurant Patricia's, Borgognone opened Sushi Nakazawa on a quiet side street in the West Village last August. The New York Times critic Pete Wells soon awarded the 20-course omakase a dazzling four stars (the highest possible accolade), making it only the sixth restaurant in the city to receive such recognition. Borgognone sat down with us to talk about running the hottest tables in town.
When did you find out about the Times four-star review?
It was a Tuesday and it came out at exactly 4:33 p.m. I looked immediately at the stars and saw that all four stars were filled in – at that point, I thought we had zero stars! Then everybody started yelling that we got four stars and I said, "Holy shit!"
So you found out when the general public found out?
Yes, we did, but we didn't know we were going to get four. We shot for the stars and the staff and I gave 200% of everything we had. It paid off.
Did you spot Pete Wells?
I did not. I didn't know what Pete Wells looked like at the moment, but I'm sure there are pictures online now. At the end of the day, I wasn't really concerned with spotting Pete Wells – we knew we were on our game and our philosophy was that we'd treat Pete Wells the same way we'd treat any other customer that came into the restaurant.
How do you and Chef Nakazawa communicate now?
He's been here in the United States for almost two years, and his English has improved very, very much. He's been around everyone speaking English, everyday. It's pretty amazing.
You guys talk exclusively in English?
Well, I don't speak Japanese!
Why is sushi so popular in New York City right now?
Besides being very "trendy," sushi is a great alternative to healthy food. Sushi has come a long way. In the early '90s, we were all eating California rolls and spicy tuna and it's become a much more traditional product.
Have American palates evolved since then?
Absolutely. I think the perfect example – considering I'm Italian – is that Italian food from the '70s and '80s for people was basically spaghetti and meatballs and Chicken Parmigiana. Now things have obviously changed.
Nakazawa is one of the hottest tables in town. Has the reservation process been hectic?
It's been a little hectic, and there are some people who are frustrated when it takes them awhile to get a reservation. We recently transferred to OpenTable [from SeatMe] because we wanted a little more organization – we wanted to really maximize the space and to allow a few more people the opportunity to dine with us.
Have celebrities been calling in for seats?
Have we received emails from assistants and such? We have. But we are pretty democratic about how we operate the business. We don't really make any exceptions.
There's live shrimp being served at the sushi bar. Is part of the dining experience based on it being a "show"?
The real theatrics are at the sushi bar. There are definitely two different dining experiences, but the product is very much alike. We believe that the dining room is much more of a private and intimate setting. The sushi bar is not for everyone. It's basically a communal table and we've had people say, "Do you mind if we sit in the dining room?" And vice versa.
You wouldn't recommend one over the other?
I wouldn't. If you're looking to have an intimate evening with a lady friend or you're having a private meeting, we definitely recommend the dining room. If you want to have a tremendous amount of fun and want to be entertained – as you would be at a theater – I would recommend going with the sushi bar.
Do you care about people's etiquette when they eat at the sushi bar?
We're really not a pretentious restaurant. Our first priority is to have people feel very, very comfortable in the restaurant. If you'd like to use a fork and knife while you're eating a piece of sushi, that's okay with us. Nothing is frowned upon – Sushi Nakazawa is not a learning experience and this is not a school. It's not an establishment to make someone feel uncomfortable.
Even if someone asks for soy sauce?
Absolutely. We definitely try to guide you in the right direction, but it really comes down to feeling comfortable. We let the customer know that this is the way the chef would like it to be eaten, but if he or she wants additional soy sauce, it's no problem.
So, what's next? What comes after four stars?
[Long sigh]. That's a really tough question. Our options are really open at the moment – we have a ton of options and are looking at a bunch of stuff. I promise you'll hear something really, really soon.
Read about sushi on Food Republic: