When In Philly, Stay At The Newly Renovated Radisson Blu Warwick Hotel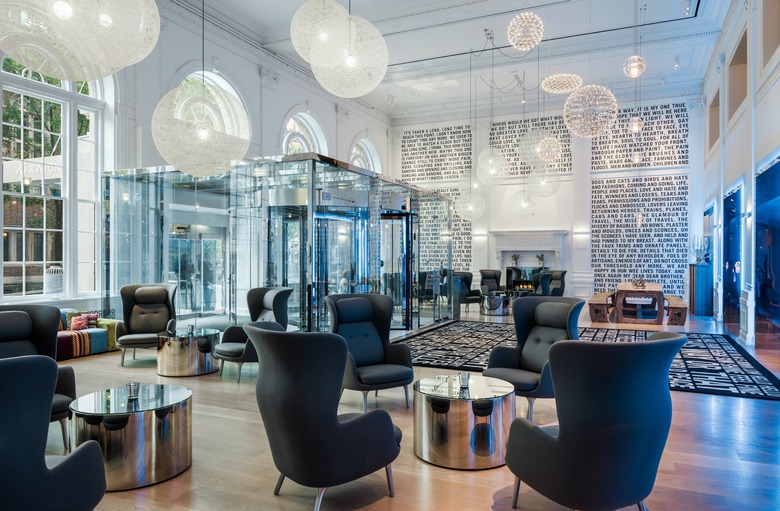 In Hungry Concierge, we travel the world to spot hotels that operate with their guests' food and drink needs squarely in mind — hotels, both big and small, that are located in neighborhoods rich with bar and restaurant options. Because there's nothing worse than having your trip derailed by crummy room service.
Being a proud Pennsylvanian, I've always had a soft spot for Philadelphia. The historic city first captured my interest as a child, over the course of countless field trips to tourist attractions like the Liberty Bell, Independence Hall and the Philadelphia Zoo. But now that I'm a lot older (and a hell of a lot hungrier), there's another reason I love returning to my home state: food.
Like any other major city, Philly has its beloved regional specialties. While Jim's cheesesteaks, Paesano's "Daddy Wad" hoagies, and Villa di Roma's spaghetti and meatballs are no-brainers for first-time visitors, it would also be a shame not to check out the rest of the city's culinary scene. Because frankly, and as evidenced here on Food Republic, it rules.
Guess what's just as important as eating well? That's right. Being able to lie down and snooze your way back to a hearty appetite. Since the City of Brotherly Love pulls in business travelers and pleasure trippers alike, there's no shortage of accommodations. But if you're looking for a property that's well appointed, conveniently located and competitively priced (really, who isn't?), I recommend the Radisson Blu Warwick Hotel in the chic, bustling neighborhood of Rittenhouse Square.
Formerly the historic Warwick Hotel, a $20 million renovation in 2013 restored the property to modern glory. The lobby sparkles and makes a striking first impression with dramatic Danish and Canadian pendant lights, two fireplaces, text-covered rugs and walls and extra-long sofas upholstered in Missoni fabrics. Whether you're simply decompressing, waiting to meet someone or trying to get some work done (the Wi-Fi is complimentary for hotel guests), the lobby does double duty as a fun yet functional space.
City-centric art plays a large role in each of the hotel's 301 spacious rooms and suites.
The Rooms: Each of the hotel's 301 rooms and suites is spacious — by city standards — and cloaked in a clean palette of black and white (with fun pops of red in the bed linens and pillows). To keep with the Radisson Blu's dedication to design and pay homage to Philadelphia at the same time, city-centric art is featured prominently in the hotel's hallways and rooms. (Images of Rocky and a 13-star American flag were mounted on my headboard.) The iconic Barcelona chair designed by architect Mies van der Rohe provides a smart and comfortable design touch. Washing up is nothing short of a pleasure with sweetly scented toiletries from eco-conscious British beauty brand This Works.
The Look: Because the building is listed on the National Register of Historic Places, it was important for UK-based Graven Images — which spearheaded the lobby's design efforts — to preserve (and at the same time draw attention to) some of the building's original details, such as the fireplaces and large lobby windows. Contemporary elements, like Scandinavian furniture and colorful carpeting, help the space maintain a look that's equal parts historic and modern. The rooms, which were designed in-house by the Carlson Rezidor Hotel Group, echo the lobby's aesthetic of old meets new.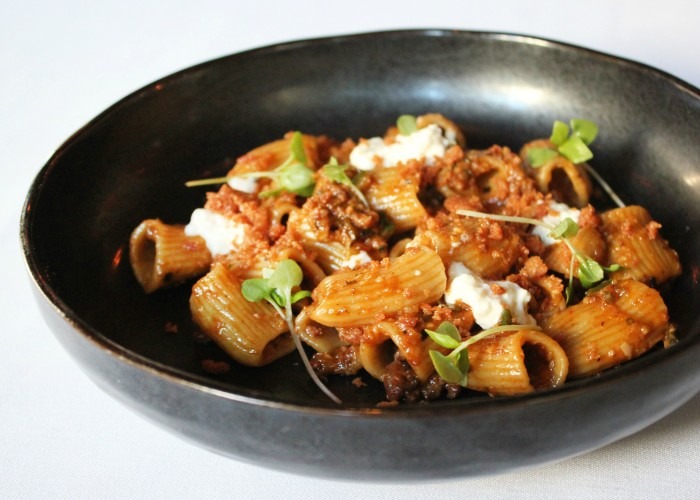 Head to Kevin Sbraga's eponymous restaurant for a seasonal prix fixe menu that may include this rigatoni dish.
The Neighborhood: One of those rare urban neighborhoods that appeals to residents and tourists alike, Rittenhouse Square is a breezy stroll away from plenty of good eats. Famed chef Kevin Sbraga offers a sublime, seasonal prix fixe menu — beginning with his legendary foie gras soup and Gruyère popovers — at his elegant eponymous restaurant. At Aldine, a chic second-floor restaurant on the corner of Chestnut and 19th Street, George Sabatino creates food that is experimental, provocative and visually stimulating. Anglophiles of all ages will swoon over the Sunday roasts and afternoon tea at the Dandelion, a refined gastropub from restaurateur Stephen Starr. Happy hour is a scene and a steal at Square 1682, but it's absolutely worth spending more time (and money) for executive chef Caitlin Mateo's dinner menu. (I'm still dreaming of her cheddar grits and whipped potatoes.) For a fast, filling lunch that won't break the bank, beeline to Wokworks. Started by 23-year-old Brennan Foxman, this spot turns out flavorful, wok-cooked dishes, like spicy crunchy chicken and pork fried rice. Trust me: You'll be hearing more about this young man, and soon.
Radisson Blu Warwick Hotel
220 S. 17th St., Philadelphia
radissonblu.com/hotel-philadelphia
Rooms start at $129 per night