On a recent Delta flight to San Francisco, a flight attendant named Haitham took a shine to my boyfriend (and eventually me) and revealed a few of his favorite travel tips.
If you're midflight and craving a twist on one of the free snacks, squeeze a lime wedge onto a Biscoff cookie and presto: You'll be rewarded with the flavors of key lime pie. (Some kind of wonderful, right?)
Another awesome one we didn't see coming? There's a totally legit deep-dish pizza scene in San Francisco. Just wait, and hear me out. Because when Haitham — who used to live in New York, so he gets how deep our pizza roots run — rattled off his list of must-visit restaurants and mentioned a deep-dish joint called Patxi's, we did what you're probably doing right now. We politely brushed him off.
"We don't do deep dish."
"New York has the best pizza."
"Seriously, Haitham?"
But Haitham was persistent. And fortunately for us, his persistence paid off. Because like countless other times in our lives, being wrong never tasted so damn good. And now we're absolutely hooked. (Okay, okay. Obsessed is more like it.)
While San Francisco's deep-dish scene might not be as renowned as Chicago's (yet), that doesn't make it any less authentic. Because politics and bias aside, how can anyone in their right mind argue with the fundamentals? After all, it's crust, cheese, meat and veggies, then sauce (and another thin layer of dough for stuffed deep dish). Again: what's not to love here?
True, this might not be the pizza you grew up with, but guess what? It's still pizza. And I promise you, it's deeply, deeply good. Here, I share the four key players in town and what each one is bringing to the local scene.
Founded: 1983
Number of locations: 4
The story: Arguably the spot that first popularized deep dish in the Bay Area, Zachary's, after all these years, maintains a beloved local institution. Artwork contributed by local fans decks the walls, the pies are comfortingly consistent ("We have been making our product the same way for 32 years, and we do not chase trends," says Kevin Suto, Zachary's CEO), the service is bubbly and warm (even by California standards — you'll learn why below), and the dining room is almost always full. As for the customers? Well, dedicated might be an understatement. According to Leandra Schuler, the company's executive vice president, couples have dished out Zachary's at wedding receptions, and many a new mother has requested it as her first postpartum meal. It's a restaurant that lots of locals have grown up with and return to time and time again.
What I love: For someone who's got pizza on the brain as often as I do, Zachary's half-baked pies are a godsend. They can be finished in any conventional oven and let you dive into a piping-hot pie in the comfort of your own home (and sweats). Don't worry, they taste equally mind-blowing as the dine-in versions. Score.
Best-seller: The Spinach & Mushroom. It's self-explanatory and — according to the menu — Zachary's "pride and joy!"
Bonus points: The company is 100 percent employee-owned, which accounts for how Zachary's maintains such a high employee retention rate and happiness. "Our only investors are our employees," says Suto. "They take their job more seriously and have a wealth more experience than the competition. They are well paid and happy, and that is reflected in their work. Our product winds up being more consistent because of this." (Suto, in fact, started as a dishwasher in 1984.)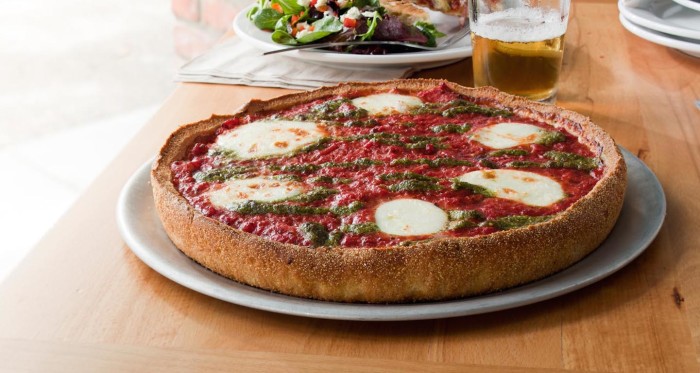 Founded: 2004
Number of locations: 3
The story: After working in finance for six years, getting tired of locals bemoaning the lack of good pizza and watching those people zip across the bridge to Oakland for Zachary's, Brian Sadigursky found his business partner on Craigslist (really) and opened up the first Little Star location on Divisadero in November 2004. "I always liked pizza, and it seemed like a good opportunity," said Sadigursky. While he and his business partner have since parted ways — Sadigursky still owns the Divisadero location — the pies in all three spots maintain "a nice crispiness and consistency. I'm fully biased, but ours feel a little lighter than the ones you'll find in Chicago, so the flavors come through a little better. Ours are more nuanced and better constructed and don't get waterlogged."
What I love: I can't stop thinking about that sauce. It's rich, zesty and well balanced in terms of salt, sweet, tang and spice. Sadigursky agrees, saying, "It's chunky and more boldly flavored than others."
Best-seller: The Little Star is a vegetarian pie with ricotta and feta, spinach, mushrooms, onions and garlic. If you want to add sausage, it's called the Brass Monkey.
Bonus points: Available from 5 to 6 p.m., Monday through Thursday, the happy hour is a steal. The house garlic bread — a fluffy disc of buttery dough topped with fresh mozzarella, garlic and basil, with that addictive sauce on the side — is only $3, and you can also score a pound of the famous spicy dry-rub wings for $8.
Founded: 2012
Number of locations: 1
The story: For 11-time World Pizza Champion Tony Gemignani, Capo's was not only a labor of love, but a love letter to Chicago. "It's one of the only restaurants that captures all the elements of great Chicago in the '20s and '30s" says Gemignani. "From classic red-sauce Italian entrees to Chicago-style pizzas, it caters to patrons young and old." The space has a speakeasy feel, with its blood-red banquettes, low lighting and vintage fixtures (like the phone booth, cigarette dispenser and chandeliers). While Capo's also turns out cracker-thin, cast-iron pan and stuffed pizzas, the deep dish is the star. Instead of lard or margarine, Gemignani uses a high-fat English butter for his rich, flaky crust. He adds: "The combination of cheeses we use is a hybrid of three famous Chicago pizzerias, and our baking process is different than others." His involves a unique three-step process, which results in a faster bake and sturdier pie.
What I love: Being at Capo's feels like you're in a family member's home, with its warm service and generous portions. It's impossible not to leave feeling well cared for and, more importantly, stuffed. And Sergio, the charming GM, knows how to work a dining room like no other.
Best-seller: The Sam Giancana is a "simple pie, but old-school classic." It stars Chicago fennel sausage and Calabrese sausage, which is made and ground in-house.
Bonus points: If you're pizza-fatigued, there are plenty of other crowd-pleasing Italian-American dishes, such as clams casino, spaghetti and meatballs and chicken marsala to tuck into. In the mood for a proper nightcap? Good thing there are over 100 whiskeys to choose from, including rare finds like the Japanese Nikka Whisky single malt Yoichi.
Founded: 2003
Number of locations: 15
The story: After a stint at Zachary's, Patxi Azpiroz, along with his high school friend and business partner Bill Freeman, decided to head out on his own. The first location opened in Palo Alto in 2003 and has expanded rapidly since then (there are even locations in Denver, Colorado, and Ballard, Washington). The key to their success is in creating an engaging dining experience. "We're in the business of entertainment," explains Freeman. "Eating at Patxi's is a synthesis of all your senses, so we've got great beers and wines, music and service." Foodwise, Azpiroz has a simple twofold mantra: "We focus on the quality of ingredients and the passion we put into making it." That means everything in the pies is GMO- and nitrate-free, including a vegan margarine to "appeal to people who don't eat meat or dairy," says Azpiroz, and DiNapoli tomatoes. "They get seeped for a full 24 hours for our sauce (which is uncooked)."
What I love: Pizza purists are gonna hate, but I'm a full-on condiment queen. Luckily for me, Patxi's leaves a honey bear and a bottle of house-made chili oil on every table for the bones (you might also call these crusts).
Best-seller: The Favorite is layered with pepperoni slices, fresh mushrooms and black olives.
Bonus points: "We are the most philanthropic restaurant company in the country," says Freeman. Patxi's started a charity called 52 Weeks of Giving, where every location, every week, partners with a local nonprofit for a hosted fundraiser. At the end of the event, 10 percent of the revenue is given back to the organization.