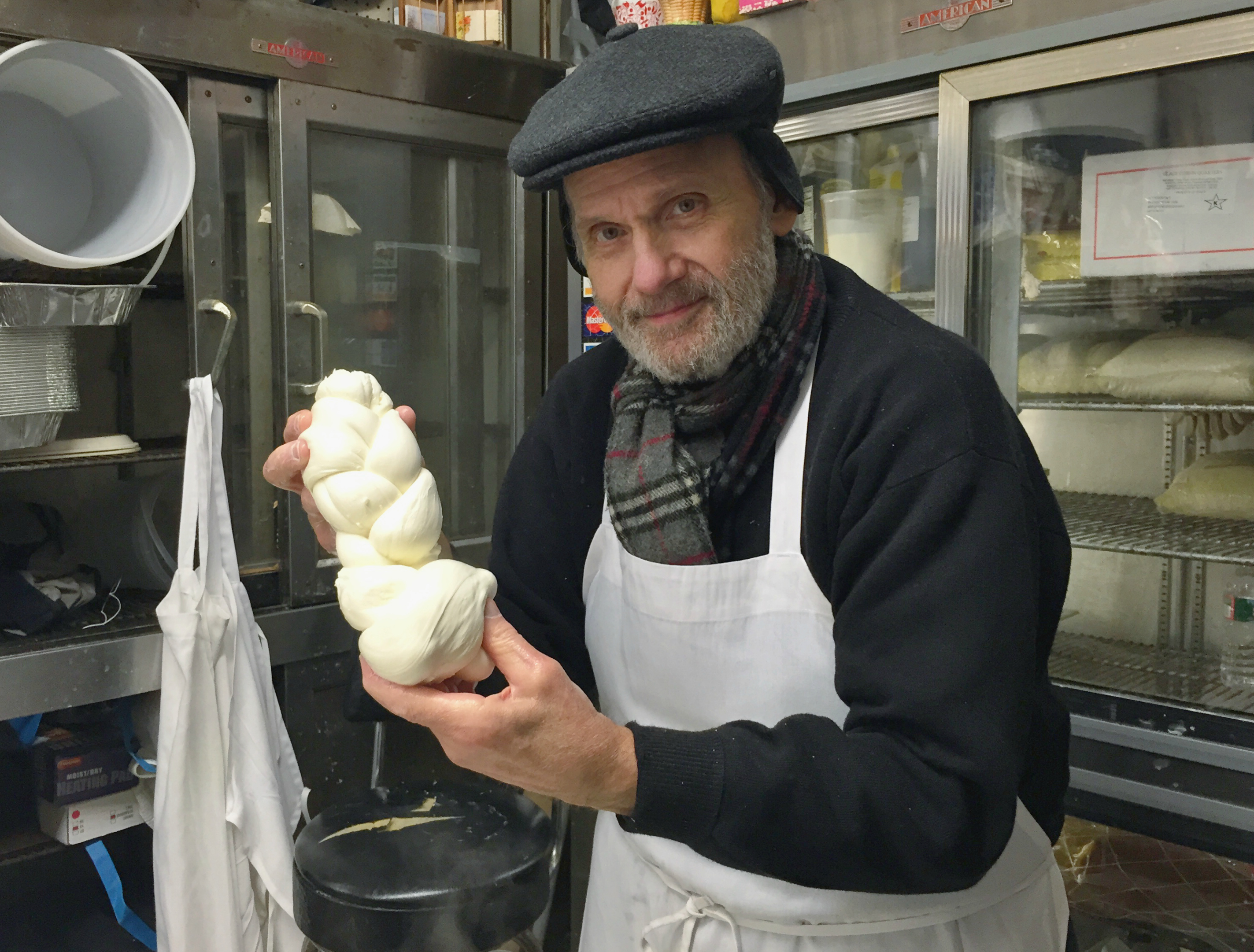 Welcome to Italian-American Week, when we're taking a bit of a break from our usual stories to focus on the important stuff: red sauce, stuffed pasta, porchetta and the chefs and home cooks making it all happen.
East Passyunk Avenue, a diagonal drag of a mile and a half that slices across Billy Penn's fastidious grid like a butter knife through burrata, is one of the most rapidly developing streets in the rapidly developing city of Philadelphia. But the thoroughfare, staunchly Italian-American in spirit even as it sprints toward nouveau restaurant relevance, is defined as much by what hasn't changed as by what has.
The modern Passyunk traces the path of a road that's been in heavy use for centuries. The avenue and the area surrounding it was acquired via Penn's treaty with the Lenape Indians in 1682, the same year Philadelphia was founded. Passyunk (locals say "Pashyunk") is a Lenape word meaning "in the valley" — faring slightly better than nearby Moyamensing Avenue, which loosely translates to "a place for pigeon shit."
East Passyunk has been associated with Italians as long as South Philly itself. The heaviest hit of Italian immigration, mostly working-class families from the southern regions, arrived around the turn of the 20th century, resulting in shops and households setting up all over the city's southern half. The avenue's geography, abutting the open-air Italian Market with easy access to South Philly's residential neighborhoods, made it extremely attractive to small business owners, especially retailers.
"It was Main Street South Philly," says Joncarl Lachman, who remembers shopping for clothes along Passyunk as a kid. Two years ago, after several decades away from his hometown, Lachman returned to open Noord, a Dutch/Scandinavian BYOB. He's just one of an impressive handful of chefs who have gone out of their way to make a home here, instead of in higher-profile Center City.
Adam Erace, another South Philly native with a stake on the strip — he owns Green Aisle Grocery with his brother Andrew — grew up experiencing the avenue the same way. Back then, it "was not a place for food, definitely more for shopping," says Erace, who's also a food writer and restaurant critic. As kids, he and Andrew would pop in and out of shops, spending their money on clothes and club mix CDs on the way to their grandmother's house at 10th and Mifflin.
Though East Passyunk was historically retail-heavy, it's always had its food landmarks. Marra's, a casual pizzeria and red-sauce parlor founded by Neapolitan immigrants, has been feeding people since 1927. Mancuso's Cheese Shop, known for its homemade mozzarella and ricotta, has been in business since 1940. Slightly newer restaurants, like Tre Scalini and Mamma Maria, are also stalwarts. In the past decade or so, however, the neighborhood has transformed into Philly's buzziest culinary boomtown.
A number of factors are responsible for the new blood pumping through the avenue. As the real estate market in the area began to shift and multigenerational family homes started to sell, a natural demand for more diverse dining grew — and things began to move away from the paesano exclusivity of yore. "There's a contingent of people who would probably say the avenue is losing its character, but that's the way neighborhoods work," says Erace, who also lives in the area. "They have to evolve as time goes on."
Sparked by the business maneuverings of former state senator Vincent Fumo (a whole other story) and guided into fruition by the targeted efforts of orgs like the East Passyunk Avenue Business Improvement District and the Passyunk Avenue Revitalization Corporation (PARC), East Passyunk was able to shake off the stasis of the 1980s and 1990s and leap to the front of the local culinary conversation. The chef who spearheaded the shift was Lynn Rinaldi, who grew up in the neighborhood. Her modern Italian restaurant, Paradiso, which recently celebrated its 10th anniversary, is seen as the first serious move toward something new.
"They always had their steady clientele," says Rinaldi of the standard-bearers that set the tone for her. "Whereas now, I think, when people come on the avenue, they're willing to experience other places."
Those other places cover nearly every inch of the culinary concept chart. There's Lachman's Noord and his across-the-way neighbor, the modern French restaurant Fond. Top Chef: New Orleans winner Nick Elmi opened his jewel-box, tasting-menu-only BYOB Laurel nearby, on the same side of the street as chef Townsend Wentz's eponymous restaurant. Farther down the avenue, Cheu Noodle Bar owners Ben Puchowitz and Shawn Darragh have just unveiled Bing Bing, a nontraditional dim sum parlor serving pastrami-and-Swiss bao buns and maple syrup matzo-meal turnip cakes. Chris Kearse, a peripatetic chef who's logged time at the likes of Charlie Trotter's, Alinea and the French Laundry, finally settled on East Passyunk to introduce Will in 2012. And lastly,  chef Luke Palladino just opened an Italian-style steakhouse.
Many of these chefs, who could have easily found an audience in one of Philly's ritzier neighborhoods, were lured to the area thanks to the encouragement of property managers like PARC, which is willing to draw up financially accessible lease agreements for first-time owners. "It was a social experiment gone well," says Lachman, whose 2013 opening was welcomed by locals with "a lot of homemade wine and a lot of good wishes."
Splitting the difference between tradition and modernity are places like Le Virtu, exclusively focused on the cuisine of Abruzzo, as well as the newer Brigantessa, which widens its scope to include all of southern Italy. Joe Cicala, chef of both restaurants, says he ran into a bit of trouble encouraging neighbors to expand their taste for Italian cooking beyond what they were accustomed to when he came here in 2010. (Le Virtu had been open for two years prior to his arrival.) "It was an uphill battle," he recalls. "Some people, they wouldn't even look at the menu. They'd just hand it back and say, 'I'll have the galamad and the veal scallopini.'"
It's taken a little time, but places like Le Virtu, Brigantessa and their contemporaries have found their audience, a commingling of old-timers and newcomers energized by the fact that the avenue isn't just for one type of diner anymore. But that doesn't mean the old-school has been phased out.
"If you knock on every door, there are Italian families who live there," says Marra's co-owner Maurizio Di Luca. "It's still really strong." Stroll down the avenue on a warm day and you'll still hear dialects floating out of the open doors of the active Italian social clubs tucked in alongside new bars, boutiques and restaurants. You'll still meet native speakers, hanging on park benches or relaxing on their stoops. And you'll still see fixtures like Philip Mancuso, who started working at his father's shop at the age of five, shaping mozzarella by hand three or four times a day.
Though he cracks jokes about the younger generation's proclivity for dining out (their best recipe? "Let's make reservations!"), he doesn't feel any pressure to change what he's been doing for 75 years just because everything around him is changing. "It's part of our being," he says of his work. "It goes deeper than liking it. You really have to love it."
Read more Italian-American Week stories on Food Republic: