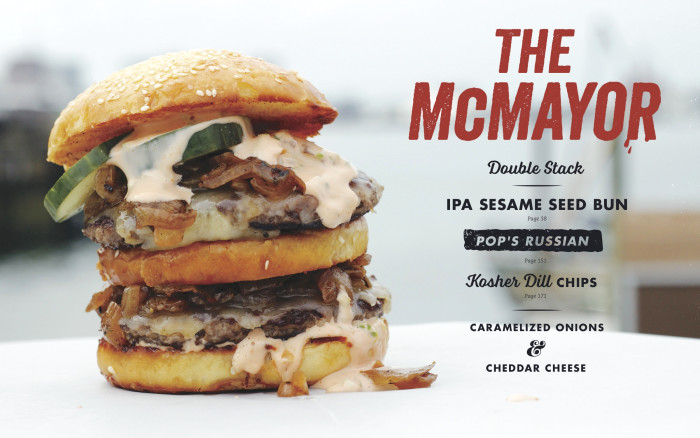 Boston-based burger blogger, chef, recipe developer and cookbook author Richard Chudy is one of our culinary heroes. His impressive mastery of all things fried, cheesy and dippable has expanded to his brand-new book, American Burger Revival: Brazen Recipes to Electrify a Timeless Classic. Cowritten with chef-author Samuel Monsour, winner of Boston Magazine's "Best Burger" award, American Burger Revival is a collection of recipes, stories, techniques and crucial information for inspiring and building the greatest burger you could ever dream up. 
In an exclusive for Food Republic, Chudy and Monsour recount the tale of the McMayor Burger, one of the book's many "centerfolds." This burger, however, has sentimental value. It spawned a bromance for the ages. 
When we set out to write American Burger Revival we knew two things for sure.
#1: Burgers are made of meat. No poseur bullshit, no vegetables or fish or other animals. See: our ode to custom burger blends.
#2: We didn't want this to be one of those run-of-the-mill, top-down burger books.
We never wanted to tell our readers, "Hey, folks! Here's how to make a Hawaiian burger!" We wanted the book to reflect how we approach the craft of burger-making overall — which is to say, constant experimentation, innovation and trying things that might seem weird but have the potential to be ridiculously delicious. For this reason, we broke down the components of our favorite burgers, taking a mix-and-match, choose-your-own-adventure way of doing things. But we also wanted to show our readers how you might combine those flavors and textures to create variations of the outlandish burgers that are becoming more common in chef-driven restaurants around the country. So we dreamed up dream burgers, stacked them high and called them "centerfolds" for the whole damn world to behold.
When all was said and done, there were 13 of these beauties (a baker's dozen!), each one wilder and more decadent than the next…with the lone exception of the McMayor. In a sea of extreme and decadent concoctions, this particular centerfold is by far the most classic interpretation of the American burger — and possibly the fateful sandwich that started our burger bromance in the first place. (Wistful sigh.) Here's how it happened.
Richard: The McMayor name pays homage to the house burger at JM Curley, the Boston restaurant where Sam was the executive chef. James Michael Curley being, of course, the notoriously crooked Boston mayor who was actually sent to prison while holding office. The Curley burger attracted a good amount of attention from local critics, myself being one of them.
Sammy: After wooing Richard to Curley's, I attempted to dazzle him with all the tricks in my arsenal. I cooked up a couple of medium-rare beauties, smothered them in Pop's Russian (a Monsour family heirloom, relying heavily on homemade mayo and Heinz Chili Sauce for zip and tang). The burgers were topped with caramelized onions for a bit of sweetness, house-made kosher dill chips for the necessary briny balance and crunch and a double helping of cheddar. All that was sandwiched in a toasted beer-infused sesame-seed bun specially developed to help transport the whole thing to one's mouth in one crazy piece (recipe here).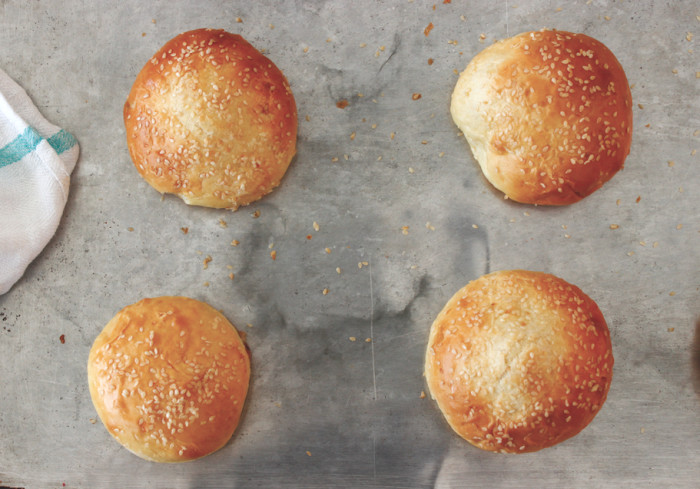 Richard: I was seriously impressed. I found it to be a straightforward and uncomplicated take on a very traditional burger. As a burger purist, this was the one I had been waiting for: great beefiness and completely unpretentious. It was perfectly designed and executed. I was smitten.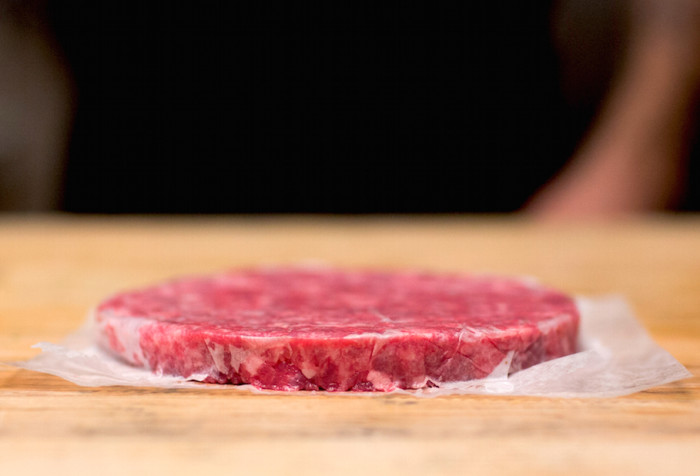 You could say it was cute, critic and chef falling in love over that first bite. (But that would be lame and kinda weird, and our wives would like that even less than the whole centerfold business.) When we started dreaming up all these seductive recipes together, we knew that we had to include a version of this classic. It takes elements of our shared nostalgia for iconic burgers like the Big Mac and brings it to the next level. We'd like to think our version, the McMayor, hits all those crave-able, satisfying beats and ups the ante. This is how we roll: Everything is prepared from scratch, using whole ingredients with a whole lot of love and tenderness. The McMayor is a cleaner, fresher, juicier version of the grimiest thing you ever did taste. Here's how to make it.
What you'll need:
Beef burger patties
Pop's Russian Dressing (see recipe below)
Kosher Dill Chips (see recipe below)
Caramelized onions (see our foolproof guide here)
Cheddar cheese
Burger Patty
If using store-bought ground beef, season the meat before forming the patty for an extra je ne sais quoi. Chudy and Monsour advise not to overwork the meat as that results in a tough patty. For a smaller burger, a five-ounce patty with a five-inch diameter should do the trick; nine ounces with a four-and-a-half-inch diameter if you're a little hungrier. If you can, cook outdoors on a grill, but don't use the cover as that turns the grill into an oven, which will dry out your burger, and all your hard patty-forming work will be for nothing. Cook the burgers to your liking and get on to the sauces.
Pop's Russian Dressing
Ingredients:
1/2 medium yellow onion
1/2 green bell pepper
1 cup standard mayo
1/2 cup Heinz Chili Sauce, no exceptions
1/2 teaspoon granulated sugar
1/2 teaspoon kosher salt
1 teaspoon freshly cracked black pepper
2 dashes Lea & Perrins Worcestershire Sauce (Pops uses Lea & Perrins; we want to keep this recipe authentic!)
Directions:
Finely mince onion and green pepper in a food processor. We prefer to use the pulse button here to ensure we don't create a puree but rather a finely minced product with a bit of crunch and texture.
Combine all ingredients in a large bowl, mix well, and refrigerate immediately. Allow flavors to marry under refrigeration for at least 12 hours before use.
Pour this all over your burgers and wait for people to bow at your feet.
Storage notes: Dressing will keep in the refrigerator for up to one week.
Kosher Dill Chips
Ingredients:
2 tablespoons dried dill weed
3 tablespoons kosher salt
3 tablespoons granulated sugar
1 cup distilled white vinegar
1 cup water
3 cloves garlic, peeled and smashed with back of knife
1 bay leaf
1 teaspoon crushed red-pepper flakes
1 teaspoon whole black peppercorn
1 tablespoon yellow mustard seed
1 English cucumber, sliced into 1/4 inch coins
Directions:
Place all ingredients except cucumbers in a pot and bring to a simmer.
Pack cucumbers into a 1-quart nonreactive pickling container and pour the hot pickling brine over the cucumbers.
Let pickles rest at room temperature for 1 hour. Seal container with tight-fitting lid and refrigerate.
Pickles are ready to eat after 24 hours but will be even tastier after 5 days.
Storage notes: Dill chips will keep in the refrigerator for up to four weeks.
Assembly
Lay one of the patties on one of the IPA sesame buns. Top with cheese, Pop's Russian and caramelized onions.
Repeat with the second bun and patty, then add pickles.
Finish off the masterpiece with the top bun.