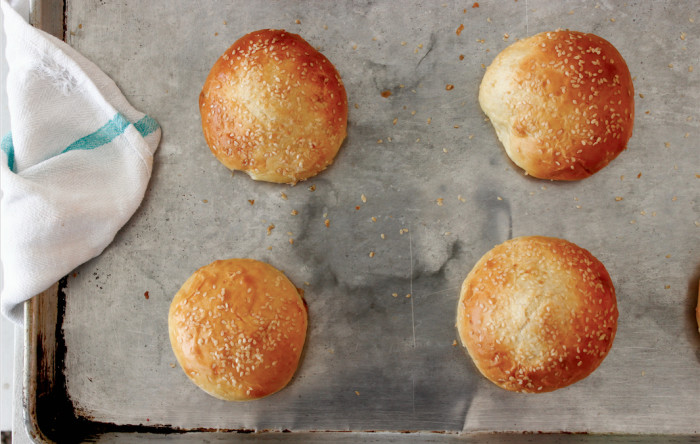 Boston-based burger blogger, chef, recipe developer and newly minted cookbook author Richard Chudy is one of our culinary heroes. His impressive mastery of all things fried, cheesy and dippable has expanded to his brand-new book, American Burger Revival: Brazen Recipes to Electrify a Timeless Classic. Cowritten with chef-author Samuel Monsour, winner of Boston Magazine's "Best Burger" award, American Burger Revival is a collection of recipes, stories, techniques and crucial information for inspiring and building the greatest burger you could ever dream up. You're going to need a really good bun. 
This is our version of the classic hamburger bun. To amplify that textbook yeastiness and airiness, we add quality beer and milk. We took that ho-hum bun from our earliest burger memories and raised the bar.
Looking for a perfect custom burger blend for that? The Revival guys have you covered.
Ingredients
2 1/2

teaspoons

active dry yeast

2

teaspoons

granulated sugar

1/3

cup

warm water (100-110˚F)

4

ounces

IPA beer, preferably Harpoon IPA

3

eggs (1 beaten with a fork in a small bowl

1 1/2

teaspoons

kosher salt

4

tablespoons

unsalted butter, melted

1/2

cup

buttermilk

3 1/2 to 5

cups

all-purpose flour

1

tablespoon

olive oil

1/4

cup

sesame seeds
Directions
Combine yeast, sugar, and water in a small bowl. Stir gently and allow the yeast to activate, about 5 minutes. You'll know it's ready when the yeast is foamy.
In a stand mixer with the dough hook attachment, add the yeast mixture, beer, 2 eggs, salt and melted butter. Mix on low for 1 to 2 minutes. Add the milk and mix to combine.
Begin adding the flour 1 cup at a time, mixing on low to incorporate. Once you've added 3 cups of flour, increase the speed to medium-low and let the machine run for a minute.
Stop the machine and touch the dough. If it is very sticky and wet, add more flour, ¼ cup at a time, and continue mixing for another minute. Continue in this fashion. Once the dough no longer feels wet, mix on medium until it is smooth and shiny, about 3 to 5 minutes.
Lightly brush a large mixing bowl with olive oil. Add the dough to the bowl and turn to coat. Cover with a towel or plastic wrap and let it rise in a warm spot until doubled in size, about 1 hour. Meanwhile, preheat the oven to 400˚F.
Once dough has doubled in size, turn out onto a large, lightly floured surface, and divide into 12 pieces for smaller burgers or 8 pieces for larger burgers. Cover with a clean towel.
Working with 1 piece at a time (and keeping the remaining pieces covered until ready to use), shape the dough into discs. Place the discs onto a large baking sheet lined with parchment paper and repeat with the remaining dough. Don't crowd the buns on the baking sheet; use multiple baking sheets if necessary.
Cover the buns and place them in a warm spot (right by the preheated oven will do the trick). Allow them to proof and rise a second time until doubled in size, about 15 to 20 minutes.
Brush each piece of dough with the beaten egg and sprinkle sesame seeds on top. Bake in the oven for about 10 to 12 minutes if making smaller buns (14 to 16 minutes if making larger buns), rotating the pan halfway through, until buns are golden brown and internal temperature has reached 200˚F on an instant-read thermometer.
Cool slightly before slicing in half.
Storage notes: Tightly wrapped buns will keep at room temperature for two to three days. They also freeze well.
More crucial burger knowledge on Food Republic: