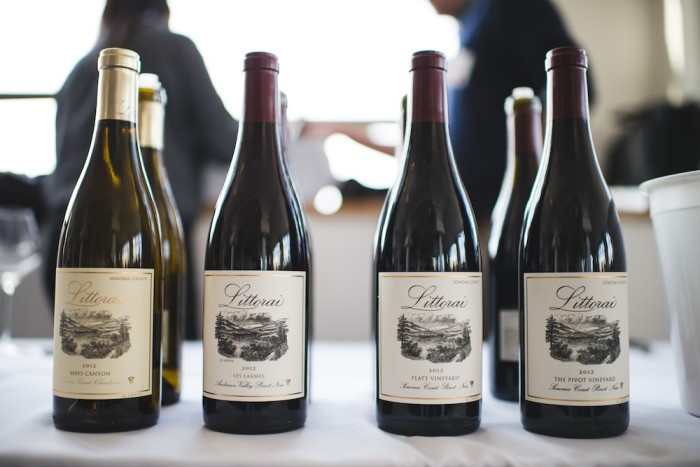 There are wine tastings nearly every day in New York and San Francisco, but few, if any, are talked about in the wine community as much as the annual In Pursuit of Balance (IPoB) tasting. Considering its limited scope — only Chardonnay and Pinot Noir grown in California by 33 wineries are on offer — it may be hard to understand why it's become an unquestionably seminal event.
First held in 2011, it was conceptualized by Jasmine Hirsch and Rajat Parr, who have no trouble selling their own wines but desperately wanted to find a voice for a group of people with the same ideals. Often, they found themselves having to compete for attention against wines that were made to fit a style instead of wines with a sense of place and, obviously, balance. Hirsch and Parr even created a manifesto that starts:
Balance is the foundation of all fine wine. Loosely speaking, a wine is in balance when its diverse components — fruit, acidity, structure and alcohol — coexist in a manner such that should any one aspect overwhelm or be diminished, then the fundamental nature of the wine would be changed.
This may seem obvious to some, but for many winemakers in California, the choices of when to pick or how much oak to apply are dictated by their perception of what consumers want instead of by what the wine needs. Rather than critique these producers, Hirsch and Parr created a nonprofit organization, which would be funded by its members, to bring the wines that they loved together for a tasting in San Francisco and eventually New York.
Membership in IPoB is not a result of being buddy-buddy with the organizers or even being the new, hip wunderkind; it is determined at an annual blind tasting (although tasters are informed of vintage and appellation) by a panel including Jon Bonné, whose book, The New California Wine, is an essential companion text to this "movement."
Since its inception, IPoB has featured OG winemakers like Jim Clendenen of Au Bon Climat and Ted Lemon of Littorai, along with relative upstarts from Ceritas, LIOCO and Chanin. This year, the cast has expanded. Keep an eye on Gavin Chanin's new project, Lutum, which he's making in partnership with impresario Bill Price. I barrel-tasted the upcoming releases last fall and can say that the Chardonnay at the table will display the sort of depth and density more common among current releases from Burgundian celebrities, and more richness than his eponymous project.
Other noteworthy names include Santa Barbara-based member Wenzlau, a family operation on a sliver of land in between the much-better-known non-members Sea Smoke and Mount Carmel.
The other two new IPoB members may not be as familiar to East Coast attendees, but I don't think it's a coincidence that they're both from Santa Cruz and associated with big names: Ehren Jordan at Mindego Ridge and the original Rhone Ranger, John Alban at Big Basin. Santa Cruz was recognized early on by pioneers like Paul Masson and Martin Ray for its viticultural potential, but since Prohibition, as Bonné has pointed out, it has been overshadowed by more glamorous counties.
Also new to the New York tasting will be a couple of seminars and panels (tickets are available here). The panel, moderated by Levi Dalton, includes Littorai's Lemon, Josh Jensen of Calera and Jeffrey Patterson of Mount Eden and will examine how the IPoB wines are developing with age. The seminar, hosted by Ray Isle, wine editor at Food and Wine, will be an attempt to examine the actual pursuit of balanced wine. It's rare for winemakers to admit mistakes, but each panelist will present one wine that he thinks may have missed the mark beside one that nailed it, discussing why and why not with Raj Vaidya, who runs the wine program at Daniel.
Obviously, there's a lot more to the current Californian wine zeitgeist than Chardonnay and Pinot Noir, but the February 23 event will be a rare opportunity — keeping in mind that although it is a trade tasting, anyone can buy tickets for the evening session at 6 p.m. — to taste some of the most sought-after wines, from the most influential winemakers in America, at one time. The snacks are usually pretty good too.
Chad Walsh writes about wine and other beverages for Food Republic. He is also the beverage manager at The Dutch in New York City.
More on wine from Food Republic: