Beyond Burgundy: 7 Other French Wine Regions You Need To Know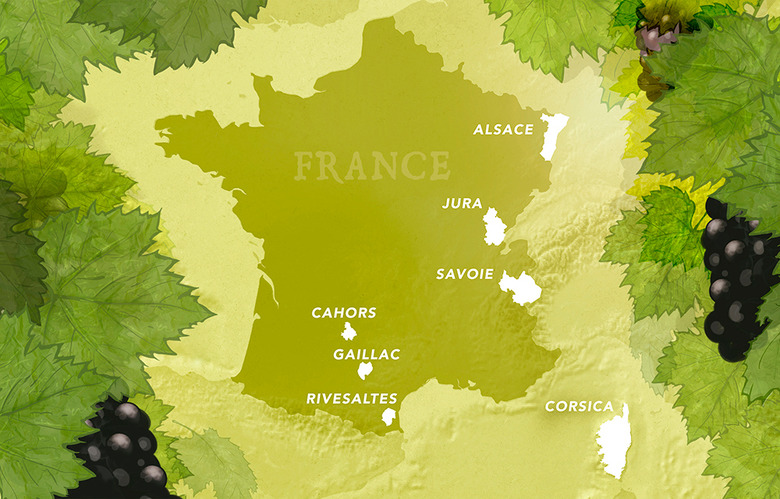 France is back, baby.
For years, the country was the largest, most prolific wine-producing country in the world. Then, a couple years back, Italy swooped in and claimed the title, while France fell to second place. Then, last year, Spain came out swinging and France fell to third. (The U.S. has hung on to its no. 4 spot throughout.) But, poor harvests in Spain and Italy this year have hit both countries hard. Now, France is back on top.
Here's another fun fact: Americans are now the biggest wine drinkers on the planet, beating out the French for the first time in 2013. So, it only seems fitting that we should celebrate both victories with a glass (or seven) of French wine. We all know Bordeaux, Burgundy and Beaujolais. But, there's more to France than its most famous appellations. Here are seven French wine regions you should get familiar with.
1. Alsace: Raise a glass of bubbly
We think of France as, well, French. But Alsace feels not quite French. The Alsatians have their own German-influenced dialect, cuisine, architecture and wine tradition, marked by plenty of riesling and gewürztraminer. The local bubbly is Crémant d'Alsace, which blends champagne grapes like chardonnay and pinot noir with pinot gris, pinot blanc, auxerrois or riesling for crisp, mineral sparklers that pair just as well with butter sauce as sauerkraut. Try the clean, floral fizz of Dirler-Cadé Brut 2010 ($25 at The San Francisco Wine Trading Company).
2. Gaillac: Ideal aperitifs
This region just north of Toulouse, in the southwest of France, is planted with red and white grape varieties that you find in nearby Bordeaux. But what's more fun here are the obscure local varieties like duras and braucol on the red side and, for whites, mauzac, loin-de-l'oeuil and ondenc. The whites are light, low alcohol and endlessly drinkable. Try Domaine Causse Marines Les Greilles 2012, a blend of mauzac and loin-de-l'oeuil rounded out by a dash of muscadelle ($19 at Wine Therapy).
3. Corsica: Stay pink year-round
Rosé is a summer thing, right? Well, not if you freaking love rosé and not if you can get your hands on Corsican rosé. The French Mediterranean island is another place that feels not quite French. (There are more; keep reading.) Here, the influence is Italian and the wines are all charm. The region is known for its elegant reds, but given the climate it also makes lovely rosés. Minerality and interesting aromatics reign. Try the rhubarb-scented Yves Leccia Patrimonio Rosé 2013 ($25 at Get Wine Online).
4. Jura: Get moody
White wine is not always light, crisp or easy-drinking. It can be esoteric, brooding and lingering. The whites of Jura are not to be trifled with. Big, buxom and, yes, brainy, too, these are whites that can stand up to steak. The local savagnin grape is used to make vin jaune (yellow wine) and oxidative whites, both of which can have the nutty, briny quality of a dry sherry. Try Puffeney Arbois Savagnin 2010, a good introduction to the oxidative style ($35 at Astor Wines).
5. Savoie: The perfect après-ski
The alpine region of Savoie sits on the Swiss border, which strongly influences the local culture. Better known for ski resorts than wine, Savoie makes light, autumnal reds from pinot noir and gamay, as well as the local mondeuse and persan grapes. You used to have to hit the slopes to sample these little-known wines, but a few importers are now bringing them into the U.S. Try juicy and spicy Domaine Dupasquier Mondeuse 2010 ($29 at Nolita Wine Merchants).
6. Cahors: Big reds
This is another appellation in the southwest that grows some of the same varieties as nearby Bordeaux. But don't expect mini-chateau wines here. Cahors prides itself on anti-Bordeaux reds that are big and gamey. Forgoing the typical merlot-cab blend in favor of heavy doses of malbec and tannat, two grape varieties that didn't get much love until South America embraced them, these wines are wild and rustic with plenty of dark forest fruit. Try Cosse Maisonneuve Le Combal 2009 ($20 at Chambers Street Wines).
7. Rivesaltes: A sweet ending
Languedoc-Roussillon is the largest wine-producing region in France and one of the oldest, too. But, it happens to be home to some of the lesser-known appellations in France. Rivesaltes is one of several tiny appellation specializing in fortified wines. Its reds are reminiscent of ruby port, while the whites can display that horrible sounding and wonderful tasting characteristic: rancio. Try Cazes Rivesaltes Ambré 1999, with its notes of salted caramel and spiced nuts ($36 at Best Wine Purveyors).
Read more from France Week on Food Republic: