Kings Of Leon Frontman Caleb Followill Just Wanted To Be A Chef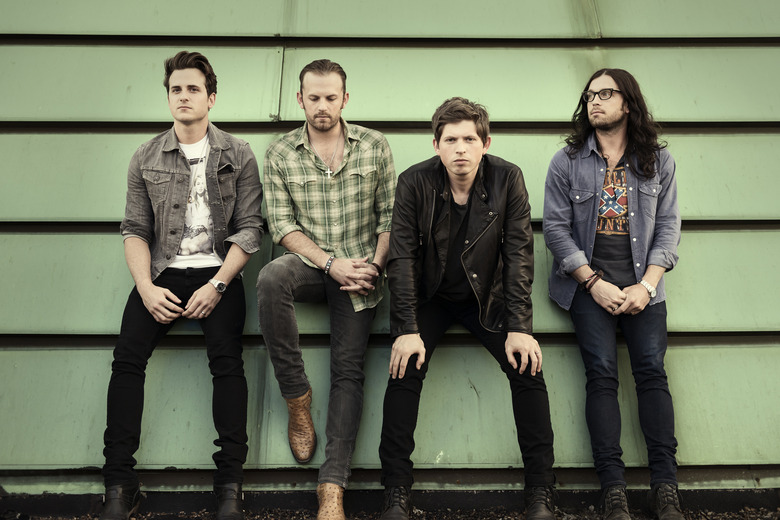 Long before Caleb Followill became front man of the Kings of Leon, he wanted to play his hand in the culinary ar
Before he had eyes on certified rock and roll stardom, Kings of Leon frontman Caleb Followill wanted to be a chef. "When I was really young, my cousin and I would make eggs," he explained in a recent call from the band's tour bus. "Once, we went hunting and killed a rabbit. It wasn't hunting season, so my uncle, to teach us a lesson, made us cook it and eat it — it was awful."
That early taste of the culinary world — delicious or not — supplanted in Followill an appreciation for food that has evolved in tandem with the band's growth. Earlier this year he opened a restaurant in Nashville's Gulch neighborhood, Adele's, with New York City chef Jonathan Waxman. And this weekend marks the return of Music City Food + Wine (see our preview), a music and food festival in the band's hometown. During a spirited talk we found out about singer's love of rosé and why the dinner party is always happening at his place.
What sparked the idea for Music City Food + Wine?
We were on the road a lot, and we'd start to discover so much great food around the world. Then we would come home to Nashville, and there wasn't much going on at all — the food scene was really sparse. I was sitting out on the balcony of my apartment one day, and I was trying to figure out where to eat. I thought, "maybe we should bring a food festival to town to show chefs from around the world just how amazing Nashville is as a city, and maybe they'll fall in love and start bringing restaurants here with them." I sent off a text message instantly to my friend Tim Love and my manager. Both of them texted me back within five minutes and were like, "we're in, let's do it." By the end of the day, I was in a restaurant and had my phone just blowing up with people saying "hey, we want in. Let's do this thing."
What did you consider when you curating the lineup in terms of music and food?
For us, it started as a selfish thing — we wanted to get restaurants to come to town. But you start to realize just how many awesome things you can do in the process. Before last year, which was the first year, we checked out all of the Food + Wine festivals, and my management went and looked at a lot of others. We knew how the food festivals worked, but we also knew there was grittiness to Nashville, and there's a wealth of musical talent that we could apply to this one to make it different. We have so many amazing chefs that are from the south and chefs that we're proud of, but we also have big name chefs that are there to bring their star power. As a musical component, last year we did a thing called Petty Fest, which was a glorified Tom Petty karaoke night. A bunch of musicians, actors and actresses from all over got up and sang a bunch of Tom Petty songs. This year, we're taking a different route — we're celebrating Nashville. It'll be a similar thing, but people will get up there and sing their favorite country songs. The whole point behind it is for people to get up there, get loose, have drinks and have fun. If you're singing well or singing poorly, no one will know because they'll be singing along with you. It'll be a bit of a boogie this year.
I've read that you like to get behind the line when you're dining out — how did that ritual come about?
I cook all of the time and I love food. We've become good friends with quite a few chefs and if you get a couple of glasses of rose in me, I'm going to start nudging on them and will try to see if they'll let me into the kitchen with them. They usually do, and we end up having a blast in there. They'll teach me things, and I'll teach them a few things — no, not really. I do most of the learning. I do try to get them loosened up, though, so I'll usually bring the bottle of rose into the kitchen with me.
"One night we might not be feeling well, or playing a town that we're not that excited about, but we know that two days later we will be playing this city that has this restaurant we can't wait to go to. Those little things keep you going."
How do you usually build up a rapport with these chefs?
We don't usually go to a restaurant and make a reservation under our band name — we'll make it under an alias. When you get to the restaurant, you slowly start to see if people know who you are. If the chef delivers every plate to your table and starts talking to you, you start to read off of them and see what kind of person they are, and if you start to ask the right questions, a lot of times they can tell that you know a bit about food. If they let you into the kitchen, that's great. Chefs, in a way, are like rock stars. They're very proud of what they do, and a lot of them are really cocky. They want to show off their best — it's always something I enjoy seeing. I love when someone takes me back there and tells me where they get their meat and how they're curing this or that. I'm interested in that stuff.
How have your travels impacted your interest in food?
I have a lot of friends who are in bands and who will be in a certain city, and I'll be like, "you have to eat here, you have to eat there." The next time I see them, I'm like "did you go?" and they're like, "no we stayed in." I just think "man, you're missing out on so much." I think in your travels, if you're adventurous enough — which I've always been, I've never been a McDonald's kind of guy — the restaurant starts to become the destination. Oh, we're going back to this town, we have to eat here, or we're going to Spain, we have to get some ham. After a while, you start to build up your knowledge of food, and you can start to see that when you're in a restaurant in Houston, Texas and you see five things on the menu from five different parts of the world that you love, it just starts to change.
How have you brought that perspective into your own kitchen?
I've taught my mom so much. We never had any money, so she was a Hamburger Helper type of cook. I'll invite her over just to cook for her and see her face. Then I'll start to get phone calls from her at the grocery store, and she'll be like, "I'm looking for garlic, but I don't even know what it looks like." And so I walk her through everything and try to teach her things — it's a learning process, and it's a lot of fun. That's the thing about food for me. To be at home with a house full of groceries, it doesn't matter if it's just me cooking for my wife or me cooking for 25 people — there's no part of it that I don't enjoy. I just have so much fun with it, it's the perfect hobby for me.
When you're on the road as often as you guys are, how do you make time for the dining experiences that you crave?
Once you've been to a place a handful of times, you kind of know where it is that you want to go. My wife and I are in Austin, and we got online to see when this restaurant Perla's would be opening up. They have this bouillabaisse that my wife just has to have. We went there, sucked down a bunch of oysters, she had her bouillabaisse, and we had some New Orleans-style barbecue shrimp. We know what we want, where we're going. Tonight we're playing Dallas, and all of our family is coming from Oklahoma City and filling their cars with all of this food we love from this little Mexican restaurant there. It really makes you enjoy life on the road and life away from your family and friends and creature comforts. One night we might not be feeling well, or we might be playing a town that we're not that excited about, but we know that two days later we will be playing this city that has this restaurant we can't wait to go to, or it has our favorite bar. Those little things keep you going.
What should people know about Nashville, a city that you've come to experience as both a food lover and a musician?
There's so much going on right now in Nashville. The whole landscape is changing, and the word is definitely out. The one thing about Nashville is that it truly has the feeling of a small town. It has always embraced people coming to town. When we first got there as a rock and roll band, we didn't know what everyone would think. Everyone in the country music community just really embraced us, were behind us, and really supported what we do. The tie between music and food and good times is all kind of in the same hat, and I think Nashville is just a great food city that's really trying to step up its game. Musically, too — we have so many young, cool bands that are moving away from Brooklyn and Austin and coming to Nashville. On every corner there's a studio and a home for you to hone your craft. It's my home, so I could go on for hours about what I love about it, but the best way to experience it is to visit. Chances are you're going to bump into me, because I get around.
More Good Food, Rocks on Food Republic (indie rock edition):