Food Republic World Cup Preview: 5 Brazilian Drinks To Know. 5 Matches To Watch.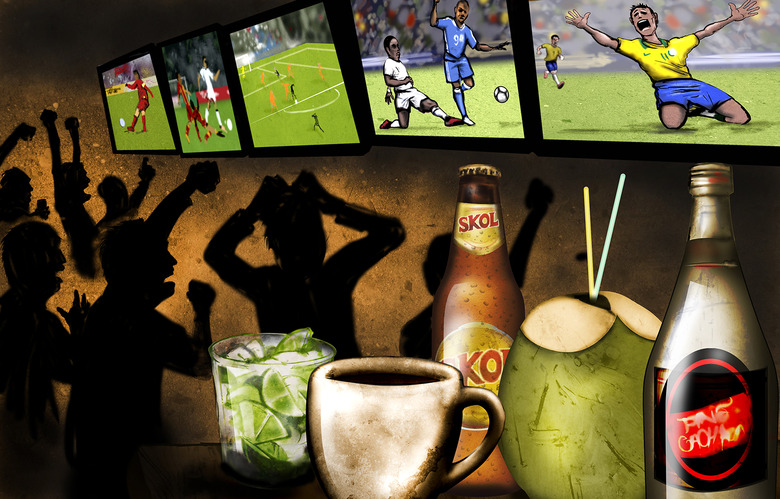 5 Brazilian Drinks To Know
Did you know that the world's third largest spirits category is ...cachaça? We bet you didn't. Now officially categorized on its own rather than as "Brazilian rum," the distilled spirit is made from sugarcane juice. It's the main ingredient in Brazil's most well known cocktail, the Caipirinha.

Caipirinha
Are there really five Brazilian drinks to know? The widely recognized Caipirinha is the country's national cocktail, made from cachaça, sugar and lime. Thought to have originated in São Paulo in the early 20th century, it is imbibed throughout the entire country's restaurants, bars and households.

Coffee
Wait, coffee? That's right. Brazil has held the title of world's largest producer for the last 150 years, responsible for about 40% of all coffee. With such large production, the qualities and flavors vary widely, naturally, and some Brazilian beans are bound to find their way into just about every cup o' Joe.

Skol
Popular culture dictates that there must be at least one beer on this list, and that beer is undoubtedly Skol. Though it was not conceived in Brazil (and is currently owned by beverage giants AB InBev), Skol is internationally recognized as a Brazilian beer and is the country's most popular beer.

Agua de Coco
5 Group Stage Matches To Watch (Times are EST)
Does it get any better than a rematch of last tournament's final? An aging Spanish squad will begin its title defense against the team that it defeated to win the 2010 World Cup. Look for Spain to dominate ball possession while Holland relies on the slick ball-work of Wesley Sneijder and finishing prowess of veteran striker Robin van Persie to keep pace. Both teams should advance in a group that includes underrated Chile and bottom-dwelling Australia.
FR Prediction: Spain 2, Netherlands 2

England v. Italy (June 14, 6 p.m.)
Two of the world's most storied sides will meet in the group stage in an early powerhouse clash, featuring a pair of the tournament's most exciting players in England's Wayne Rooney and Italy's Mario Balotelli. The importance of this match cannot be understated, with powerful Uruguay expected to breeze past Costa Rica in the other first group game and put pressure on whichever team comes up short here. Our prediction? Heads will roll after Roy Hodgson's English squad disappoints yet again and fails to advance out of the group.
FR Prediction: Italy 1, England 0

Germany v. Portugal (June 16, 12 p.m.)
It will be a matchup of offensive-minded heavyweights early on in Group G, branded as the Group of Death. Each point in this group matters, as each of the four sides has a realistic shot to advance to the Round of 16. With Cristiano Ronaldo having recently won the Ballon d'Or and a tactical, balanced German side playing at its characteristically high level, look for this one to be a fast-paced shootout.
FR Prediction: Germany 3, Portugal 2

Ghana v. USA (June 16, 6 p.m.)
The uphill battle for the United States begins on a date with Ghana, the very team that has knocked the Yanks out of the past two World Cups. With group matches against Portugal and Germany looming, the U.S. can ill-afford to come off the pitch with less than three points in this one. Coach Jürgen Klinsmann is tasked with having to successfully juggle his mix of young upstarts and established vets (minus Landon Donovan) to avoid an expected first round exit.
FR Prediction: Ghana 1, United States 1

Brazil v. Mexico (June 17, 3 p.m.)
Not many dispute that the host country — part of a weak group that includes Cameroon and Croatia — will waltz through to the second round. Meanwhile, Mexico stumbled through the preliminary rounds, looking very much like it did not want to be part of the 32-team field and needing an injury-time goal from the United States against Panama just to qualify for the tournament. While few would expect El Tri to put up much of a fight against the consensus favorites, the 11 players who take the field for Mexico will come out hungry and with something to prove here. Look for them to hang tough.
FR Prediction: Brazil 2, Mexico 1
​Read these soccer stories on Food Republic: