Chelsea Supporters Eat And Drink Better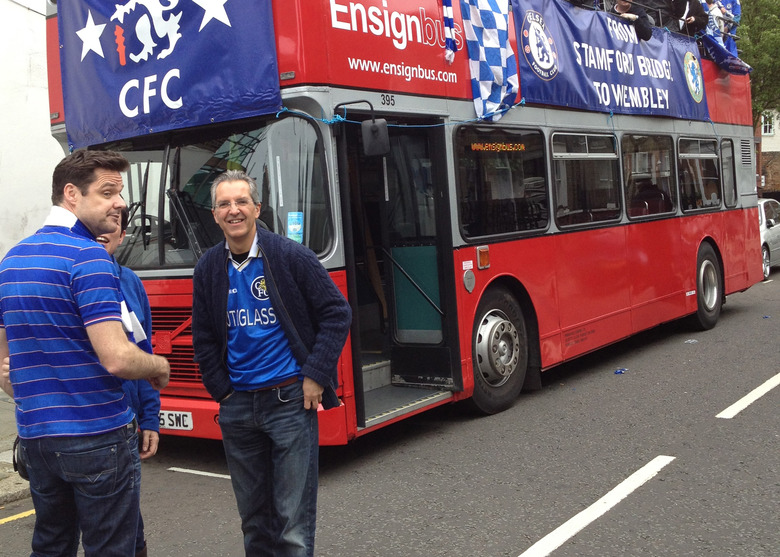 Gone are the days when soccer fans would settle for a burger and fries from a mobile caterer ahead of matches.
Sure, the aroma of fried onions and sizzled beef on the approach to any soccer stadium in England stirs a sense of sentiment for most supporters of a certain vintage. But just as the sport has changed in the 20 years since the inception of the English Premier League, so too have the habits of English supporters come matchday.
For those of you unaware of the history and tradition of Chelsea FC, it is a club that comes with an air of sophistication. Located just off the trendy King's Road, it earned a reputation in the '60s and '70s for being the glamour club of England, and its fans have been eager to maintain that appeal in the modern day.
Joining a group of 70 or so Chelsea supporters ahead of the FA Cup final against Liverpool FC at Wembley Stadium on May 5, this fact was only too evident.
There is a fierce rivalry between both clubs and with anticipation hitting fever pitch, the Chelsea supporters had planned their day meticulously, with an open top bus hired to transport them from their preferred drinking hole in west London to the world famous Wembley. But before they boarded, there was the important issue of lunch.
The Chelsea Ram pub is located a stone's throw from Stamford Bridge, the club's home for over 100 years. Surrounded by art dealerships and studios, it's one of the more appealing locations comes matchday, serving fans with a range of traditional pub grub.
The FA Cup dates back to 1871, when it was first introduced into the English soccer calendar so, with this in mind, I opted for a little tradition of my own – fish and chips.
It's a dish that has come a long way itself from East End chip shops, with eateries such as the Chelsea Ram adding their own twist with chunky portions of fries to complement the deep fried fish.
Throw in a portion of mushy peas and pint of English ale to wash it down and it makes you wonder why soccer fans hadn't thought of preparing for matches in such style a long time ago.
It was the perfect start to a perfect afternoon, with the odd glass of champagne being passed around as we toasted our trip to Wembley onboard the bus.
Chelsea supporters had every reason for popping corks later, too, as goals from Brazilian ace Ramires and Ivorian striker Didier Drogba gave the Blues a memorable 2-1 victory.
Next up for Chelsea FC will be a trip to Munich, Germany, for the UEFA Champions League final against Bayern Munich and one suspects there will be more than bratwurst on the menu in Bavaria where these fans are concerned.