Food Republic World Cup Preview: 5 Brazilian Foods To Eat. 5 Players To Watch.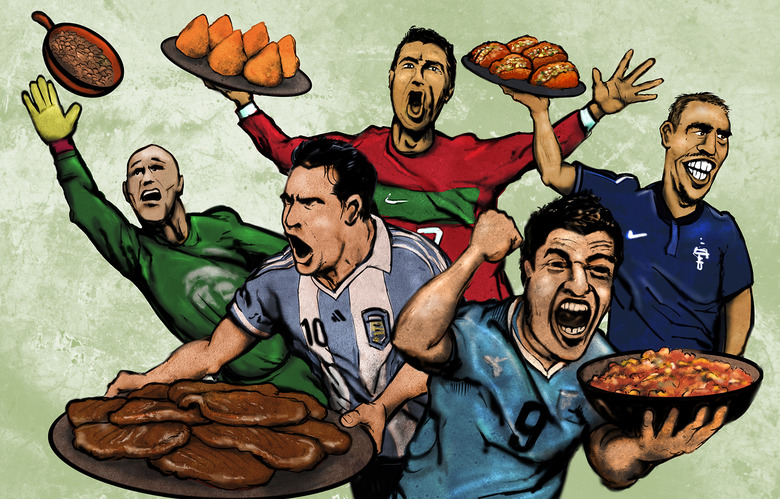 5 Foods To Eat
Commonly served as street food, these fried black-eyed pea fritters are found in abundance in the Northeastern Brazilian state of Bahía. Though they are most often stuffed with the creamy paste vatapá (made from bread, shrimp, coconut, peanuts and palm oil), we also love making them with crab salad.

Feijoada
Often referred to as "the national dish of Brazil," feijoada is a stew of beans with beef and pork. It is typically served alongside rice and assorted sausages, but our personal favorite recipe involves frying up various cuts of meat with black beans and spices to create it in fritter-form.

Picanha
Dine at any Brazilian churrascaria and chances are that you will be encouraged to try their signature picanha. So, what exactly is this hunk of meat that's rarely found in the U.S.? Known (rather unfortunately) as the "rump cap" in the States, picanha is a tender, juicy cut taken from a cow's, well, rump. A glistening layer of fat adds beautifully to the rich flavor.

Moqueca
You could say that the Brazilians really love their stew. Another one of the country's classic dishes is moqueca, a fish stew cooked in coconut milk. Traditionally mixed with tomatoes, onions, garlic, coriander and palm oil, the dish is commonly served with shrimp.

Coxinha
5 Players To Know
The 26 year-old midfielder for FC Barcelona and four-time Ballon d'Or winner as the world's best footballer must return to top form after an injury-plagued 2014 campaign if perennial contenders Argentina want to have a legitimate shot at challenging for the title.

Cristiano Ronaldo (Portugal)
Arguably the world's most feared scorer, Ronaldo is eager to prove his many critics wrong and finally step up his play on the national level. The Real Madrid superstar is coming off his finest season to date, but is battling a nagging knee injury that has kept him out of the Portugal's recent friendly games.

Luis Suárez (Uruguay)
Lesser celebrated than Messi or Ronaldo is Luis Suárez, the Uruguayan striker who plays his football for Premier League club Liverpool. Even coming off recent knee surgery, Suárez has the potential to lead the tournament in goals and vault his team above either Italy or England in the opening round.

Franck Ribéry (France)/Neymar (Brazil)
A terrifically skilled ball-handler and passer, Ribéry will look to pace will watch from the sidelines at a French side that has failed to advance out of the group stage two of the past three World Cups, after winning the tournament in their home country in 1998.
Editor's Note: Ribéry was ruled out of the tournament last week due to a lingering back injury. Look out for Brazil's Neymar instead. The 22 year-old FC Barcelona winger – making his World Cup debut – will be heavily relied upon to score for the host country, which features superior defense but a somewhat questionable attack.

Tim Howard (U-S-A! U-S-A!)
U.S. goalkeeper Tim Howard will have to be at his absolute best in order for the United States to have any chance of advancing out of this year's Group of Death. All roads in Brazil for the U.S. run through Howard, who leads a squad that often suffers from inconsistent play.
Read these soccer stories on Food Republic: