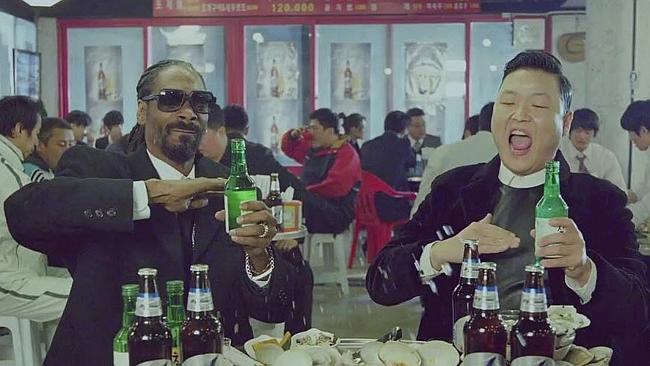 Remember Korean pop star Psy? You know, of "Gangnam Style" — that song that has been played over two billion times on YouTube? Well, dude is back with a new song that was released during last night's NBA Finals edition of Jimmy Kimmel Live. It's a real banger, starring Snoop Dogg who plays the role of Psy's student. The lesson? How to drink and eat Korean style. And, of course, the repercussions of "making bottles pop until the wheels come off," as Snoop raps in one of his memorable verses. The song is called "Hangover" but is more about getting to that point in the program. So why are we writing about this on Food Republic? There are several references to Korean food and drinking between all the ass-shaking to the favela beat.
The most prominent is the reference to the traditional Korean drinking game known as Seoul Train, where shots of soju are lined up atop short glasses of beer (think Hite or OB) and knocked over like dominos. Drinkers then shot the beer/soju combination in one motion. It's fun for all ages. You can spot that at :40. At 3:56, Psy is slurping a bowl of noodles that appears to be jajangmyeon, a Korean-Chinese hybrid that dresses the thick wheat noodles with onions and a black bean sauce called chunjang. Alternatively, it could be a bowl of Shin Ramen as well. You be the judge.
Finally, the scene jumps to daybreak (4:15) where Psy and Snoop are found drinking more soju in a restaurant with bowls of soup in front of them. This is presumably haejangguk, also known as "hangover soup" that Koreans are known to eat at the end of a long night. It's a union of doenjang (fermented soy bean baste), bean sprouts, daikon radish, squash and a nice amount of gochugaru (red chili powder). Ox blood can also be added. The soup is fiery, funky and what you want to eat to sweat out your long night. We're pretty confident Snoop's a convert.
More eating our way through music videos on Food Republic: