Marco's Chef Danny Amend, Die-Hard San Francisco Giants Fan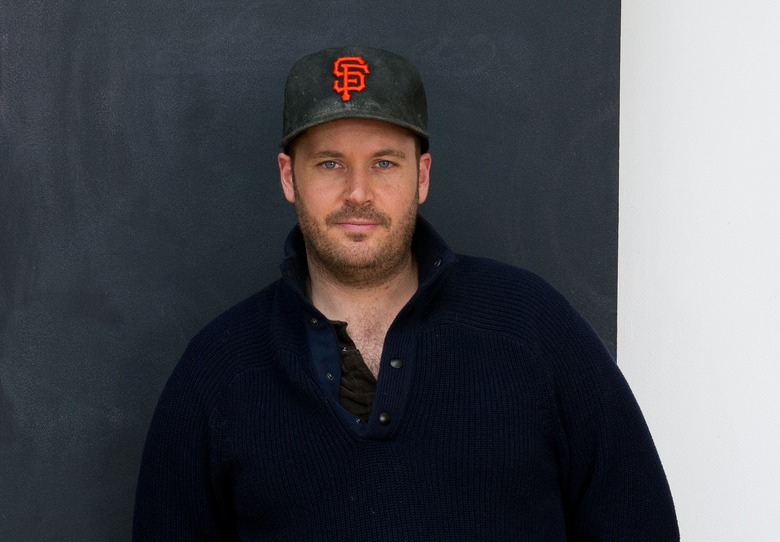 Danny Amend's career has spanned stints at some of the nation's most respected kitchens, including The French Laundry, Per Se, Essex House and Alain Ducasse's MiX in Las Vegas. Stepping outside the world of fine dining, Amend took the reigns at Marco's last year, the critically acclaimed Italian restaurant in Brooklyn and sister to popular pizza joint and neighborhood staple Franny's (where he had worked previously).
It's been an illustrious journey for the hardworking chef, who stopped by our Baseball Test Kitchen last week — fresh off a trip to Spring Training in Scottsdale, Arizona — to talk about his beloved San Francisco Giants. Unlike many of his childhood heroes, however, Danny didn't bend any rules to get to where he is today. But that doesn't stop him from talking about his love for Barry Bonds. So much love.
What's the first thing that pops into your head when you think of baseball food?
Ballpark hot dogs, peanuts, a lot of sunflower seeds and the mushy lips you get from chewing them. Also, those giant Pixy Stix — my baseball league growing up used to sell them and my mom forbade me from having any, even though I'd always sneak one.
Tell us about growing up a San Francisco Giants fan.
I'm from Santa Rosa, California. The team was good when I was growing up, but not as good as the A's. Will Clark was my favorite player, and then obviously Barry Bonds — everyone will hate that, but he was amazing. He came in 1993 from the Pirates and had a great year. That was actually the year before the Wild Card was implemented — the team won 103 games and didn't make the playoffs!
They brought back Barry Bonds as a spring training instructor this year. How do you feel about that?
I love Barry Bonds. I'm not ashamed to admit it — steroids were everywhere in baseball and it's an entertainment sport. I like to be entertained and I like watching baseball and watching the best players — if everyone's juicing and he's going to be a scapegoat, so be it.
Did you go to a lot of games? Any favorite game you attended?
We actually used to go to more A's games, because Candlestick Park was kind of dicey sometimes. It was cold and ugly. I remember going to a game where Matt Williams hit a walk-off homerun. I was sitting in the bleachers with my friend and he hit it right to us. We immediately scrambled to find the ball, but couldn't.
What's it like going to Spring Training?
I go with my buddy John. Basically we land, check into our hotel and then just go to baseball games and drink beer. Now we have Uber, so we don't have to worry about driving, either. And we play a lot of golf. Then I had to come back here and it was like 30 degrees.
Have you been to a lot of ballparks?
I've been so busy that I just haven't had time, but I'd love to make it to more. I went to Wrigley a couple years ago with my brother. I'm trying to make it to Fenway. I went to Citi Field recently.
Did you wait in line for a Shake Shack burger?
Of course. We had a Shake Shack burger and some seafood burger. All food responsibilities go out of the window when you go to a ballpark. We had some Goose Island beer, as well. In California ballparks, there's a lot of Sierra Nevada, Anchor Steam, Fat Tire.
Do you play fantasy baseball?
I don't because it's too complex! It's hard enough to follow the Giants out here on the East Coast. Maybe when I retire...in 50 years.
How are the Giants going to do this year?
They'll do well if they stay healthy. If the pitching stays healthy and Lincecum pitches at least above average, they'll be okay. Matt Cain underperformed last year. I hate to say it and it really kills me, but I think the Dodgers are going to be tough to be this year. Man, I really hate the Dodgers.
Who's going to win the World Series this year?
I'd love to say the Giants, but I don't know. It'll be another National League team that probably starts with a D, but I'm not going to say it.
Read more Chef Talk columns on Food Republic: