NBA Power Rankings: TGI Fridays Edition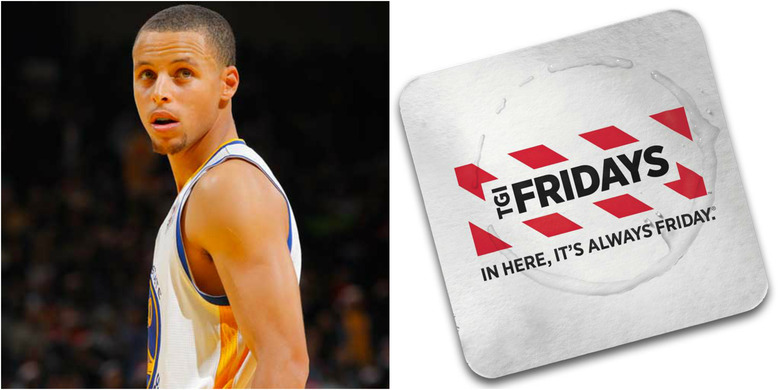 Welcome back to another edition of the Food Republic NBA Power Rankings, where Jason Kessler takes stock in the current NBA season and ranks each team in order — and by their place on a specific restaurant menu. Previously he ranked LeBron, Kobe and the non-hobbling D Rose via the menus at Olive Garden and Chili's. This time around it's TGI Fridays.
If the NBA season was a brooding, character-driven drama on HBO, we'd be right around the point where the two masterminds (Take your pick: McNulty vs. Avon, Tony vs. Johnny Sack, Tyrion vs. Cersei/Joffrey, David Milch vs. Horses) drop the bullshit and go head-to-head in a psychological cage match. That's what's happening right now with LeBron and KD. Durant has gone off for 40+ points in NINE GAMES since the beginning of 2014. LeBron just hit a career-high 61. This is so much fun. I don't know who's going to wind up as MVP, but either one of those guys deserves it and all of my fountain-penny wishes these days are going to the hopeful match-up between the Heat and the Thunder in the Finals. Add in the lockdown Pacers, the relentless Spurs, and a constantly shifting playoff picture and you can't help but be excited for whatever the post-season will bring. Spring is Coming and it's gonna be good.
This season's Food Republic NBA Power Rankings have been paying tribute to chain restaurants all year and we continue the trend with TGI Fridays, where every day is Friday a day you chose to eat at a corporation's idea of fun. As per usual, we've matched up each team with an item on the menu and with an entire menu category labeled "Sizzling," this NBA/Fridays pairing should seem especially natural. Let's get ranking!
( ) = previous position | [ ] = record as of March 7, 2014
#1 (4) Miami Heat [43-16]
Full rack of slow-cooked, fall-off-the-bone tender baby back pork ribs fire-grilled and basted with Jack Daniel's® sauce. Served with seasoned fries and ginger-lime slaw.
This is the point of the season where the Heat go from casual omnivores to vicious carnivores. LeBron's 61 was just a symptom of that switch. As they gear up for the playoffs, watch this team transform into the killers they've been for the past three years. I mean, seriously – they went 43-15 while they were sleepwalking. You better believe they're going on a run from here on out and turning all of their opponents into the Miami version of Jack Daniel's® Ribs. 
#2 (5) Oklahoma City Thunder [46-16]
10-ounce Black Angus whiskey-brined rib-eye fire-grilled to order, then topped with maison butter. Served with your choice of two sides.
On a night where Kevin Durant nets 42 points, Russell Westbrook quietly achieved a triple double (13-10-14) in 20 minutes. That's not even a full half of NBA basketball. If they hadn't been playing the abysmal Sixers, those numbers would be even higher. That's because the Thunder are a team of men and often make their opponents – even the good ones – look like little kids. If you don't think the Thunder are as serious as a Black Angus whiskey-brined fire-grilled rib-eye, then you don't understand the power of a good hyphen. What's maison butter?
#3 (3) San Antonio Spurs [45-16]
Warm, crispy pecan-crusted chicken breast served over chopped romaine and mixed greens tossed in Balsamic Vinaigrette with dried cranberries, mandarin oranges, sweetened pecans, celery and bleu cheese.
Tony Parker is one month and three days older than me. He was married to Eva Longoria. He was the NBA Finals MVP in 2007. He's made over $107 million over the course of his 12-year career. I write a 3,700-word feature where I compare basketball teams to pecan-crusted chicken salad. So yeah, we're both doing pretty well for ourselves.
#4 (1) Indiana Pacers [46-15] 
Melted sharp cheddar cheese, onion bacon jam and Asiago and Parmesan spread between two fresh burgers with Thousand Island dressing and peppered bacon.
The Pacers may have the best record in the league, but that's partly because they get to play more games against the dregs of the Eastern Conference, unlike their Western peers. That's pretty much the only reason they slipped to #4 from the top spot in our last rankings. They have almost everything they need to go on a championship run: sturdy center, play-making wings, fans who live and breathe the game of basketball. They're stacked. Somehow, though, I just don't see them beating the Heat. Truthfully, I don't even see them beating the Bulls in 7.
#5 (2) Portland Trailblazers [42-19]
Crispy and golden brown on the outside, tender and juicy inside. Served with Honey Mustard dressing and seasoned fries.
Things still look promising in the Rose City, but the Blazers have gone a measly 11-10 since our last rankings and that dropped them to #5 on our list. When Brook Lopez went down for the Nets, that left us with only one Lopez twin capable of playing and Robin a.k.a. RoLo is RoLling along like a top-5 center this year. He doesn't do any one thing exceptionally well, but like a good plate of chicken fingers, he's dependable as hell and comes through in the clutch. Keep RoLling, RoLo.
#6 (7) Los Angeles Clippers [43-20]
Mesquite-smoked turkey breast, applewood-smoked bacon, ham and Monterey Jack cheese on toasted freshly baked baguette with romaine lettuce, tomatoes, avocado and mayo.
Crazy to admit it, but the Clippers have become California's club. They're unbelievably fun to watch and after winning the buy-out sweepstakes with Big Baby and Danny Granger, I can't wait to see what they do in the post-season. I harped on Vinny Del Negro for his entire Clips tenure for not elevating this team to greatness with all the tools he had available. Now that Doc's in the picture, it feels good to be vindicated. Side note: Is VDN the NBA's version of Good Luck Chuck? Every time he gets replaced, the team goes on to be amazing. See: Clippers, Los Angeles; Bulls, Chicago.
#7 (6) Houston Rockets [42-19]
Full rack of slow-cooked, fall-off-the-bone tender baby back pork ribs basted in Jack Daniel's® sauce, paired with Cajun-spiced shrimp. Served with seasoned fries and ginger-lime slaw.
"Rocket. I'm taking a rocket. I'm packing my suitcase. Hey look out, Mooooooon." Astronaut Jones knew that a rocket would take him into the stratosphere and the Rockets know that the Dwight Howard/James Harden/Chandler Parsons combo will take them to the promised land. Or at least close to it. These guys are as satisfying to watch as eating a plate of ribs and shrimp together just because you can. Who knew they'd be this good? Daryl Morey.
#8 (8) Golden State Warriors [38-24]
Chocolate ganache layered with peanut butter mousse in a peanut butter graham cracker crust. Topped with whipped cream and a peanut butter cup.
Is there anything sweeter than Steph Curry's jumpshot? Not even a slice of chocolate peanut butter pie can compare to the silky smooth, "did that even hit the net?" stroke that Curry deploys every night. The Warriors are crushing it this year with high-volume shooting and health. Bogut and Curry have missed a combined 11 games this year. Last year? 54. Are you surprised they're doing so well? I'm not.
#9 (15) Chicago Bulls [34-27]
8-ounce cut fire-grilled, then topped with maison butter. Served with your choice of two sides.
If you're not a Bulls fan, then you may have missed how this team squeezes diamonds out of an empty stone. You may have missed Joakim Noah play with more heart than any other player in the league. You may have missed DJ Augustin resurrecting his career and Jimmy Butler proving that doing "the little things" right is the key to winning games. You may have missed Tom Thibodeau rallying his team to play even harder and better after losing DRose to injury and Luol Deng to a ludicrous trade. Luckily, I didn't miss any of these things. That's because I'm a Bulls fan. I still don't know what maison butter is, though.
#10 (10) Toronto Raptors [33-26]
A trio of corn tortillas filled with strips of marinated Black Angus flat iron steak, then topped with ginger-lime slaw, cucumbers, fresh cilantro, basil and Sriracha sauce. Served with jasmine rice pilaf.
Pulling off Korean steak tacos at a chain restaurant? That's impressive. Just as impressive? The Toronto Raptors this year. With nary a star to be found (I know DeMar made the All-Star team, but come on, so did Jameer Nelson once upon a time), the former Craptors just keep showing up. Dwane Casey should be proud of his little worker bees. They play like they've got Sriracha in their shorts.
#11 (12) Memphis Grizzlies [34-26]
Norwegian salmon fillet fire-grilled and topped with a sauté of langostino lobster and cremini mushrooms in a zesty roasted Alfredo sauce. Served with your choice of two sides.
Marc Gasol goes down for a month and a half? The Griz are a losing team. Marc Gasol comes back mid-January? Memphis goes 17-6. These bears are cruising right now and if they keep it up, they'll truly earn their spot in the playoffs. We better get them some salmon. Bears like salmon, right? I hope so. I don't want any Grizzlies mad at me. You know what? I'm throwing in langostino lobster, too, just in case.
#12 (11) Dallas Mavericks [36-26]
Home-style potato chips with melted cheese and bacon crumbles, stacked in a skillet and smothered in white cheddar queso. Garnished with more bacon crumbles and green onions.
If somebody came on Shark Tank with this year's Mavs, do you think Mark Cuban would invest? It's hard to say. Maybe if that person pitched the team as being led by a German robot capable of leading a team for six decades. There's a chance that Dirk really is a robot, right? I can't be alone on this. I picture him sitting at home after games hooked up to his power source and trying to figure out how to eat Loaded Skillet Chip Nachos without getting white cheddar queso on his nuts... or bolts.
#13 (9) Phoenix Suns [36-26]
Fire-grilled chicken breast glazed in a Kung Pao sauce. Served over jasmine rice pilaf with pineapple pico de gallo, mandarin oranges and fresh steamed broccoli.
There's something about this year's Suns that feels like a classic underdog Disney movie type of story. Former player comes back to coach a flailing team and turns a ragtag group of kids into a basketball powerhouse. That's basically Mighty Ducks on the hardwood. It's happening in real life, though, and there's nothing fowl about these Suns. Sorry. I couldn't help it. [note: in lieu of duck, I had to go with dragonfire chicken].
#14 (14) Washington Wizards [32-29]
Boneless or traditional with your choice of sauces ranging from mild to spicy: Tennessee BBQ, Garlic Parmesan, Kung Pao, Classic Buffalo or Scorching Hot sauce. Served with celery and Bleu Cheese or Ranch dressing.
How about that Gortat trade? How about that John Wall/Bradley Beal Bucket Bros. combination (I made up that nickname)? How about these Wizards having a 100% shot at making the playoffs? Things are going well in Washington, even with the injury to Nene. They're winners of their last eight and if I were a Wizards fan, I'd be celebrating my sustained good fortune with a full platter of buffalo wings. Go ahead, guys. You deserve it.
#15 (17) Minnesota Timberwolves [30-30]
Two entrée skewers marinated in garlic-black pepper soy sauce, grilled and basted with a miso glaze and garnished with sesame seeds. Served with jasmine rice pilaf, fresh vegetable medley and grilled pita.
It's actually nice that Minnesota fans can root for a team that's so consistently middle of the pack (wolf reference!). They're about as humdrum as ordering chicken skewers — and no, the miso glaze doesn't make them any more exciting. In my last Power Rankings, they were 19-21. Now they're 30-30, making the cliché "you win some, you lose some" into a mantra. Kevin Love can't be happy that he's devoted his magical powers to the wilderness of Minneapolis for so long with no results. Here's a fun fact: Kevin Love has never played in an NBA playoff game. Oof.
#16 (19) Brooklyn Nets [30-29]
Sautéed garlic-marinated chicken. Served over melted cheese with onions, peppers and creamy mashed potatoes.
There are signs of life in Brooklyn. They just climbed over the .500 mark for the first time all year. It's almost to the point where I can see them being a very hard out in the playoffs. It's easy to forget that Kevin Garnett and Paul Pierce are just in their first year in BKLN and happen to have unbelievable playoff experience and tenacity. They may not have looked great early, but now... things are really starting to sizzle.
#17 (16) Atlanta Hawks [26-33]
Two deli sliders on a pretzel roll with caramelized onions, Dijon mustard and mayonnaise.
Once considered a lock for the #3 spot in the East, the Hawks have broken a wing. Even worse, Kyle Korver's incredible streak of games with a made three-pointer just came to an end. Not the best season to be hanging out at The Philips Center. Some bright spots: Elton Brand gets playing time! Jeff Teague is better than serviceable! They're alphabetically first in the NBA! Take solace from a Cubs fan as you continue to slide down the standings, Hawks fans (see what I did there?). There's always next year. 
#18 (22) Charlotte Bobcats [28-33]
A dozen crispy, golden brown shrimp. Served with seasoned fries and cocktail sauce.
Can they do it? Can the Michael Jordans actually squeak into the playoffs? I certainly hope so. It's time. It's also Al Jefferson Time! What a year for Big Al. The dude is putting up numbers on par with his great early seasons in Minneapolis. He's a man amongst shrimp. Speaking of, for a restaurant that seems to put outrageous names on most of their food items, couldn't they have come up with something more exciting than "Fridays Shrimp?"
#19 (20) New Orleans Pelicans [24-37]
Fire-grilled, then topped with maison butter. Served with your choice of two sides. 6 oz. or 10 oz.
With Mardi Gras disappearing into the rear view mirror like Rust Cohle into an abuse scandal, the city of New Orleans can get back to something more important: when can they pick a better team name? I'm still not sold on the idea of a pelican representing an NBA team, but I am sold on Anthony Davis, who is quickly climbing into the elite echelon of the league. Unfortunately, he doesn't have a strong supporting cast, which leaves the Pellies prone to multiple eight-game losing streaks (two since the start of January). One sirloin does not a team make. Seriously, though, what's maison butter?
#20 (18) Detroit Pistons [24-37]
Balsamic-marinated chicken breast fire-grilled and drizzled with balsamic glaze. Served over chopped romaine with sliced avocado, grape tomatoes, hard-boiled egg, applewood-smoked bacon and crumbled bleu cheese and choice of dressing.
17, 17, 26, 7. No, those aren't the impetus for a new Lost sequel. They're the rebounding numbers for Andre Drummond over the past four games. That's serious production. Unfortunately, the rest of the Pistons aren't exactly following suit. They don't have a single player averaging over 17 points per game (*cough* Brandon Jennings *cough*) and there's a lack of excitement here that's on par with something like a cobb salad: lots of ingredients, not a lot of action.
#21 (27) Utah Jazz [21-40]
Steamed, pan-seared pork dumplings. Served with a Szechuan dipping sauce.
Utah can't score. They currently average 94.6 points a game, third lowest in the league. That wouldn't be a problem if their defense made up for it. Sadly, it doesn't. At least they have Trey Burke and Gordon Hayward both healthy and back on the court. They also had their owner on Undercover Boss recently, so there's that. Pot stickers at Fridays? About as appetizing as NBA basketball in Salt Lake City.
#22 (13) Denver Nuggets [26-34]
A warm brownie made with Ghirardelli® chocolate-fudge sauce. Topped with vanilla ice cream, caramel and pecans.
Is it a coincidence that the Nuggets have fallen so far since the state of Colorado started selling legal marijuana? You tell me. All I'm saying is that this team seems rather unmotivated despite the fact that they should definitely be hungry after losing 10 of their last 12 games. The sad truth is that they're probably more obsessed with brownies than basketball at this point. Oh, by the way, Mozgov is starting now. I know.
#23 (21) Cleveland Cavaliers [24-38]
Cookies and Cream ice cream sandwiched between rich layers of Oreo® cookie crust. Garnished with caramel and fudge sauce.
This conversation may have taken place on January 5, 2014:
Chris Grant (Cavs GM): Don't worry, Dan. I know I screwed up with Anthony Bennett and Bynum, but I'm bringing in Luol Deng. He's going to save the franchise.
Dan Gilbert (owner): Isn't he the third best option on the Bulls when Derrick Rose is healthy?
Chris Grant: Yeah, but this guy can play tons of minutes!
Dan Gilbert: I'm definitely going to fire you in a month.
Chris Grant: What's that?
Dan Gilbert: Nothing. Would you like some Oreo® Madness?
#24 (24) Sacramento Kings [22-39]
Crispy flatbread topped with tender pulled chicken breast in a chipotle barbecue sauce and baked with Monterey Jack cheese, cheddar, cilantro and hand-cut red peppers and red onion.
Did you catch the Real Sports interview with Vivek Ranadive on HBO back in January? The guy didn't know about NBA basketball until he was already a successful millionaire. Now he's the owner of a Kings team that gives people in Sacramento a reason to get up in the morning. In honor of Vivek, the Kings get BBQ Chicken Flatbread, because flatbread is just the word xenophobic people use for naan.
#25 (23) New York Knicks [22-40]
A creamy blend of American and cheddar cheeses with broccoli.
If you've ever lived in New York, you're intimately familiar with the phrase "Nobody Beats the Wiz." On the flip side of that is a more relevant slogan: "Everybody Beats the Knicks." Like the man who orders broccoli cheese soup because broccoli is healthy, these Knicks aren't even really trying. At least Tim Hardaway Jr. is getting some run. Do you think Melo has a dream journal where he writes adorable entries about all of the other teams he'd like to play on? I really hope he does.
#26 (25) Los Angeles Lakers [21-41]
Crispy bites with three varieties of cheddar and served with craft beer-cheese dipping sauce.
Raise your hand if you thought the Lakers were going to be tied for last place in the Western Conference this year. Now raise your hand if you're enjoying that fact. I see that everybody now has their hands raised. Are the Lakers the most hated team in professional basketball? You better believe it. After years of winning and gloating, the Lakers are finally getting their comeuppance and it comes amidst a sea of injuries. They're just like these bacon mac & cheese bites: they used to look good, but now they just make you sick.
#27 (29) Boston Celtics [20-41]
Multi-grain angel hair pasta tossed in garlic, basil and Roma tomato marinara. Topped with tender strips of fire-grilled chicken breast. Finished with balsamic glaze and Parmesan shavings.
The phrase "multi-grain angel hair pasta" is about as much of a panty-dropper as "Boston Celtics season tickets" right now. Since the beginning of 2014, this storied franchise has posted an astounding record of 7-22. Rondo's back but can't quite shoulder the load with nagging injuries and the loss of Garnett and Pierce. Brad Steven's coaching leap to the pros has been almost as rough a rookie season as the Cav's Anthony Bennett. Here's hoping next year's Celtics figure it out because Boston can't take many more multi-grain games. 
#28 (28) Orlando Magic [19-44]
Breaded and fried golden brown. Served with a Cucumber-Wasabi Ranch dip.
It must be tough to be a Magic fan. You have to root for a team that's three notches less exciting than Olympic ice dancing. They've only won four games on the road all year and there's no player for people to rally around. Sure, Arron Afflalo may be having a good year, but he's the NBA equivalent of crispy green bean fries. Why would you order them when you could just as easily get the loaded potato skins?
#29 (30) Milwaukee Bucks [12-48]
Crispy and golden on the outside, hot and gooey inside. Served with marinara sauce.
Mozzarella sticks may be the official state food of Wisconsin and it's a good thing, because comfort food like that can distract from the abomination occurring nightly at the Bradley Center. The bright spot? Giannis Antetokounmpo. You may know him as Alphabet or The Greek Freak. I know him as the kid who tried to run to the game when he ran out of money for a cab. When he puts on 20 pounds of muscle, things are going to get real sunny in Mil-u-wa-kay.
#30 (26) Philadelphia 76ers [15-46]
Avocado Vinaigrette, Balsamic Vinaigrette, Bleu Cheese, Caesar Vinaigrette, Honey Mustard, Low Fat Balsamic Vinaigrette, Ranch, Thousand Island.
They've lost 15 in a row. They could easily lose 15 more. This is a team that's focused on tanking and it's disgusting to watch. At the trade deadline, they got rid of Spencer Hawes and Evan Turner, which was 40% of their starting lineup. They now start a man named Hollis. These guys get a bucket full of salad dressing poured over their heads until they start playing like a professional basketball team. And Michael Carter-Williams? Stop turning over the ball. You're killing my fantasy team. Now pass the maison butter.
Check out more NBA Power Rankings on Food Republic: