NBA Power Rankings: Olive Garden Edition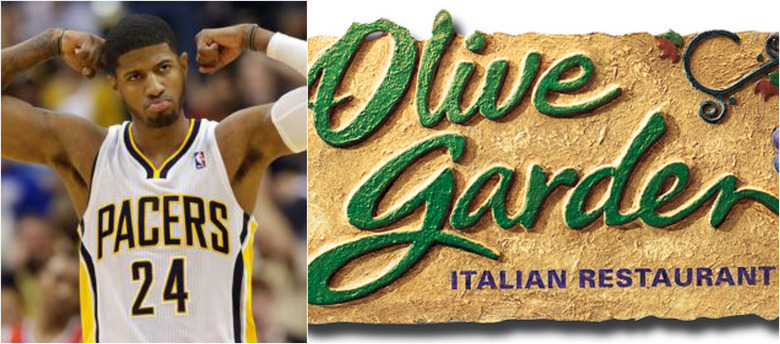 Welcome back to another edition of the Food Republic NBA Power Rankings, where Jason Kessler takes stock in the current NBA season and ranks each team in order — and by their place on a specific restaurant menu. Previously he ranked LeBron, Kobe and the non-hobbling D Rose via the menus at Cheesecake Factory and Chili's. This time around it's Olive Garden.
I know. It's insane that we're halfway through this NBA season. Actually, insane is a pretty great word to describe the season in general. How else do you explain a league where one conference currently has ten teams over the .500 mark while the other only has four? If the playoffs started today, the abysmal Eastern Conference would feature the Toronto Raptors as the #3 seed. Read that sentence again. The Raptors, who dumped Rudy Gay in early December as a very clear signal that they were #TankingforWiggins, are the third best team in the Eastern Conference. Like I said: Insane. Less insane is the Western Conference with Portland, San Antonio, and Oklahoma City leading the way and proving that small markets can put together stellar teams. Nobody knows how it'll all play out over the next 41 games, but one thing's for sure – it's going to be a wild ride.
This season's Food Republic NBA Power Rankings have been paying tribute to chain restaurants all year and this edition is no different. If you've ever eaten Italian food in America, there's a good chance that you've made your way to an Olive Garden at some point and while it may not be the most authentic food in the world, there's certainly no harm in their unlimited salad and breadsticks. As per usual, we've matched up each team with an item on the menu and the NBA/Olive Garden pairing should make perfect sense – after all, when you eat there, you're supposed to be part of their family or something and what's an NBA team if not a highly paid, freakishly athletic family? Time to rank!
( ) = previous position | [ ] = record as of January 21, 2014
#1 (1) Indiana Pacers [33-7]
Ziti pasta in a five cheese marinara sauce, baked with a layer of melted Italian cheeses.
Olive Garden exists to serve things like pasta with five cheeses and marinara sauce. It's the perfect fulfillment of their destiny. It appears that the Pacers are fulfilling their destiny this season, as well. How else do you explain Roy Hibbert playing like a superbeast while Lance Stephenson makes a case for himself as an all-star? The Pacers are the kismet team of the year and with 32 wins already under their collective belts, they just might rob the Heat of championship #3. Nothing would taste more satisfying – except, of course, a giant bowl of five cheese ziti al forno. 
#2 (3) Portland Trailblazers [31-10]
Homemade lasagna, lightly breaded chicken parmigiana and creamy fettuccine alfredo.
Like this Tour of Italy, the Blazers have a little something of everything this season and that versatility is translating into wins at an astounding pace. LaMarcus Aldridge may be the most underrated superstar in the league – seriously, he's averaging a double-double in points and boards – and Damien Lillard has clearly added his name to the list of elite NBA point guards (specifically non-injured ones). Can Portland find themselves in the Finals for the first time since 1992? 
#3 (2) San Antonio Spurs [32-9]
Traditional meat sauce seasoned with garlic and herbs over spaghetti.
It doesn't get a whole lot more traditional than spaghetti with meat sauce and the Spurs are so traditional that George Mikan would feel at home on this team. When they lose, it's because they don't play defense. In eight of the their nine losses this season, they gave up 105 points or more. Pop, tell your guys to give up less than 105 points in a night and you should be just fine from here on out.
#4 (5) Miami Heat [29-12] 
Parmesan-breaded lasagna pieces, fried and served over alfredo sauce, topped with parmesan cheese and marinara sauce.
Let's face it, fried lasagna is the very definition of excess. So are The Heat – when they actually decide to show up and play. They just had their first 3-game losing streak of the year (all to Atlantic Division teams) so they obviously need to wake up, but the regular season is really the preseason for LeBron and Friends. Once we get closer to April, the Heat will start, well, heating up and then we'll see if they can really go for the elusive 3-Peat.
#5 (4) Oklahoma City Thunder [31-10]
Our famous house salad, tossed with our signature Italian dressing. (Unlimited refills!)
Olive Garden gives you helping after helping of salad. The Thunder give you helping after helping of victory. It's a shame that Westbrook is down again, but Durant is more than capable of carrying the team himself and the past nine games are proof. He's topped 30 in every tilt except one and scored over 48 THREE SEPARATE TIMES. That's bonkers. KD, man. He's for real.
#6 (7) Houston Rockets [28-15]
Parmesan cream sauce with a hint of garlic, served over fettuccine.
It worked. As frustrating as that is to admit, GM Darryl Morey won once again with the Dwight Howard signing. After hooking James Harden, Jeremy Lin, and Omer Asik, he was able to convince the game's best center to not only come to Houston, but play well, too. It's almost as frustrating as knowing that you can't stop yourself from ordering the fettucini alfredo, despite being fully aware of the calorie count.
#7 (6) Los Angeles Clippers [29-14]
Served with pasta in a creamy parmesan sauce with bacon and roasted red peppers.
In ClipperNation right now, it's no Chris Paul, no problem. It's a major bummer that Paul went down at the beginning of January (and will be out for roughly six weeks), but they've gone 5-2 since his injury and with a soft schedule until the All-Star break, they should only be able to keep to their winning ways. Lob City may be gone, but it looks like Dunk Town is rising from its ashes.
#8 (8) Golden State Warriors [26-17]
Lightly breaded eggplant, fried and topped with marinara sauce, mozzarella and parmesan cheese. Served with spaghetti. 
Consistent. That describes both eggplant parmigiana and this season's Golden State Warriors. They play fast, they play as a team, and they win games. On top of that, Bogut and Curry have stayed healthy. I realize that I'm jinxing them by actually putting that in print, but it's really notable. In the ultimate compliment I can give a team, I would love to have all five of their starters in my fantasy lineup. That's because they've all been remarkably consistent this year.
#9 (12) Phoenix Suns [23-17]
A Sicilian favorite! A bite-sized blend of Italian cheeses and rice, lightly fried and served in marinara sauce.
Crispy risotto bites? Um, Olive Garden, I think you mean arancini. Doesn't matter how you try to disguise them, though, there's no way these are bad. That's what's happened to the Suns this year. They're a good team in disguise as the Suns, but they're actually... winning. They're not 1993 Suns good, but still good! Things may get tougher with Eric Bledsoe out, but Dragic and Gerald Green are doing their best to shoulder the load and Miles Plumlee has been a revelation (at least for my fantasy team). Congratulations, Suns – or should I say Il Soli.
#10 (22) Toronto Raptors [20-20]
Cheese-filled ravioli topped with marinara or meat sauce and melted Italian cheeses.
Full disclosure: I grew up loving the cheese ravioli at Olive Garden. They're a beautiful mix of chewy pasta, salty cheese, and tangy marinara and now that I'm older, I've realized that they're probably made in a factory then frozen and shipped all over the country. As the NBA's only Canadian team, I think it's safe to say that the Raptors are usually frozen and shipped all over the US as well. Who could have predicted this version of the Raptors? They're playing well past their potential and that started to happen AFTER they carted Rudy Gay off to Sacramento. I assume that DeMar DeRozan made a deal with the devil or something, but I'm sure Torontonians are pretty happy right now. At least Rob Ford is.
#11 (10) Dallas Mavericks [25-18]
Parmesan-breaded chicken breasts, fried and topped with marinara sauce and mozzarella cheese. Served with spaghetti.
There is something so comforting about a big plate of chicken parm. It's rarely bad, always filling, and completely unoffensive. That's a pretty good description for this year's Mavs, too. They're perfectly fine, although wholly unremarkable. Dirk's going to keep on keeping on. Shawn Marion and Jose Calderon are serviceable and Monta Ellis seems to have found a much better fit than Milwaukee. On top of the players, I love that Cuban was determined to be David Stern's last fine as commissioner. Good work, Mark.
#12 (14) Memphis Grizzlies [20-20]
Layers of pasta, meat sauce and mozzarella, ricotta, parmesan and romano cheese.
Hey everybody! Marc Gasol is back! The fact that the Grizz maintained a winning record despite losing their best player is really admirable. Also, will somebody finally give Mike Conley some credit? He's the classic lasagna of this team – an unsung hero who goes to work night in and night out. You can always depend on a solid hunk of lasagna and you can always depend on Mike Conley. In other news, how did Memphis wind up in the Western Conference? Did the NBA work off a map from the days of the Louisiana Purchase or something?
#13 (9) Denver Nuggets [20-20]
Choose from: calamari, stuffed mushrooms, fried zucchini, chicken fingers, fried mozzarella or toasted beef and pork ravioli.
Well, well, well. A team from the first state to officially roll out legalized marijuana is called the Nuggets. I believe they call that "irony." You know what rhymes with irony? JaVale McGee. Kind of. When is that guy coming back to the lineup? Maybe he'll reveal the answer on his new reality show. You know, the one that he stars in with his mom. In the meantime, I bet you Nuggets fans are pretty hungry these days and the best cure for those munchies is definitely an appetizer platter.
#14 (15) Washington Wizards [20-20]
Grilled marinated steak and chicken medallions brushed with a rosemary demi-glace, served with roasted asparagus and garlic parmesan mashed potatoes. Steak prepared medium unless otherwise requested.
There's no mixed bag on the menu, so mixed grill was the closest I could come and these Wizards are the very definition of a mixed bag. One night they're beating the Heat, two games later they're losing to Detroit. John Wall and Bradley Beal are never going to be in the upper echelon of the NBA, but they can put up points like crazy and with Gortat and Nene (aka Polish Starsky and Brazilian Hutch) manning the paint, there's finally some actual defense being played in our nation's capital. At 19-20, the Wizards are much better than expected and I have to think it's at least partly due to the sweet Bullets-inspired jerseys they've been wearing.
#15 (11) Chicago Bulls [20-20]
Italian sausage, bell peppers and Italian cheeses with cavatappi pasta in our spicy diavolo tomato sauce.
Things haven't always looked great for my Bulls this year. DRose went down early; Luol Deng, the longest tenured Bull and a shining beacon of professionalism, was dumped off to Cleveland for a box of basketballs and some Gatorade; and there's a good chance that Tom Thibodeau is fighting with the front office on a regular basis. Does that stop the Bulls, though? Nope. Since Deng left, they've gone on a tear and, at this rate, there's a chance they'll wind up as the third place team in the decimated Eastern Conference. Not bad. Chicago is and has always been a sausage and peppers city, so there's your pairing explanation if you really needed one. 
#16 (19) Atlanta Hawks [21-19]
Grilled 12 oz choice center cut New York strip steak brushed with Italian herbs and extra-virgin olive oil. Served with garlic parmesan mashed potatoes.
What can I say? If you're ordering a steak at Olive Garden, you're misguided. I'm sure it's fine, but you should have gone to another restaurant if you were looking for a steak. If you're looking for a basketball team, you can do much better than the Atlanta Hawks. With Horford out, they're just bland. Oddly enough, though, they're currently in 4th place in the East which is somehow where they always seem to be. The NBA: Where Mediocrity Happens For Years.
#17 (16) Minnesota Timberwolves [19-21]
Grilled marinated chicken breasts topped with rosemary and caramelized garlic cloves. Served with garlic parmesan mashed potatoes and fresh spinach.
Kevin love kevin love kevin love. Kevin love, kevin love kevin! Love kevin love kevin love. Kevin love kevin, love kevin love, kevin love kevin love – kevin love. Nicola Pekovic?
#18 (18) Detroit Pistons [17-24]
Tender sliced short ribs and portobello mushrooms tossed with asiago-filled tortelloni in a basil-marsala sauce.
Poor Pistons. They have all the tools to succeed (Drummond + Monroe + Jennings + J-Smoove), but they just can't put it together. They're like this tortelloni dish. It seems obvious to me that the short ribs and portobellos should be the filling for the pasta. Instead, they just sit outside while the tortelloni gets filled with boring asiago. Put it together Olive Pistons!
#19 (28) Brooklyn Nets [17-22]
Oven-baked smoked mozzarella, provolone, parmesan and romano cheese. Served with Tuscan bread.
This is a brilliant bit of marketing. Fonduta? I think you mean cheese dip. It's the opposite of the risotto ball/arancini coin. You can try to dress up cheese dip as much as you want with Italian words, but it's still cheese dip. Same with the Nets. You can sign big names, go on a marketing blitz, and pretend that Deron Williams's ankles aren't made of crostini, but you're still going to be the Nets. After a five-game winning streak, though (with wins over Miami, OKC, and Golden State, no less!), thinks are looking up at the Barclays Center. 
#20 (13) New Orleans Pelicans [16-24]
Choose up to four toppings. Pepperoni, Italian sausage, mushrooms, onions, bell peppers, black olives or roma tomatoes.
Oh, Pelican'ts. You had climbed all the way up to #13 during my last power rankings and that was without Anthony Davis. Now, the Brow is back but Ryan Anderson is down and you guys can't seem to catch a break. Maybe another name change is in order? Until then, why don't you have some fun creating your own pizza. It'll make you feel better. 
#21 (24) Cleveland Cavaliers [15-26]
Sautéed chicken breasts in a savory sauce of mushrooms, garlic and marsala wine. Served with garlic parmesan mashed potatoes.
What if I told you that I thought the Cavs were going to finish with a winning record? Would you believe me? Well, that's exactly what I'm saying. With the recent acquisition of Luol Deng, there's a depth to this team that hasn't been there since the Ehlo days. Ordering the chicken marsala is definitely a veteran move and with Deng and Varejao, these Cavs finally have some veteran leadership. Back in the preseason rankings, I wrote: "I didn't necessarily agree with drafting Anthony Bennett at #1," and look who's NBA Nostradamus...
It's me. Was that clear? I was talking about me.
#22 (21) Charlotte Bobcats [18-25]
Grilled beef medallions drizzled with balsamic glaze, served over fettuccine tossed with spinach and gorgonzola-alfredo sauce. Steak prepared medium unless otherwise requested.
Oh, right. The Bobcats. They're still around. Cool.
#23 (27) New York Knicks [15-26]
Shrimp baked with penne pasta in a creamy parmesan sauce, topped with tomatoes and crispy parmesan breadcrumbs.
When I worked at an Italian restaurant in high school, it was made very clear to me that we do not offer parmesan cheese with any seafood dishes because those things don't go together. The Knicks, sadly, suffer from the same problem. They just don't go together. On paper, it should all work. Melo's capable of 30 every night. Bargnani is the very definition of a stretch-4. Shumpert and Chandler are strong defenders and Ray Felton has been around long enough to manage the game. Yet it just doesn't work. 
#24 (26) Sacramento Kings [14-25]
Scallops, shrimp and delicate tilapia with spinach and mushrooms simmered in a light white wine and marinara-saffron broth. Served with toasted ciabatta bread.
Just as I'm impressed that Olive Garden would choose to include this seemingly complex soup on their menu, I'm equally impressed that Boogie Cousins is making more headlines for his stellar play than his attitude. Just look at the box scores and you'll see that good ol' DeMarcus has finally matured – at least in terms of his play. The rebounding stats are downright gaudy and, while he's not leading the Kings to the promised land anytime soon, he is leading them and that's a step in the right direction.
#25 (17) Los Angeles Lakers [16-26]
Oven-baked tilapia and shrimp in a white wine sauce. Served with garlic broccoli.
"Did you just order baked tilapia with shrimp at Olive Garden?" "Did you just appoint Kendall Marshall as your starting point guard?" These questions should both be asked with the same judging, accusatory tone because they're both fairly ludicrous. The Lakers have gone through so many PGs this year that they may be better off trotting out a Roomba and seeing what happens.
#26 (20) Philadelphia 76ers [13-28]
Shrimp sautéed in a spicy blend of hot cherry peppers, roasted red peppers, spinach and arrabbiata sauce. Served over bucatini pasta.
Let's face it, the Sixers make Philly fans about as angry as this spicy shrimp vesuvio will make anybody's stomach. They really should be better than this. All of those pre-season death rattle prognostications came before anyone knew that Michael Carter-Williams was going to be a really solid starting point guard. Spencer Hawes, Evan Turner, Tony Wroten – these guys don't exactly strike fear in the hearts of opponents, but they're not awful. On top of that, there's buzz that Nerlens Noel could be back after the All-Star Break and that's a half-season ahead of schedule. Don't give up yet, Philadephians. Hope is on the horizon.
#27 (29) Utah Jazz [14-28]
Pizza topped with grilled chicken, Italian cheeses, and our homemade alfredo sauce.
Hey Utah, you like things that are white, right? Enjoy this pale pizza, if you dare. While you're chowing down, maybe say a prayer for Gordon Hayward's health. Maybe add something in about Enes Kanter, too. Derrick Favors is living up to the hype, but without Kanter coming to fruition and a rookie point guard in Trey Burke who needs much more time to develop, the only music Jazz fans are hearing is the sound of the classic "waa-waa" sound of disappointment.  
#28 (23) Orlando Magic [11-30]
Chicken breast tenderloins sautéed with bell peppers, roasted garlic and onions in a garlic cream sauce over angel hair.
Do you smell that? No, it's not the chicken scampi. That's the smell of a team that stinks because they don't have any direction. What exactly is Jacques Vaughn's plan down in Orlando? It must be a secret, because the Magic aren't showing it on the court. Jameer Nelson is having a surprisingly good year, though, and Oladipo is coming along just fine. If they can figure out how to get Tobias Harris and Big Baby to join forces (and grow a few inches), perhaps they can right the ship. Until then, however, this team is just a bunch of chicken tenders sitting on a bed of angel hair.
#29 (25) Boston Celtics [14-28]
Lobster, shrimp and mascarpone cheese-filled cannelloni in a creamy seafood sauce, topped with shrimp, mushrooms and spinach.
You know that montage at the beginning of Major League where everyone's talking about how bad the Indians are going to be and even the groundskeepers are saying "they're shitty!"? Well, that's what everyone in Boston is saying right now about the Celtics. Rondo is finally back, but it'll take some time to get him into playing shape. With a rag-tag collection of B- bigs (Sullinger? Eh. Bass? Double eh) and a promising yet unimpressive backcourt in Rondo and Avery Bradley, it's going to take this year's super deep lottery to put the Celtics back on track. At least they have plenty of shellfish.
#30 (30) Milwaukee Bucks [7-33]
Choose oven-roasted with a balsamic drizzle, or make it crispy with our lightly battered and fried recipe. Each is topped with freshly grated parmesan and served with a citrus aioli dipping sauce.
Does anyone know what's going on in Milwaukee? Do they know that there's no prize for being the best tankers? The Bucks are a mess and right now they're about as appealing to watch as eating a whole plate of lightly battered and fried asparagus. Maybe John Henson and Larry Sanders can figure out a way to hold hands and block shots together. That would be entertaining. Side note: who in their right mind says "I want to order asparagus, but I'd really rather it be deep-fried." That's like going fishing and using your catch to make fish sticks.
Check out more NBA Power Rankings on Food Republic: