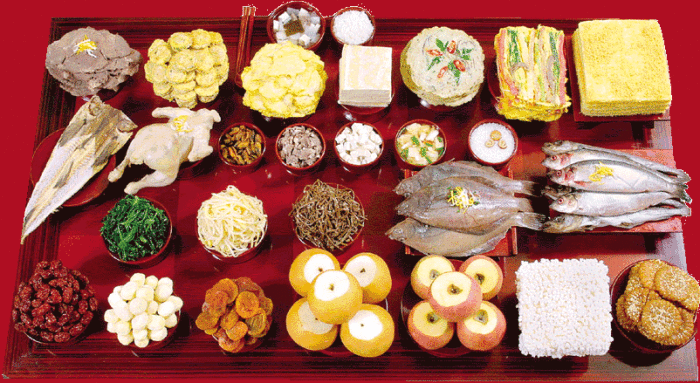 Like American Thanksgiving, Korean Thanksgiving (which falls of September 19 this year) revolves around food and family. Called Chuseok in Korean, the holiday lands around the time of the fall harvest and serves as a way of honoring and paying respect to the spirit of ancestors. So instead of passing the gravy boat around a crowded table, Koreans often celebrate with a trip to the cemetery — sometimes for a quick remembrance and prayer, other times for a ceremonial meal (more on that later).

The traditional dish served on Chuseok is songpyeon, a small half-mooned shaped rice cake stuffed with sweetened sesame seeds, pine nuts or chestnuts. Here is a songpyeon cooking demo from well-known Korean recipe blogger Maangchi.

"It is a good time for us to get together and celebrate — and if you know anything about Koreans, that means cooking up a grip of delicious food," says writer Mary HK Choi. Over the weekend Choi travelled to Los Angeles to celebrate with her extended family, which included a trip to the cemetery for an elaborate picnic. She wries in to tell us about it:

Koreans love themselves some elaborate Tupperware so we unpacked an enormous picnic spread by my grandparents' tombstones. There were slices of marinated, cooked beef, broiled whole yellow croaker, scallion pancake, fish fritters, ground meat-stuffed peppers (I don't know how orthodox any of this food is but a hefty protein representation is key since it's a goddamned celebration and general stunting of prosperity), and a ton of fruit.

Concord grapes (a.k.a. Korean grapes) as well as bananas, Asian apples, Asian pears and a stack of oranges are arranged on paper plates. And then someone takes a knife and peels off the tops of the fruit so that the spirits can get up in there. There's a bunch of dates somewhere in the mix because there's always dates when Koreans are throwing a party and the requisite rice cakes.

Also they're kinda like dates in that they're not relegated to just one holiday because they reliably show up all the time throughout the year for birthdays and such. Like, 11 types of kimchi and other marinated greens are peppered throughout. All in all, this year's Thanksgiving was morbid and delicious. Just like any holiday for any culture ever.

So to all of our Korean readers, happy Korean Thanksgiving. And to those who want to eat a shit-ton of sweet rice cakes and maybe some K-Town barbecue, happy Korean Thanksgiving to you as well.
---
Read more about Korean food and culture on Food Republic: