Atlanta: All International Travel Should Connect Through One Flew South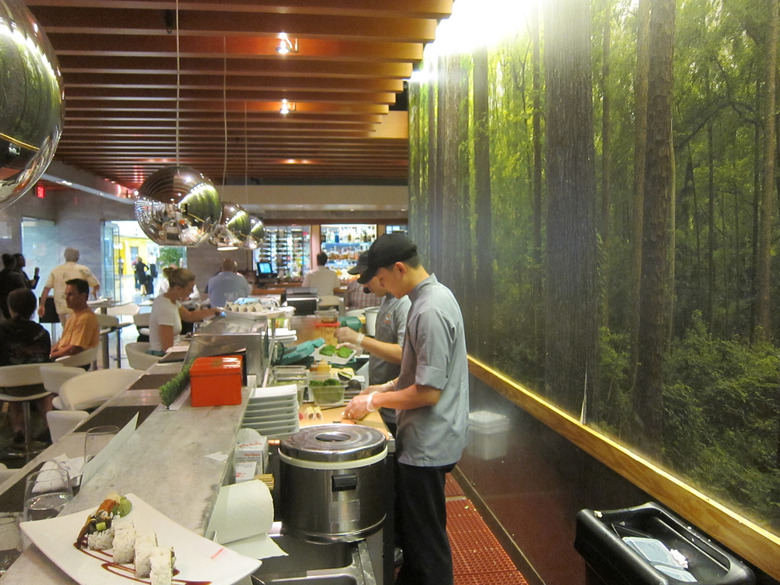 Air travel is grueling; international air travel doubly so. But international air travel through the single busiest airport in the world? Most folks would rather take a hot shish kabob in the eye rather than do that.
Fortunately, that stress exactly what Duane Nutter was hoping to alleviate in 2008 when he opened One Flew South at the top of the escalator leading up from the tramway stop in Terminal E of Hartsfield–Jackson Atlanta International Airport. There's an old joke that says that when you die in the South, you may go to heaven or you may go to hell. But you will go through Atlanta. If you've gotta be there, you might as well get a good meal and a properly made cocktail along the way, right?
Dining on the run has become a necessary evil of modern life, and in most airports travelers are limited to the PandaLuigiRolyPolyMcBurgerDog Shack to refuel between legs of a long trip home or even worse, away from home. One Flew South seeks to serve as an oasis in the midst of the delirium for harried jetsetters.
As soon as visitors enter the door into the restaurant, a feeling of calm washes over them as they are greeted by a photo mural of a Georgia forest that runs the length of the dining room. The floors and ceilings of the restaurant are covered in native heart pine and almost every flat surface is covered with beautiful pink Cherokee Marble. The effect is almost spa-like despite the fact that thousands of fellow nomads stream up and down the international concourse just yards away from the slatted wall that separates the rest of the world from this tranquility.
The bar area is cozy but well-appointed, and the staff mixologists are several steps above your normal airport bartenders who live to sell you "a long pour for two dollars more." The list of cocktails at One Flew South is filled with classics and cleverly arranged into sections labeled "Short," "Tall" and "Up" so that tipplers will have a good idea of what they're ordering. The wine list is extensive and represents most of the premier wine-growing regions of the world with many selections available by the glass or the bottle. The prices are surprisingly affordable as well, especially in an airport where a gift shop employee can charge you ten dollars for four AA batteries with a straight face.
Another nice surprise is the sushi bar that runs along the main wall of the restaurant. The selection of rolls and nigiri is relatively small, but this is no surprise when you consider that every single item that is served in the restaurant must pass through the TSA inspection and that the professional sushi chefs must work with knives that are physically chained to the counter. Despite their limitations and the fact that many of the rolls necessarily use similar ingredients, the individual dishes are very creative and flavorful.
Nutter is more than a chef. He is also a stand-up comic, and his "Mad Chef" routine earned him multiple appearances on Comedy Central a few years back. His cooking chops also merited an appearance on Iron Chef America, and the combination of his culinary skills and creativity shine through in One Flew South's cuisine, which he describes as "Southernational."
Starters include a superlative chicken soup made with soba noodles and piled high with Napa cabbage, scallions, carrots like an iceberg of deliciousness peeking through the surface of the soup. Considering the poor air exchange in modern aircraft, you might just need a dose of this liquid penicillin to keep the SARS at bay. Pork belly sliders are served with a delightful golden raisin slaw to set off the zang of the barbecue sauce and the tang of bread & butter pickles.
In addition to heartier entrees like thyme roasted pork belly and a pan-seared NY strip, One Flew South also features a selection of smaller dishes and salads that are perfect for on-the-run dining when there just isn't time enough during your connection for a full sit-down meal. Imagine the jealousy of your seatmate when, somewhere over Omaha, you unwrap a pulled duck confit sandwich with fig & toasted peanut relish, scallions and slaw. Suddenly your buddy's cold gray ham wrap from the Grab n' Go doesn't look quite so appetizing, does it? Not to mention whoever it is that keeps bringing tuna salad sandwiches from Quizno's on to every flight I take. I mean REALLY?! Who takes tuna fish on a damned plane?
Don't be that guy. Instead, be the kind of person who offers a bite of his applewood smoked turkey sandwich with black truffle mayo and cranberry jam to the weary passenger next to you. I'd even give up the aisle seat for that.
---
More food and drink while traveling on Food Republic: