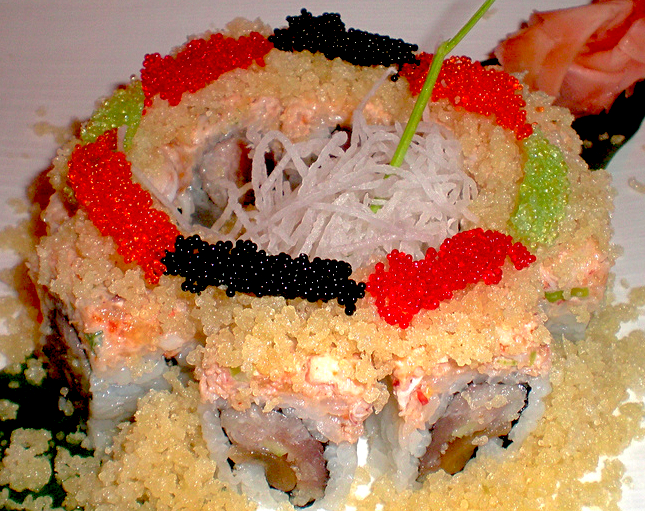 You head to your local sushi joint for the second consecutive night and, disregarding our 12 sushi commandments, order an exotic-sounding roll. Among the ingredients listed in the roll is "tobiko," Japanese for flying fish roe, often sprinkled on the top of assorted dishes as garnish. When the Green Dragon roll reaches the table, you do a double-take: the tobiko on your roll is most definitely not the same color as the one you ate the other night, having apparently transformed from orange to lime-green. Is the food contaminated? Are you delirious? We're here to assure you that all is okay.
Tobiko can be infused with other natural ingredients to change its color and flavor. Common variations include squid ink to make it black, yuzu to make it yellow, beet to make it red and wasabi to make it green. These creations can be enjoyed as toppings on rolls as well as pieces of nigiri, on rice and wrapped inside a sheet of seaweed (a.k.a. gunkan)
We leave you with two insider tips: restaurants may substitute slightly smaller masago eggs (smelt roe), due to their similar appearance and flavor and lower cost. And looking for a surefire way to clean out your sinuses? Order a piece or two of wasabi tobiko. Ahhh, much better.
More Whatchamacallit on Food Republic: