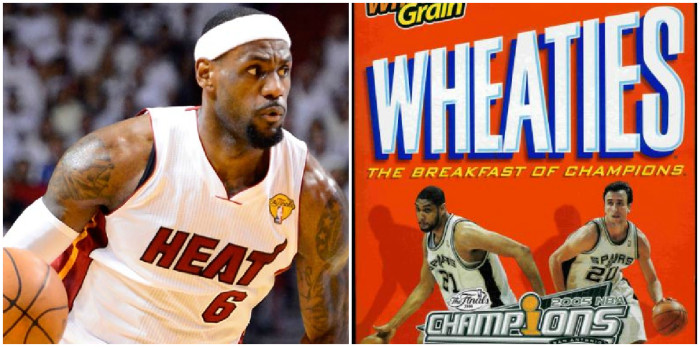 UPDATED: Standings current as of Tuesday, March 5
It's March. In a little over a month, the regular season will be OVER. Can you believe it? I can't. I like to call this part of the season "The Dead Zone." The teams that have no chance of making the playoffs are already starting to tank and play the young'uns so they can get the best lottery pick possible. The teams that are definitely in the playoffs are starting to rest their stars so they'll have enough pep come mid-April. That means the only teams still going full bore are those fighting for a playoff spot. In the East, that's pretty much nobody unless Philly gets their act together and comes charging back or the Bucks go on a major slide. In the West, the Lakers have finally woken up and they're trying to push Houston, Utah or Golden State out of the playoffs, with Toronto and Detroit hoping for a miracle stretch run to surprise everybody. No matter what, the NBA isn't exactly electric right now.
Teams are tired. It's been a long slog so far and there's still a good chunk of regular season left. The only way to have enough energy to make it through? Starting each day with breakfast. I don't know what NBA players prefer to eat for breakfast (is the Cheesecake Factory even open that early?), but I know that cereal is the easiest choice. Who doesn't love a good bowl of cereal in the morning? Tastes good, easy clean-up, and there's a good chance you're eating marshmallows before noon. Not a bad way to wake up. This edition of the Food Republic NBA Power Rankings — with our recent McDonald's edition's rankings in parentheses) takes every team and matches them up with an iconic breakfast cereal. Check out the results and when you get to the end, make sure to drink the milk. It's the best part.
( ) = previous position |  [ ] = record as of March 5, 2013
#1 (4) Miami Heat [44-14]

Wheaties
Wheaties are the Breakfast of Champions and these guys are most certainly champions. They've won 14 in a row and everything seems to be working. Even their Harlem Shake video was pretty good and that's a hard feat to accomplish now that we're in week 326 of the Harlem Shake Craze. LeBron has solidified his place as one of the greats to the point that Magic Johnson just offered him a million dollars to participate in the dunk contest next year. That's the best Indecent Proposal I've ever heard that doesn't involve Demi Moore.
#2 (3) San Antonio Spurs [47-14]

 

All-Bran
At the 61-game mark, the Spurs have the best record in the NBA. You know how they do that? With fundamentals. Bank shots, bounce passes, regulation dribbling: the 2012-2013 Spurs could have starred in an instructional basketball video for kids in 1956 (if instructional basketball videos existed then). They score a ton, defend well, and will lock up that #1 seed in the West with no problem if they don't have any major health problems going forward unless Tony Parker is out for a month, which he now is. Let's see how the Spurs recover. They get All-Bran for being the most boring yet effective team in the league.
#3 (1) Oklahoma City Thunder [43-16] 

 

Lucky Charms
The Thunder are both lucky and charming. Lucky in that Portland picked Greg Oden instead of Kevin Durant. Charming in that these guys represent the white hat cowboys of the NBA. They're flashy but not showy, dominating but not cruel, and seemingly thrive on internal competition. If I were making a feel-good basketball movie, I'd base it around the Thunder. And no, I'm not talking about Thunderstruck. I thought the only bombs Kevin Durant dropped came from beyond the three-point line… Hey-o!
#4 (2) Los Angeles Clippers [43-19] 

Cap'n Crunch
I'm calling it right now. Blake Griffin has a new nickname and it's Cap'n Crunch. It's PERFECT. Just picture Clippers announcer Michael Smith saying "Cap'n Crunch goes up for the slam and… crunch!" with Ralph Lawler chiming in with an "Oh me, oh my!" Griffin needs a definitive nickname and this is it. He could even become the brand spokesperson. I, for one, would love to see Blake in as many commercials as humanly possible. That man is a comedy star. The rest of the Clippers are pretty great, too. I just hope Eric Bledsoe gets traded this summer. It's not fair to keep that dude on the bench.
#5 (5) Memphis Grizzlies [39-19]

Cinnamon Toast Crunch
Cinnamon Toast Crunch is the perfect cereal in my book. It's not trying to be anything it's not with extra berries or nuggets of chocolate or pop culture tie-ins. It's just a flat-out good cereal. The Grizzlies are a flat-out good basketball team. They trade Rudy Gay, their best player, for a sack of cap room and promptly go 9-3. That's a good basketball team. Granted, those wins were against bad teams, but good teams beat bad teams. That's what makes them good. The Grizzlies are consistent and so is a bowl full of Cinnamon Toast Crunch.
#6 (8) Denver Nuggets [39-22]

Rice Krispies
Ty Lawson can snap your ankles, Gallinari and Igoudala have mad crackles (that's a thing, right?), and Manimal will pop all over your faces with a thunderous dunk. These are Karl's Krispies and they're good. They've got the best home record in the league right now, but there are some question marks creeping up: Can Gallinari and Lawson stay healthy down the stretch? Will the lack of a dominant center doom them in the playoffs? Does legalized marijuana make living in Denver more fun? Hopefully the answers are yes, no, and definitely.
#7 (10) Indiana Pacers [38-22]

Cheerios
Do you know anyone cheering for the tiny, unsweetened grain doughnuts that masquerade as Cheerios? I don't. They're boring. They're also very good for you (or so the boxes say). The Pacers are the same way. It's hard to find a Pacers fan outside of Indiana but those that consume Pacer basketball on a regular basis are enjoying a steady diet of effort, hustle and hard work. Paul George has ascended to legitimate superstar level, but the small market of Indianapolis is holding him back. Now that Granger's (sort of) back, it'll be interesting to see what these guys can do. One thing's for certain: they can beat any team in the league.
#8 (15) Atlanta Hawks [33-26]

Frosted Flakes
I had left these guys for dead. At the mid-point of the season, they seemed like they were going nowhere fast. Then the trade deadline came and went and Josh Smith stayed put. Now it's showcase time. J-Smoove needs a max contract and he's using every game from now on as an audition for his future team. He's not carrying this squad, though. That honor falls to Al Horford who wasn't making too much noise early in the season. On any given day, any given Hawk can step into the spotlight and that's the problem: they're really flaky. Frosted flaky, that is.
#9 (6) New York Knicks [36-21]

Life
The Knicks are a microcosm of every type of guy you encounter in the real game of Life. You've got the talented yet bossy center-of-attention in Carmelo; the aggressive but focused bully in Tyson Chandler; the over-confident flashy dude in J.R. Smith; the wise and calm older man in Jason Kidd; and the unexceptional white guy in Steve Novak. You also have a bunch of other guys that don't make that much of a difference (sorry, Ray Felton). On an unrelated note, I never cared much for Life cereal because it always got stuck in my throat. Not cool, Life.
#10 (7) Brooklyn Nets [34-26]

Count Chocula
I think we can all agree that Nets owner Mikhail Prokhorov is Count Chocula. We can also agree that the future isn't very bright for our friends in Brooklyn. Deron Williams' admission of majorly balky ankles coupled with Joe Johnson's plantar fasciitis is bad news. Perhaps a bite on the neck from the Count will give them everlasting life and let them all get back to winning games on a regular basis.
#11 (11) Chicago Bulls [34-26]

Corn Flakes
Fatigue. It affects parents and teachers, firefighters and truck drivers. It also affects the Bulls. When a team's been playing at warp speed all season, eventually, they need to catch their breath. This is the part of the season when the Bulls are catching their breath. Apparently that includes losing games and eating corn flakes. Not a great look, guys. Derrick Rose may or may not come back this year. It's a sad reality in the City of Big Shoulders. All hope is not lost, however, because Joakim Noah has no off-switch and Jimmy Butler has arrived.
#12 (17) Utah Jazz [32-28]

Puffed Rice
In a state where alcohol is legally mandated to be watered down, puffed rice is really exciting. You know what else is exciting? The NBA's largest stockpile of capable big men. Al Jefferson, Paul Millsap, Derrick Favors and Enes Kanter. It's an embarrassment of riches. This summer's going to free up that logjam with some trades, but there's a lot of puffed rice in between now and then.
#13 (9) Golden State Warriors [34-27]

Cookie Crisp
Only kids eat cookies for breakfast, so fittingly the ultra-young Warriors are paired with Cookie Crisp. February was a bad month for these kids. After a really promising start, Marky Mark Jackson's funky bunch has fallen back to Earth. If Bogut could stay healthy, Golden State would have a promising future. Since that doesn't seem like a reality, they may be fighting for a shot at the post-season over the next six weeks. The good news is that David Lee is having a killer year, Curry seems to be holding up and Klay Thompson is a really pleasant surprise both as a player and as a fighter in the PacerDome.
#14 (16) Houston Rockets [33-28]

Apple Jacks
You never think about Apple Jacks and then you have a bowl and say, "Hey, they're pretty good." Same thing happens when you watch the Rockets on TV. I thought this was going to be a lost season. I didn't believe in Jeremy Lin or Omer Asik as consistent starters. I didn't think James Harden could lead a team. I've never trusted Chandler Parsons — I mean, come on, look at his hair. They've proven me wrong. This is a team to believe in. They're getting better as the season goes along and we're all saying, "Hey, they're pretty good." Just like Apple Jacks!
#16 (18) Los Angeles Lakers [30-30]

Reese's Puffs
You hear about them and think they'll be awesome and then you realize that Reese's can only be enjoyed in the right delivery system and cereal is not that system. Same goes for Nash, Kobe and Howard in D'Antoni's system. It just doesn't work. So why doesn't he change the system to fit the players instead of forcing the players to fit his system? I just don't get it. Earl Clark has been an incredible surprise and Metta World Peace hasn't punched anybody, so there are little victories to be found here. I still think the Lakers can make a major push in the playoffs, but they'll have to force their way in there first.
#17 (14) Milwaukee Bucks [30-28]

Cracklin' Oat Bran
Here's the secret about Cracklin' Oat Bran: it's pretty good. Despite the obvious marketing ploy of adding "cracklin'" to the name, I used to eat this stuff fairly regularly. The Bucks fit the same mold. Pretty good, but not life-changing. Without Skiles at the helm, they're not doing so well (only four wins in the entire month of February) but with some clever marketing, Milwaukee may soon be lining the streets to welcome their new heros: The Cracklin' Bucks.
#18 (13) Portland Trailblazers [28-31]

Golden Grahams
Portland doesn't do a lot of winning on the road. They're not winning very often at home either. As it turns out, seven game losing streaks don't help that much. The future's bright, though — some would even say golden. Damian Lillard, Nic Batum, J.J. Hickson, and the peak of LaMarcus Aldridge's abilities — it's all on the horizon. So keep your head up, Portland. At least you have a basketball team, unlike those poor saps in Seattle.
#19 (21) Dallas Mavericks [26-33]

Frosted Mini-Wheats
Frosted mini-wheats are underdogs in the cereal world. They don't have the cache of serious sugar stars like Fruit Loops and Cocoa Krispies, but they've got their fans. So do the Mavericks. They've certainly seen better days and they're starting a guy named Bernard James, so… things are kinda sad in D-Town. On the other hand, things are going really well for Bernard James, so let's just be happy for him.
#20 (23) Toronto Raptors [23-38]

French Toast Crunch
French Toast Crunch was discontinued in the U.S. in 2006, but it's still available in Canada, making it the perfect choice for the Raptors. I'm actually proud of these guys. They found a way to snag Rudy Gay and they're only months away from dumping Andrea Bargnani. No, they're not good yet, but they've finally got a shot. The sun is shining in Toronto for the first time since Felix Potvin abdicated his throne.
#21 (22) Detroit Pistons [23-39]

Honey Bunches of Oats
As a fan of the Bulls in the '80s, it gives me great joy to witness the futility of today's Pistons. Hubris is a bad thing, though, so I will just say that I wish the Pistons the best. Jose Calderon has been a great addition and there's a bit of a youth movement here with Greg Monroe, Andre Drummond, Brandon Knight and even Kyle Singler. One more solid lottery pick and this rebuilding era could come to an end. That's the honey-coating on this situation. At the end of the day, these Pistons are still just bunches of oats.
#22 (30) Washington Wizards [19-39]

Pops
Don't look now, but these Wizards are poppin'. After notching 11 wins during the first three months of the season combined, they've managed to score seven Ws in February. That's some serious magic. Nobody's going to confuse them for contenders, but at least they can hold their heads high. Sequester that, Washingtonians.
#23 (28) Cleveland Cavaliers [20-40]

Raisin Bran
On just the right day, Raisin Bran is actually good. So are the Cavs. Nobody's happy about Kyrie Irving's knee problems (especially his fantasy basketball owners), but even without him, they're turning heads. They just beat the Bulls and only lost to the Heat by four. This is a team with talent that's afraid to show itself – except for Dion Waiters, who likes to show himself a little too much. Fun fact: switch the i and o in Dion and his name would be Dino. He'd probably still shoot too much, though.
#24 (24) New Orleans Hornets [21-40]

Kix
Some teams have identities. Other teams wander aimlessly around the court like a kung fu master in the desert. The Hornets are unknowable. They have talent, but not superstars (and don't try to tell me that permainjured Eric Gordon is a superstar). They're a big mystery, just like Kix. What the hell are Kix? Why are they called Kix? Why is Kix spelled with an x instead of the more traditional "cks?" Do they even have a flavor? Kix and the Hornets are in the same boat and that boat is going nowhere fast.
#25 (20) Philadelphia 76ers [23-35]

Corn Chex
I feel a little bad that I've been so right about Doug Collins since the inception of these rankings. There's no cheesesteak in breakfast cereal, so Corn Chex seems about right for some reason. If I saw a bowl of Corn Chex in front of me, I'd walk away about as quickly as Sixers fans have abandoned this team. How long do you think Jrue Holiday will stick around in the City of (Disappearing) Brotherly Love?
#26 (19) Minnesota Timberwolves [20-37]

Mini-Wheats (unfrosted)
Without Kevin Love, the Timberwolves are about as much fun to watch as unfrosted mini-wheats. It's not all bad, though. Ricky Rubio is back and rounding into form nicely. Nikola Pekovic is still a wonderful surprise and tied with the Magic's Nikola Vucevic for "League's Best Nikola." Even Derrick Williams is showing flashes of quality with the minutes he's inherited from Love's injury. Losing almost all of their games isn't doing them any favors, but hey, there's no frosting here anyway so it's not really fair to have such high expectations.
#27 (25) Phoenix Suns [21-39]

Special K
The Suns get Special K because Special K is the street name for Ketamine and Ketamine is a horse tranquilizer and I want to put the Suns down veterinarian-style.
#28 (26) Sacramento Kings [21-40]

Nintendo Cereal System
Nin-ten-do, it's a cereal now! Or at least it was. The "cereal system" debuted in 1988 and only lasted for about a year. The Kings debuted in Sacramento in 1985 and lasted for almost 20 years, but it looks like those days are numbered. Like a great Limited Time Only cereal, the Kings will disappear and re-emerge years later on eBay. Nintendo, Urkel-Os and Mr. T may live fondly in our memory banks, but the Kings will surely leave an even greater legacy.
#29 (27) Orlando Magic [17-44]

Trix
Trix are for kids and nobody on the Magic is over the age of 17. That's not entirely true, but as of last week, their best player is Tobias Harris, a 20-year-old who just joined the team a few weeks ago. This is a professional basketball team and they may not have the juice to beat the D-League All-Stars. Silly rabbits.
#30 (29) Charlotte Bobcats [13-47]

Grape-Nuts
Things are going from bad to worse in Charlotte. They're the dregs of the NBA and it's hard to get excited about a team that has posted a winning record just once in their entire history. Just as grape-nuts are made from neither grapes nor nuts, the Bobcats are made up of neither Bobs nor cats. Clearly I've gone insane just writing about the Bobcats. That's how messed up this team is.
Check out these previous NBA Power Rankings on Food Republic: