NBA Power Rankings: Butcher's Chart Edition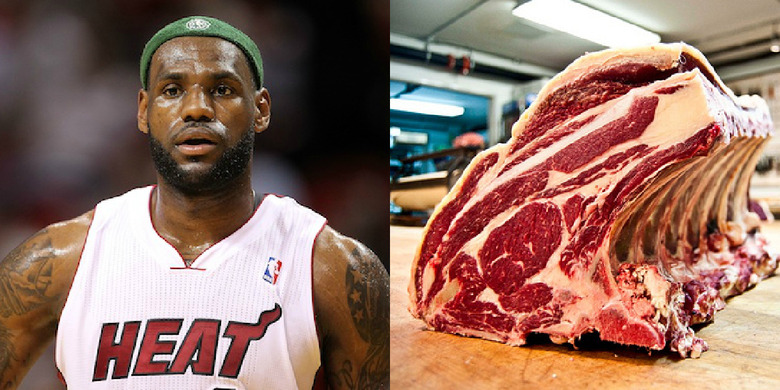 It's finally here. The 2012-2013 NBA season began last night, and that insufferable lockout from last year now seems like a distant nightmare. This year, we get a full 82 games of roundball brilliance and I'm ready to savor every dunk, every three and every newly illegal flop. Just like most off-seasons, we saw lots of changes all around the league. The big stories over the summer were player movement (pretty much everyone joined the Lakers), the draft (all hail the New Orleans Unibrows) and the all-mighty Dream Team version 78.1 where the best players in the world showed the not best players in the world that basketball is an American game no matter where you put the three-point line.
With that, it seems like the right time to kick off the Food Republic NBA Power Rankings for another solid season. Just like last year, we'll be ranking teams based on food. See Waffle House, Ruth's Chris and Cheesecake Factory editions. This year I'm starting things off in a primal way: the classic butcher's beef chart. A few fun facts according to the American Angus Association: a 1,200-pound Grade 1 steer yields 518 pounds of retail cuts from a 750 pound carcass. Of the retail cuts, 31% are steaks, 31% are roasts, and 38% is ground beef and stew meat. Consider yourself an Angus expert. Now let's get to the rankings...
#1. Los Angeles Lakers
Filet Mignon
People love to hate the Lakers. I'm no different. After this off-season, though, it's hard to hate such a magnificently crafted team. Steve Nash was one thing, but pulling off the Dwight Howard blockbuster trade put them way over the edge for the number one slot. They may not be the Showtime Lakers — as an opening night loss to the Nowitzki-less Mavs hinted — but with this much talent and experience, they are definitely the Filet Mignon Lakers. Let's just hope Mike Brown can make it all work.
#2. Miami Heat
Tri-Tip Steak
There is an unwritten rule in NBA Power Rankings that says you can't rank a current champion lower than #2 in a preseason poll. As such, the Heat are #2. They're not my favorite team to watch and I'll never root for them, but damn are they good. LeBron finally answered his critics by winning the trophy last year and now it's a question of how many the Heat can string together. With LeBron, Wade and Bosh at the helm, the tri-tip makes perfect sense here. Can we just jump straight to the 2013 Heat-Lakers Finals, please?
#3. Oklahoma City Thunder
Rib Roast
When I go home for the holidays and I see a giant rib roast come out of the oven, I start grinning like an idiot. That's how I feel when I watch the Thunder. I like everyone on this team. Not just the stars. Nick Collison? Love that Jayhawk. Eric Maynor? Dude can run the point. I even love Hasheem Thabeet, the forgotten giant. It's going to be hard to take down the Lakers this year, but if anyone can do it, it's the Prime Rib of Professional Basketball.
#4. Boston Celtics
Aged Bone-in Ribeye Steak
Kevin Garnett just qualified for AARP. Paul Pierce has been a Celtic since the Red Auerbach days. Rajon Rondo is actually four million years old on his home planet (dude is definitely an alien). This is an old team, but a good one. Adding Courtney Lee and Jason Terry only made them better, if not older. Like a well-aged bone-in ribeye, there's a funk about this team, but it's a good funk.
#5. Los Angeles Clippers
Porterhouse/T-Bone
LA's second most popular NBA team is better than most cities' #1 most popular team. And that comes despite the fact that Vinny Del Negro is still coaching. Chauncey Billups is great and all, but the true stars of this team are Chris Paul and Blake Griffin. In Porterhouse terms, CP3 is the filet to Blake's NY strip. They're two great players working together to form a super unit with a supporting cast of killer side dishes. The 2012-2013 Clippers are the steakhouse meal that you never want to end.
#6. San Antonio Spurs
Brisket
At this point in their tenure, there's something very sweet about the Spurs. They've become the old stand-by, the reliable friend who doesn't change, the comfortable black-and-white movie you can snap into at any point after watching so many times. They're the brisket of the NBA. Duncan, Ginobli and Parker have been in Pop's system so long that they don't even have to think anymore. Eventually, they'll reach their expiration date but I don't think we're there yet.
#7. Denver Nuggets
Shoulder Petite Tender Medallions
To the uninformed eater, tender medallions look just like filet mignon. As the almost-filet of the steak world, I think it makes an appropriate metaphor for this year's Nuggets. They're not the Lakers. They're not the Thunder. They don't have the star power or the flash. They do, however, have a really talented young team and if the Nugs can put it together, they can give those other teams a run for their money in the West. When George Karl coaches tender medallions, you better watch out.
#8. Indiana Pacers
Shoulder Top Blade Steak (Flat Iron)
I hate when teams become known as purely "gritty," but that's the Pacers for you. Hard-nosed Hoosiers that hustle and hate... ham? I don't know. I just like alliteration. Either way, these guys are all sneaky good. They don't make the All-NBA team, but as a unit, they're scary. Roy Hibbert can shut you down, Danny Granger drains bucket after bucket, and Paul George is one of the most underrated players in the league (despite inevitably being on his way to overrated). Also: Gerald Green. Watch out for that kid. He's this year's Jeremy Lin (and also 2005's Jeremy Lin).
#9. Memphis Grizzlies
Short Ribs
Looking at the Grizzlies roster, I can't help but nod my head. This is a team built to win. They've been building together for a few years now and, like short ribs, the longer they cook, the better they get. Gasol and Z-Bo are staunch defenders in the middle. Mike Conley and Rudy Gay can get buckets and Tony Allen will eat the head of your daughter's favorite doll if you told him to. Memphis feels real good this year.
#10. Philadelphia 76ers
Boneless Ribeye Roast
As everyone in the food world knows, Philadelphia happens to be the home to the Philly Cheesesteak. They also happen to be home to the 76ers who are now entering Year Three of the Doug Collins Experiment. It's going pretty well so far. They had a surprise first-round playoff win against the Bulls last year and now they've got Andrew Bynum to seal up the paint. Unfortunately, it came at the expense of their former best player Andre Iguodala. They may not be the strongest club in the East, but at least they'll cover the Wiz wit Whiz.
#11. Dallas Mavericks
Flank Steak
Texans love their beef and that includes the mighty flank steak for its wonderful fajita-making qualities. The Mavs may not be the same contenders they have been in years past, but they still have the tools to get it done. Darren Collison's capable at the point, O.J. Mayo is primed to have a breakout year, and the other three old guys (Shawn Marion, Chris Kaman, and Dirk Nowitzki) can still make things happen – as long as they stay off the injured list.
#12. Brooklyn Nets
Steak for Five
Brooklyn makes me think of Peter Luger Steak House in Williamsburg and the Peter Luger menu doesn't name what their steak is (it's a porterhouse), they just let you choose the size. Nobody knows how good the Nets will be this year. All we know is that they pulled off some big time moves (Hello Joe Johnson!) and actually have a chance to contend in the Atlantic Division. If they do it, you can bet your borscht that owner Mikhail Prokhorov will be buying steak for five.
#13. Chicago Bulls
Eye Round Steak
It kills me to put my beloved Chicago Bulls this low in the rankings, but truth be told, they deserve to be even lower. Without Derrick Rose, the Bulls are going to be a very lopsided team. Thibodeau's defense won't disappear, but the points sure will. The Bench Mob has been dismantled and Carlos Boozer is still on this team. Ugh. I'm giving them the eye round steak because I want to see how things go when DRose returns. Sorry about the pun. It was the best eye could do.
#14. New York Knicks
New York Strip (aka Top Loin Steak)
Obviously the Knicks are assigned the New York Strip. That's strip as in "stripping the owner's bank account to sign both Melo and Amar'e." That's strip as in "how much of our roster do we need to strip before the fans forget how much we underperformed last year?" That's strip as in "let's strip the one feel-good story from our franchise (Jeremy Lin) and bring back the point guard who couldn't get it done before (Raymond Felton)." There's going to be a lot more stripping at Madison Square Garden this season. Let's just hope it involves professional strippers.
#15. Portland Trailblazers
Back Ribs
Do you hear that? It's the sound of excitement coming out of the Rose Garden. The Blazers have been reborn. Gone are the days of Jailblazing. Gone is the Greg Oden Era. Now we're in the Age of LaMarcus where rookies run the point (Damien Lillard) and clog the lane (Meyers Leonard) while Nic Batum tries to make everyone forget that he punched Juan Carlos Navarro in the junk during the Olympics. Excitement is coming to PDX like a fresh slab of baby back ribs pulled out of the smoker.
#16. Atlanta Hawks
Sirloin Steak
The Hawks have been stuck in a rut for the past decade. The good news is that they're no longer stuck in that rut thanks to shipping out Joe Johnson and Marvin Williams. The bad news is that they're worse than they were before. They're like that sirloin steak you left on the grill for too long: it started off strong, but now it's getting overcooked and pretty soon you won't even be able to look at it.
#17. Minnesota Timberwolves
Boneless Rump Roast
Without Kevin Love and his broken hand or Ricky Rubio and his wonky ACL, the T-Wolves are just a boneless rump roast. Yeah, you heard me right. The Timberwolves are butt.
#18. Milwaukee Bucks
Chuck Pot Roast
Like the Hawks, every year seems like the year that the Bucks will break through. That's more a testament to Scott Skiles as a coach than it is to the players. This year they've once again got a cadre of hard-scrabble guys willing to dive for loose balls and bang with your team's big men. They also have two miniature scoring machines in Brandon Jennings and Monte Ellis. It's not a bad recipe for success, it just hasn't worked well in the past. Now that the Bulls are hobbled, the Bucks have a chance to take a giant leap forward. They get the chuck pot roast for no other reason than the fact that they play in Wisconsin and they'll need a good, hearty meal to get through the winter.
#19. Utah Jazz
Shank Cross Cut
The Jazz are only ranked this low because the NBA has about 12 mid-level teams right now that are all pretty much equal. They're super heavy in the front court and not so much in the back court. Al Jefferson and Paul Millsap are absolute monsters and monsters eat stuff like shanks. Gordon Hayward is not a monster. He gets a loaf of white bread, because, well... have you seen him?
#20. New Orleans Hornets
Veal Chop
Welcome to the Future. The Hornets are banking on two young draft picks (Anthony Davis and Austin Rivers) to drag them out of the stone age and there's no telling how soon the youth movement is going to pan out. The veal chop isn't technically on the butcher chart for a steer, but for a team this young, veal is the only accurate representation.
#21. Golden State Warriors
Flanken-Style Ribs
Last year, Andrew Bogut and Steph Curry combined to miss 84 games in a 66 game season. The stars of the Golden State Warriors are Andrew Bogut and Steph Curry. If they're able to play a full season, great. If they're injured, it's going to be a rough year in the Bay Area. I'm giving them flanken-style ribs so they can throw them in a pot to make some nice soup and stay strong this season.
#22. Detroit Pistons
Mock Tender Roast
Let me go on record as saying I think the Pistons will be in the Top 20 by the end of the year. Slowly but surely, they're getting the right players on their roster. Greg Monroe is a stud, Rodney Stuckey has significant staying power, and it looks like Andre Drummond is a lot more polished than anyone thought (based purely on preseason games). The Pistons are like a mock tender roast because in the end, all that matters is the finished product (i.e. wins). If you win, nobody will remember that you're not dealing with a prime cut.
#23. Phoenix Suns
7-Bone Pot Roast
Phoenix seems to be going with an international flair this year. Their starting five includes a Pole (Gortat), an Argentinian (Scola), a Slovenian (Dragic), an American (Wesley Johnson) and a Martian (Michael Beasley). As such, I'm pairing them with the most international of cuts: the 7-bone pot roast. Every major food culture makes a pot roast of some sort and the Suns will be under water all year, so it makes sense that they're going to be braised. At least they'll be tender.
#24. Houston Rockets
Skirt Steak
After years of contending, Houston is clearly in rebuilding mode. They snagged Jeremy Lin from the Knicks and Omer Asik from the Bulls, but it remains to be seen if they're worth their enormous poison pill contracts. Kevin Martin is an injury waiting to happen, Patrick Patterson is scrappy but undersized, and Chandler Parsons is splitting time between the team and his paper route. It just doesn't seem like it's going to be the Rockets' year. That said, they could be sneaky good just like a nice skirt steak.
#25. Cleveland Cavaliers
Boneless Round Steak
I'm sorry, but the Cavs are not exciting. I actually don't know if they've ever been exciting. Daugherty and Ehlo? Did that get anyone out of their seats? Kyrie Irving is a great young player and Tristan Thompson may still turn into a beast, but I have a feeling Cleveland is going to be hard-pressed to sell tickets this year. They're about as exciting as boneless round.
#26. Orland Magic
Ground Beef
Have you ever bought a pound of ground beef and then brought it home only to be paralyzed by all the options in front of you? You can make burgers or meatballs, meatloaf or sloppy joes. The choices are really endless, but the indecision is what kills you and you decide to just get takeout anyway. That's the Magic this year. They freaked out at the indecision of not knowing if Dwight Howard was going to stay and now they're left with next to nothing. If they turn their ground beef team into a badass burger, it will be Magic indeed.
#27. Sacramento Kings
Cube(d) Steak
When your team's best player is a 6'11", 270 lb. headcase, you have a problem. When your team's owners are constantly trying to move your team to another city, you've got a problem. When your team is so desperate for cash that you rename your arena "SLEEP TRAIN ARENA," you have a major problem. The Kings are six kinds of messed up and so is cube(d) steak. Just look at it. It looks like it had a rough date with a tenderizer. Appropriately, it's going to be a rough season for Sactown, too.
#28. Washington Wizards
Beef for Kabobs
Don't look now, but the Wiz actually have some nice pieces. Like beef for kabobs, if these guys are seasoned correctly and thrown together with some peppers and onions (the right coach, fan support), they just might surprise you. Nobody gets excited looking at chunks of beef for kabobs, but everyone gets excited when they're put together and sizzling on the grill. Washington, I hope you get to sizzle this year.
#29. Toronto Raptors
Bottom Round Steak
In honor of Lithuanian newcomer Jonas Valanciunas, the Raptors get bottom round, which happens to be the main ingredient in zrazai, a Lithuanian beef roll dish that seems like a valuable tool against freezing to death in Lithuania. If Bargnani and Kyle Lowry can stay healthy this year, the Raptors have a shot to move up a few spots. If not, maybe Jonas can make everyone some zrazai.
#30. Charlotte Bobcats
Beef for Stew
Beef for stew doesn't sound so bad unless you consider that it's just the excess that didn't fit anywhere else. Sound like a certain basketball team you know? The Bobcats are just a random assortment of guys good enough to play in the National Basketball Association. Calling them a team is true in the literal sense of the word, but that's about it. Sadly, they've got a whole season to stew on their own dysfunction.