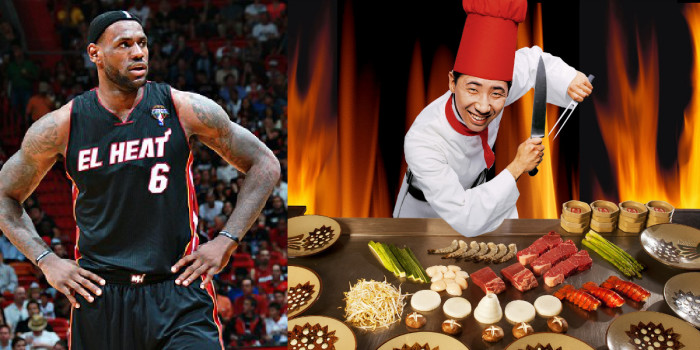 We've just passed the first quarter of the NBA season and it's clear that this year is far from predictable. Those Lakers that grabbed our number one spot in the preseason rankings? Not even playing .500 ball. The best record in the league? The Legend of the Ancient Spurs. The New York Knickerbockers refuse to lose at Madison Square Garden and the Atlantic Division is the toughest in basketball right now, with four out of five teams playing with a winning record. As expected, the Thunder are crushing it in the West, but so are the Clippers. David Stern must be having a hard time deciding whether or not to fine teams for playing better than he thought they could.
There's still plenty of ball to play, though, and as players come back from injury (John Wall, DRose, Bynum, Dirk, Nash), we'll get a much better idea of how these teams are going to finish out the season. As we do every time here at the Food Republic NBA Power Rankings, we've selected an iconic restaurant menu to match up with each team. This time, it's Benihana, the Japanese "steakhouse" where they cook that stuff right in front of you. Your average NBA game has a lot in common with Benihana. Look at all these similarities:
Both aim to be entertaining

Action happens on a rectangular playing surface

Lots of clapping and cheering
With so much in common, it only makes sense that we're using the Benihana menu as our benchmark to judge each NBA team on how they fared during the first quarter of the season. Grab some sizzling shrimp, make an onion volcano and don't touch the hibachi grill. We're warning you: there WILL be fire.
( ) = previous position |  [ ] = record as of December 10, 2012
#1 (3) Oklahoma City Thunder [17-4] 

Benihana Excellence
Teriyaki beef julienne with scallions and colossal shrimp.

There's really nothing bad you can say about the Thunder. They represent NBA excellence (which earns them Benihana Excellence) and win both at home and on the road. They're first in Points Per Game (106.2) and have a league best +9.5 point differential. They also have Durant, Westbrook and Ibaka to make sure that games start out entertaining and stay that way. Trading Harden was a ruthless move that hasn't hurt the team nearly as much as anyone thought. Excellence looks good on you, OKC. Keep up the good work.
#2 (6) San Antonio Spurs [17-4]

Splash 'N Meadow
Tender sliced steak and grilled colossal shrimp lightly seasoned and grilled to your specification.

Good teams only lose to other good teams and the Spurs have only lost to the Knicks, the Clippers and the Heat. I'd say those are pretty good teams, wouldn't you? Honestly, I have no idea how the Spurs continue to do it. They keep on sliding new players into their rotation and it keeps on working. They get paired with "Splash 'N Meadow" because I think that would be the greatest nickname ever for Gary Neal and Danny Green. FYI, Neal is Splash.
#3 (14) New York Knicks [15-5]

Ocean Treasure
Cold water lobster tail, sea scallops and colossal shrimp grilled to perfection.

Don't you love surprises? The citizens of New York do. The Knicks could have been a huge disappointment but instead they emigrated beyond the three-point line and got a room at the W. Too clever? Perhaps. That doesn't change the fact that these Knicks are the best team in the Eastern Conference and ordering up as much Ocean Treasure as Mike Woodson will allow.
#4 (9) Memphis Grizzlies [14-4]

Endless Sushi
Monday through Thursday during dinner hours only. Served with miso soup, Benihana salad and edamame. Not available at all locations.

I just want to hug the Grizzlies. They make me feel proud to be an NBA fan. Their success is what every small market team in this league should aspire to. Well-constructed lineup, good coaching, fired-up fans. It's a recipe for winning, and barring a major injury setback, Memphis should wind up being one of the toughest outs in the playoffs. From now until then I want them to know how proud I am. So Grizzlies, please enjoy as much sushi as you'd like to. It's the least I can do. 
#5 (2) Miami Heat [13-5]

Banana Tempura
Hey Miami, you lost to the Wizards. You've lost to the Wizards the last three times you've played them. I don't care if you're the reigning champs. I don't care that you have LeBron. You keep losing to the Wiz and you're losers. Plain and simple. You know how to defeat Wizards? With magic. Magic like banana tempura.
#6 (5) Los Angeles Clippers [14-6]

Seafood Diablo
Sea scallops, calamari, shrimp, assorted vegetables and Japanese udon noodles with a special homemade spicy sauce. Served with Benihana onion soup, Benihana salad, shrimp appetizer, hibachi vegetables, homemade dipping sauces, steamed rice and Japanese hot green tea.

LOOK HOW MUCH STUFF THIS SEAFOOD DIABLO COMES WITH! It's like a treasure trove of Japanese chain food deliciousness. I feel the same way about the Clippers. After years – decades, even – of futility, these Clips are coming on strong and they're deep. The second unit may be a little too experienced (read: old), but they're playing like hungry college sophomores. They'll need to stay hungry to keep winning and to finish all this food.
#7 (16) Atlanta Hawks [12-5]

Hibachi Chateaubriand
8.5 ounces of center cut tenderloin and mushrooms lightly seasoned and grilled with garlic butter.

My cousin works for the Hawks, so this part of the Power Rankings is less about where to put the team than it is a message to Barry. Your team is doing great, dude. You should be proud. In fact, I hope you're selling more tickets than ever. May I make a marketing suggestion? Team up with the Real Housewives of Atlanta and give away a free Hibachi Chateaubriand dinner with NeNe for each new season ticket purchase.
#8 (21) Golden State Warriors [13-7]

Hibachi Steak & Shrimp Jr.
A great combination of shrimp and beef.

The Warriors came out to playyyy. What a pleasant surprise for those in the Bay Area. Considering this team is made up of kids, they have no choice but to eat from the children's menu.
#9 (13) Chicago Bulls [11-8]

Imperial Steak
A 12-ounce New York strip steak with mushrooms grilled to perfection.

The joy I feel in ranking the Bulls this high is overwhelming. Have some Imperial Steak! You deserve it. Joakim Noah is playing out of his wild curly-haired head with a supporting cast of the Bionic Deng, "Those are boos not Booz, right?" Boozer, and guards that either qualify for AARP or can't ride roller coasters. They may not be the team they were with DRose at the point, but they're still a Thibodeau-coached teamed earning wins the old-fashioned way. Enjoy that steak, boys.
#10 (10) Philadelphia 76ers [11-9]

Philadelphia Roll
Marinated salmon, cream cheese, cucumber, avocado.

The Sixers are exactly who we thought they were. Except for the whole "Bynum will be injured for the rest of his life" part. They're not the best scorers in the NBA (88.5 PPG), but they're holding it down on defense (89.7 points allowed), so Sixers fans don't need to bring batteries with them to games. Philadelphia roll? It's too easy.
#11 (12) Brooklyn Nets [11-8]

Teriyaki Chicken
Chicken breast grilled with mushrooms in a special homemade teriyaki sauce.

I like Brooklyn as a #11 team. That's perfect for them. Not good enough to be in the top 10, but getting close. I wish all NBA owners would learn the lessons of Mikhail Prokhorov. Spend money, get a better team. The Clippers did it and the Nets followed suit. It doesn't always have to be that way, but if you disappoint your fan base year after year, it's good to show everyone that you actually care about, um, winning once in a while. Winner, winner, teriyaki chicken dinner.
#12 (4) Boston Celtics [11-9]

Red Plum Sake Sangria
Red wine, Benihana Sake, plum wine, pomegranate and orange juice.

"Dear Ray Allen, Come back, please? Love, Kevin Garnett and Paul Pierce." If Rajon Rondo is not an alien spy sent from the future in some sort of Predator/Terminator hybrid movie, I will be SHOCKED. That doesn't have anything to do with him as a basketball player, but seriously – shouldn't we investigate this? He's inhuman, right? Just picture him with shiny green alien skin and it will all make sense. They get Red Plum Sake Sangria because that's something only an alien would order.
#13 (19) Utah Jazz [12-10]

Spicy Tuna Hand Roll

Dee doo boo bop da dee pow pow! That's Jazz for "we're essentially invisible in the NBA." They're not bad, they're not good. They're just spicy tuna hand rolls.
#14 (17) Minnesota Timberwolves [9-9]

Hibachi Mango Salmon
Hibachi salmon with sweet potatoes and vegetables, served with a delicious Asian-inspired mango salsa.

For a team that spent much of the first quarter of the season without their best players (Kevin Love, Ricky Rubio), the T-Wolves did surprisingly well. Love is back and there are reports that Rubio will be back on the court by Christmas. Merry Xmas, Minnesotans. Enjoy some festive hibachi mango salmon. Exotic!
#15 (7) Denver Nuggets [10-11]

Surf Side
Grilled colossal shrimp, calamari and tender sea scallops.

You would think a summer blockbuster trade that lands you Andre Igoudala would translate to big wins. You're wrong. Granted, Denver has played most of the young season on the road, but they're the NBA equivalent of ordering the Surf Side combo feast and finding out they're out of shrimp and scallops.
#16 (8) Indiana Pacers [10-11]

Cucumber Hand Roll
Apparently Danny Granger means a lot of to the Pacers. That's the only explanation why a team that was expected to easily grab the Central Division title is barely playing .500 ball. Cucumber hand rolls always strike me as underperforming and that fits Indiana to a Psycho T.
#17 (18) Milwaukee Bucks [10-9]

Trio of Fish Tacos
Tuna, salmon and tilapia with avocado, grape tomato, shallot salsa and taco sauce.

The award for most PF/C in the NBA goes to… the Milwaukee Bucks! Congratulations, guys. You're seriously stacked in the front court. The problem is, quantity doesn't mean quality. Ekpe Udoh, Larry Sanders and John Henson are all the same player with different degrees of muscle. Why they're all on the same team is beyond me. The tacos may have three different types of fish, but in the end it's all still fish.
#18 (24) Houston Rockets [9-10]

Shiraz
Penfolds 'Thomas Hyland' from Adelaide, Australia.

LINSANITY! Well, more like Linreality, but it doesn't matter. This is James Harden's team now and the Rockets are responding as well as they can after a pretty serious starting lineup overhaul. It's early enough in the season that I expect things to start looking up for Houston soon. Like an Australian shiraz from Penfolds, they'll get better with time.
#19 (1) Los Angeles Lakers [9-12]

Dragon Roll
Eel, avocado, crab, cucumber.

Where to start? The biggest fall of any team on these here Power Rankings belongs, obviously, to the No-Time Lakers. I fell into their trap like we all did. Star power isn't everything and with Steve Nash still out, a new coach and a Spanish star who doesn't fit into the system (not to mention his timely case of tendinitis), things aren't exactly rosy for the Purple and Gold. They get the Dragon Roll because it's the closest I could find to a Black Mamba on the menu. 
#20 (11) Dallas Mavericks [10-10]

Sushi Combination
6 pcs of Nigiri Sushi and 1 California Roll.

No Dirk, no problem? If only that were the case. The Dallas Cubans are doing the best they can, but they just don't have the firepower to win like they used to. O.J. Mayo has finally shown why there's been hype on the kid since junior high and a .500 record isn't bad. It's just not good. Like a sushi combination with only six pieces of nigiri and a lame-ass California roll, there's just not enough to get excited about in Dallas these days.
#21 (15) Portland Trailblazers [8-12]

Spicy Tofu Steak
Tofu, scallions and cilantro grilled in a spicy tofu hot sauce.

Things don't look good when you're one of just two teams to lose to the Wizards. It's not all bad for the Blazers, though. Damian Lillard has proven to be an NBA-ready rookie right out of the gate, Batum has upped his game a whole level, and J.J. Hickson is a potential double-double every night. They're not as good as they should be, but it's pretty surprising how much you can enjoy a spicy tofu steak Blazers game.
#22 (30) Charlotte Bobcats [7-12]

Häagen-Dazs Ice Cream
Chocolate, vanilla or strawberry.

Who would have thought that Charlotte would be at the top of the NBA's lower echelon? Not me. Sure, they've got a seven game losing streak with more losses on the way, but they've gone to overtime three times already this season. They're competing, which is more than I can say for past Bobcats teams. As a reward for trying, they get some ice cream. Chocolate, vanilla or strawberry, guys. The choice is yours. You've earned it!
#23 (23) Phoenix Suns [7-15]

Yakisoba
Japanese sautéed noodles with chicken and mixed vegetables topped with a special sauce and sesame seeds.

The Suns are now offering a money-back guarantee to fans who aren't satisfied with their experience at games, so they're essentially the used car salesmen of NBA teams. Considering all the broken promises that owner Robert Sarver has made, it makes sense. With a seven game losing streak intact, it doesn't look like things are getting much better, so some yakisoba might be just what the doctor ordered. It's comforting for your fan pain and just think, Suns fans, you're about to have a ton of extra cash lying around because of that guarantee.
#24 (26) Orlando Magic [8-12]

Spicy Seafood Soup
Salmon, shrimp, calamari and mixed vegetables grilled at your table and served in a spicy garlic onion soup. Served with brown rice.

The Magic sans Dwight Howard are basically the Opposite Expendables. Nobody is actually a star, and yet they're better than at least six teams in the league right now. Take a bunch of different parts, throw them together in some spicy broth (i.e. the toxic environment of Orlando) and there's your Magic.
#25 (27) Sacramento Kings [7-12]

Edamame
Served hot and sprinkled with sea salt.

I know there are a lot of rumors swirling around Sacramento and where they might move, but I think we're all overlooking the obvious choice: Medieval England. Seriously, is there a better landing spot? They LOVE royalty, they're down with spectacle and DeMarcus Cousins wouldn't have to worry about the media writing mean things about his work ethic anymore. Let's get Bill & Ted over here to fire up the phone booth. "Say hi to the princesses for me." "Who?" "Shut up and eat your edamame." 
#26 (20) New Orleans Hornets [5-14]

Vegetable Tempura
An assortment of a daily selection of vegetables.

Not a scientific fact, but only 3% of all humans get excited about vegetable tempura. The same number of people like watching the Hornets Pelicans play. Wunderkind Olympian Anthony Davis has been out for pretty much the whole first quarter of the season, Austin Rivers wishes he was back in Winter Park, and Robin Lopez and Greivis Vasquez are shining. Pass the fried squash, please.
#27 (22) Detroit Pistons [7-15]

Benihana Soup
This homemade Benihana specialty simmers for six hours. A favorite since 1964.

If the Pistons only played home games, they'd be a mediocre NBA team. If they only played road games, they'd be the worst team in the league. The only answer is to order up some soup to go and call in sick for the rest of the season.
#28 (25) Cleveland Cavaliers [4-17]

Fresh Pineapple Boat

Kyrie Irving, are you trying to make sure that people think of you as injury-prone? If so, it's working. You're killing my fantasy team right now, son. Even Dion Waiters, rookie chucker extraordinaire, is hurt. If Varejao goes down (like he inevitably will), this team will be led by Alonzo Gee. These are some tough times, friends. The Cavs get the fresh pineapple boat so they can sail somewhere else and start anew.
#29 (29) Toronto Raptors [4-17]

Banana Berry Smoothie
Strawberry, blueberries, and banana blend together for this frozen treat.

So let me get this straight. You come to a chain teppanyaki restaurant and proceed to order an alcohol-free fruit smoothie as your beverage of choice? I can't decide if you're a four-year-old girl or the world's biggest fan of doing things that don't make sense. Either way, you'd make a great Raptors fan considering the team hasn't made sense in years and appeals mainly to four-year-old Canadiennes who don't fully understand the rules of basketball outside of "ball goes in hoop."
#30 (28) Washington Wizards [2-15]

Vegetable Roll
Green leaf, avocado, cucumber, tomato, red cabbage, yamagobo.

Which team is 3-0 against the Heat since April 2012? The Wizards. I know. I can't believe it either. That said, Washington can ONLY beat the Heat. They're off to yet another terrible start and John Wall has been labeled with the most hated phrase in sports: "out indefinitely." They get the veggie roll because, like the Wizards, it's wrong on so many levels. 
Previously:  NBA Power Rankings: Butcher's Chart Edition