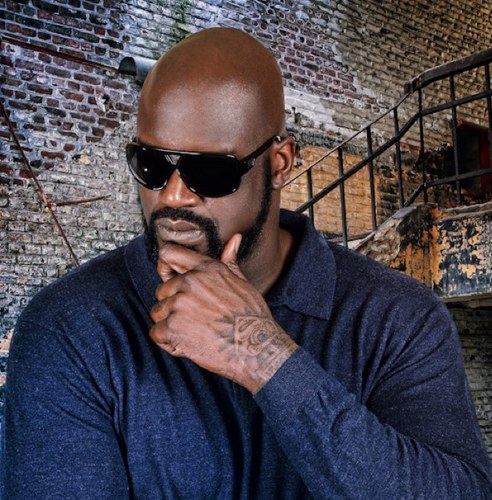 Former NBA superstar Shaquille O'Neal is playing a game of one-on-one, dominating the glass and dunking the ball with ease. No, he is not making an NBA comeback or helping out rookies at a team's training camp. He is taking part in the Kitchen Playground Challenge, a Tupperware Brands event that is raising money for Boys & Girls Clubs of America. And Shaq ain't breaking a sweat.
During the event, attended by mommy bloggers, parenting glossies and yours truly, Shaq gets behind a counter to make smoothies. But as Food Republic learns in our interview with Diesel, the retired center is not much of a cook. Like, not at all. "This is the first meal I've ever cooked myself," he muses as he dunks a tortilla chip in a bowl of freshly made guacamole. His legendary sense of humor is also still intact. "The greatest terrible movie ever made!" he pipes back at a woman who asks about the comically bad Kazaam.
After a spirited debate in the office, we shied away from asking him if he enjoys eating Kobe (beef, that is). If you disagree with our decision, you've clearly never stood next to a human being this large. We did, however, find out some pretty cool things about his eating habits, possible future restaurant plans and if any food can help with those damn free throws. And for the record, the big man is right. His career percentage is a (somewhat) respectable 52.7%.
What do you usually eat for breakfast?
Sausage and cheese omelette.
Do you prepare that yourself?
No, never! [laughs] I was lucky that growing up I had five sisters who always used to cook for me. I made sure to protect them and keep them away from the boys, and in return they made me sandwiches and cooked me whatever I wanted.
What was the best meal your mother or sisters cooked for you growing up?
It has to be the "Shaqaroni and Cheese" that my mother would make me!
Did you have a pre-game meal ritual while you were in the NBA?
Yes. Check this out: I used to always eat turkey club sandwiches before the games and I would wake up tired. Then I realized that turkey has tryptophan and I had to switch it up. I remembered Michael Jordan used to eat a lot of steak and he'd be wide awake in the fourth quarter, so I began eating that.
Did you ever eat at halftime?
Oh, no. Never never, no way [laughs].
Do you have a favorite restaurant owned by an athlete?
I don't know which athletes own which restaurants, but I've got to go with my Five Guys.
Do you have any plans to get involved in the restaurant business down the road?
I'm thinking of doing something with my good friend Robert Earl at Planet Hollywood. Maybe Shaq's Steakhouse or a sports bar.
Do you have any go-to foods to help with free throw shooting?
No [laughs]. People don't get this about my free throw percentage: I'm 50%. That's make one, miss one. That's not bad. Guys make it out to seem that it's 20 or 30%. It's 50. Look it up! Not bad.
What do you think of Charles Barkley and his Weight Watchers campaign?
I think he's doing a really good job. I'm with him all the time on the set and he's never eating any bad foods.
What about you? Do you eat a lot of junk food?
Every now and then. I've got to get ready because the NBA season is coming up. But I always take summers off.
Thanks, Shaq. Good hanging out.
Hey, 50%. Make one, miss one. You remember that.
More athlete interviews on Food Republic: