Minnesota Vikings Tackle Kevin Williams Also Defends Smoked Meats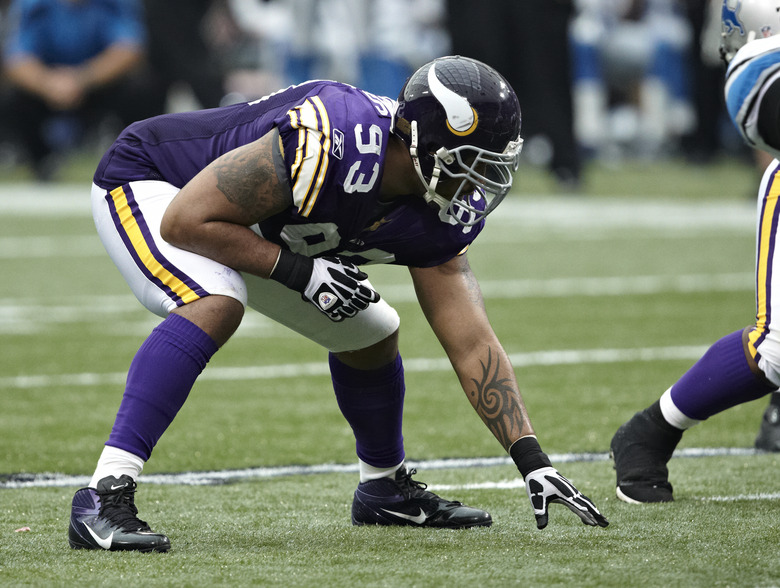 Defensive tackle Kevin Williams is in his 10th year with the Minnesota Vikings, but the Arkansas native is still a country dude at heart. That's why when he's not sacking QBs or stuffing the run, he can often be found smoking or grilling meats. (His teammate, Phil Loadholdt, is more of a steak man.) Here, Williams took a break from training camp to talk Boston butts, fried chicken and why George Foreman is the king of his kitchen. Next up, his 1-o Vikings take on the Colts this Sunday.
We hear that you're really into barbecue.
Yeah, we cook out a bunch at the house.
In Minnesota?
Minnesota, Arkansas, everywhere.
What do you enjoy cooking?
In Arkansas, we have those smokers, so we do a lot of ribs and brisket and Boston butts and steaks — whatever you can put on a grill, we do it. Probably every other weekend we do it. I'm almost burnt out on barbecue.
You get any of that at training camp?
No, no, no! I'm trying to get on a strict eating regimen. I'm sticking to those salads and egg whites and turkey burgers and all that good stuff. We usually get out maybe once a week and grab some wings and some pizza.
Do you have a pre-game meal ritual?
Pre-game, usually I make a bacon, egg and chicken sandwich, put a little jelly on it, on a toasted multi-grain bread.
What about post-game?
Pretty much whatever they have there for us. The pizza, or hot dogs, or whatever they bring us. When we go to Tennessee, we try to get the barbecue brought up.
What's your favorite city to play in for their food?
I like Atlanta because I have my best friend there. There's not one particular place, but we always go to a nice restaurant every time.
Where do you like to go eat in Minnesota?
My wife's favorite is Ruth's Chris. We always get a nice steak, sweet potato casserole. It's our favorite thing over there.
They have the best creamed spinach.
Yeah, we mix it in now and then, but she don't like it too much.
Do you have a favorite chef?
We used to watch Emeril because he was so animated, but haven't watched him in a while.
What about a favorite cooking show?
Nah, I don't watch too many of them – I don't have time.
Do you do all the cooking?
During the season, my wife does all the cooking.
What's a must-have cooking tool?
The George Foreman is a great tool for eating healthy and grilling. If you don't have time, get yourself a George Foreman.
It's hard to put one of them Boston Butts on it.
Yeah, yeah, during the season you can't cook me one of those because I pack on the calories, but I have an egg smoker in the corner in case I need to smoke something outside.
Diet aside, what's your dream meal?
You can't get away from a good fried chicken, cabbage, macaroni and cheese, corn bread type of meal. That Sunday meal growing up — I'd love to do that on a more regular basis.
I love fried chicken. Sometimes we eat just the chicken skins.
Ha, ha! That's the worst part for ya!
---
More Food and Football on Food Republic: