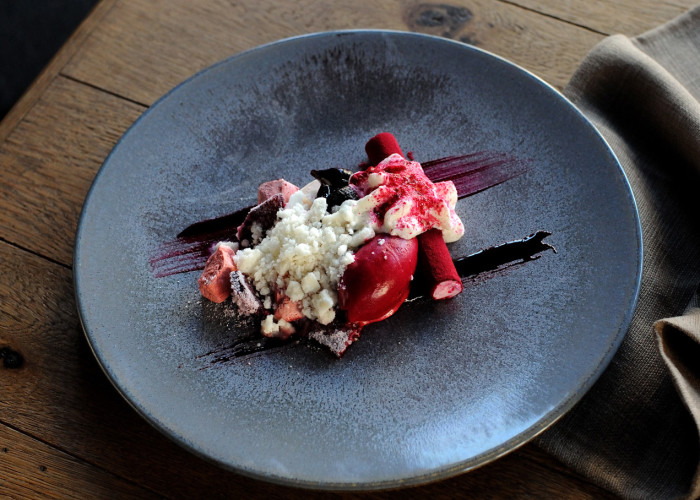 Tom Aikens Restaurant in London's extremely charming Chelsea neighborhood just went through a big redesign, reopening in January with a new look after nine years in the biz (the restaurant's website got a nice overhaul as well). Besides the interior re-do, the menu evolved to spotlight the Michelin-starred chef's creative impulses. Take, for instance, the candied beetroot dessert, which recasts the love-it-or-hate-it beet (a.k.a. beetroot) as some sort of super ingredient.
"I have always loved beetroot as it's so adaptable," Aikens writes us from London. "It works in a wide range of dishes including soups, salads and dressings. I've also experimented with pickling, baking, pureeing and deep-frying them. They generally lend themselves to something sweet because of their high natural sugar content and I thought that this would be perfect for a dessert. Beetroot typically goes so well with yoghurt so that's how the idea of the Candied Beetroot dish started."
Its dramatic presentation earns it a Plate Deconstruction, the first from outside the U.S. Aikens breaks it down below.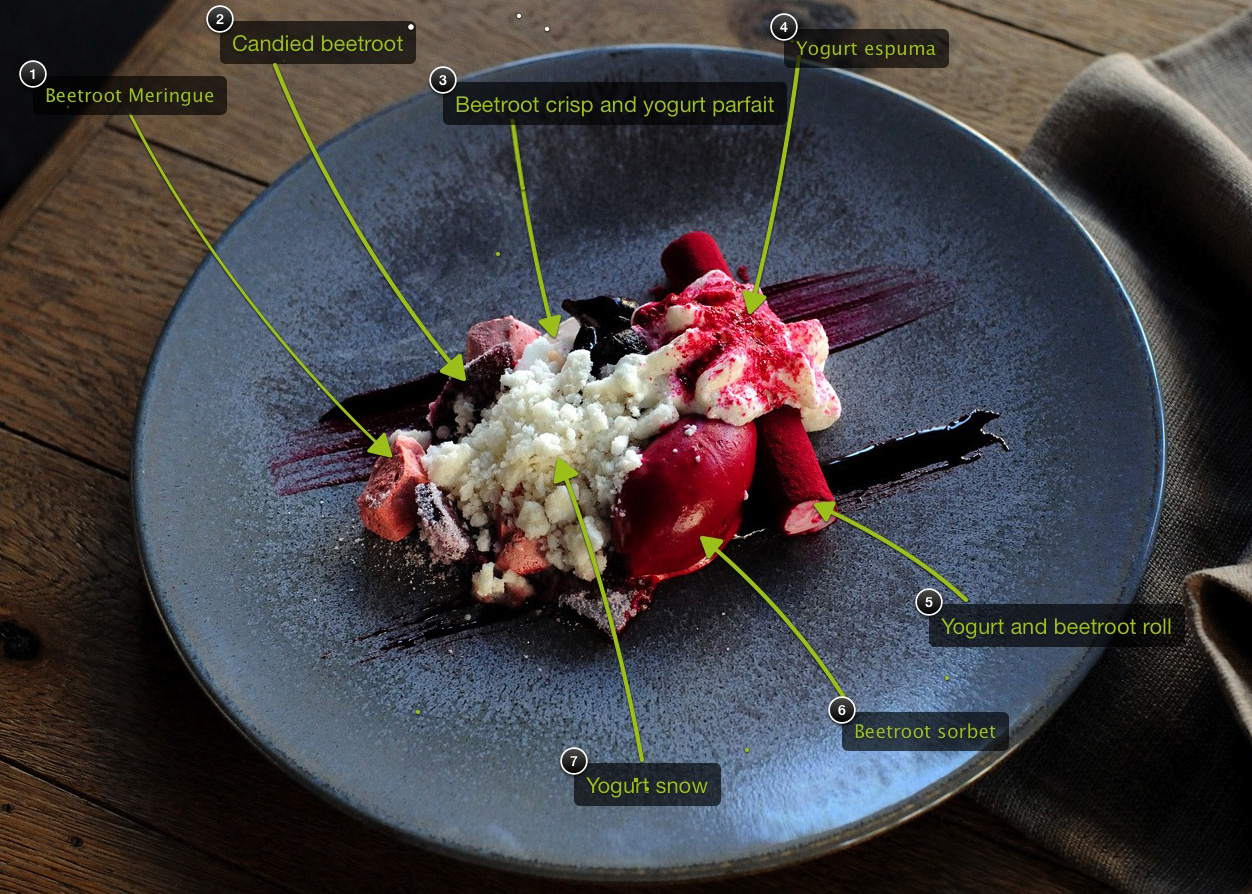 Beetroot meringue | "This is soft and gooey in the middle and crisp on the outside with a sweet and sour taste," says Aikens.
Candied beetroot | The candied version of the beet that gives this dish its name.
Beetroot crisp and yogurt parfait | "We combine beet puree with N Zorbit [which can turn liquid fats to powder] and spread it very thin on a plastic mat. The N Zorbit helps make the puree crispy. The yoghurt parfait is essentially a frozen mousse with diced beetroot and port added."
Yoghurt espuma | "This is natural Greek yogurt that has been sweetened with sugar, then set with gelatin. It is then placed into an espuma (also known as a canister or cream gun and aerated by placing gas into the canister)."
Yogurt and beetroot roll | "Yoghurt and beetroot mousse infused with lemon zest. This is then set in a tube, then rolled in beetroot powder."
Beetroot sorbet | "Just a sorbet made with beet juice and a beet puree."
Yoghurt snow | "This is frozen yoghurt mixed with buttermilk. It's frozen and then churned in a pack jet which turns it into a very fine powder."
More Plate Deconstructions from Food Republic: