Plate Deconstruction: Empellon Cocina's Roasted Carrots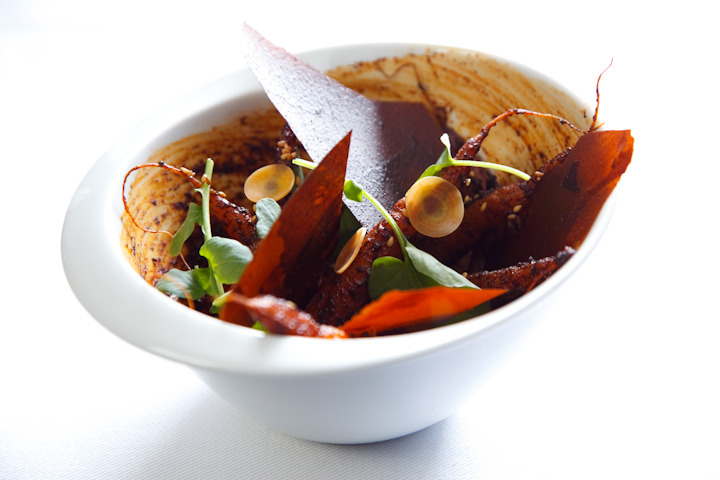 Chef Alex Stupak's salad of roasted carrots tangled up with watercress and mole poblano may not bear the appearance of a Mexican dish, but the flavors and ingredients, all beautifully calibrated to create a fine balance of contrasts, say otherwise.
Not that we expected anything less from the virtuoso who first made a name for himself as pastry chef at Wylie Dufresne's groundbreaking wd~50. At his new East Village eatery, Empellon Cocina, a sibling site to the West Village tacqueria he opened last year, Stupak turns out Mexican cuisine filtered through a modernist lens — like guacamole spun in a new direction with salty pistachios, or shrimp with sea urchin mousse tucked between artful curls of crispy, corn chip–like masa.
But back to that "salad." Here, Stupak takes us through its dizzying lineup of dueling textures, colors and flavors that come together in awesome harmony.
1. Mole poblano sauce
Twenty-four ingredients comprise Stupak's recipe for this complex and smoky-sweet staple of Mexican gastronomy, including molasses, which he adds before brushing a thin layer on the interior of the bowl.
A small portion of Greek yogurt (not seen in photo) and fried sesame seeds also line the bowl's bottom surface. "The yogurt cuts the heat of the sauce, and from there, my mind went to Middle Eastern flavors, which is where the sesame seeds came from," explains Stupak.
2. Roasted carrots
"Traditionally, mole is paired with some kind of sweet component. Rather than adding sugar, we looked to a vegetable that already had a naturally-occuring sweetness to it." Stupak roasts the whole baby carrots in mole poblano sauce at a low temperature, then sprinkles them with fried sesame seeds (3).
4. Fresh watercress
"I like the peppery bite that the watercress lends to offset the other flavors."
5. Pickled carrots
Baby carrots pickled in a basic brine of cider vinegar, coriander and other spices are sliced into translucent mandoline-sliced discs as a tangy foil to the smoky sweetness of the mole carrots.
6. Mole poblano tuile
Adding another texture (but not a new flavor) to the dish, the soft shards of burnt sienna-colored tuile are the result of dehydrating sheets of the starring sauce at 140 degrees overnight.
Empellon Cocina, 105 First Ave., New York, NY, 212-780-0999, empellon.com