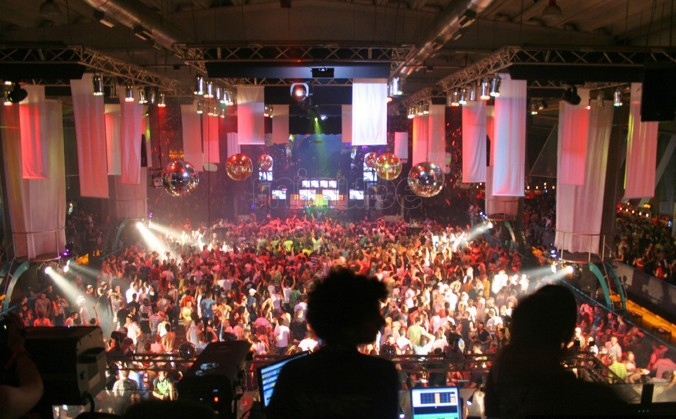 Every bon vivant enjoys great food, wine and, of course, a night on the town. From where to eat in what city to what to wear for every occasion, Food Republic's got you covered when it comes to food culture. That's why we've decided to launch The Spot, a weekly nightlife column where our nightlife insider will traverse sea and land (and velvet ropes) to bring you what's new and noteworthy in the world of nightlife from New York City to Tokyo.
The Location
Berghain
Wriezener Karree
10243 Berlin, Germany
berghain.de
The Scene
Some say this is the last real underground club in Berlin. Once you step into the enormous building that was once a power plant, you're transported to another dimension. The crowds, made up of hardcore ravers clad in neon and party animals in full leather getups, dance to thumping techno on a 60-foot high dance floor. The interior is industrial and minimalist, with lots of colorful lights bouncing off the walls.
The place has a reputation for decadence and hedonism, and rightfully so. Inside the building, there are several dark rooms that are reserved for sex. Pop in, pop out, easy enough. Leave your camera at home, there's a strict no photography policy. Berghain is a Berlin legend that you must see for yourself (if you can manage to get in).
The Music
The music is where it's at. The club has been voted world's best techno club year after year. The music is mostly techno, tech house or minimal techno. In case you didn't know, Berghain is considered to be techno capital of the world. If you're in the mood for house, The Panorama Bar (located on top of the building) hosts well-known house and electro DJs. The clubs even have their own record label, Ostgut Tonträger.
The Drinks
While you can find me knocking back gin and tonics at the bar, on the dance floor, you can spot more types of drugs than you knew existed. The party starts Friday night, and ends on Monday morning, so I guess you'll find more than one way to keep going. The cocktails are well-mixed, although the price tag is steep, as I later found out from an outrageous bank statement. Still worth it though. Berghain is a techno temple.
The Food
No food, sorry. After spending nearly ten hours at the place, I must have been starving, but too belligerent to notice.
The Door
There are countless articles online that discuss different entrance strategies to Berghain. That's how tough the door is. Once you wait in line for what seems like a lifetime, you will be approached by a bouncer with either a scull tattooed on his shaved head, or barb wire above his eyes. From my experience, Berghain's bouncers are the scariest in the world. They will quickly glance at you and either wave you in, or demand that you leave and never return. No one has really been able to figure out what the secret, although some believe that speaking English and plaid shirts are both big no-no's.
More Spots from Food Republic: