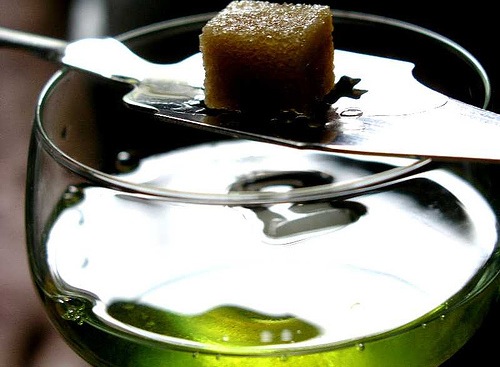 This week Simon Ford pays respect to the green goddess, one of the best and most misunderstood spirits around. And we were kidding about the whole death thing. But please friends, drink responsibly. Especially with absinthe.
My first absinthe experience was not a good one
I remember absinthe's return to Europe in 1997, ten years before its comeback in the U.S. Its sudden availability did not have much of a sophisticated cocktail culture — instead, absinthe was advertised as a shot. Many bars would designate a maximum amount they could serve patrons, which, quite frankly, increased the allure of using the spirit to get fucked up on and hallucinate. Alas, I never got to see any floating colors in front of my eyes and any of the images that had supposedly inspired artists like van Gogh and Picasso, but instead found my head in a bowl from a disgusting green liquid from the Czech Republic with a 75% ABV.
So, does absinthe make you crazy?
Absinthe gets its name from Artemisia absinthium, also known as "grand wormwood." It has digestive and stimulating properties and contains a molecule called thuyone, which is considered to be a neurotoxin and likely the source of absinthe's reputation. These days, the levels of thuyone in absinthe are controlled by law, obliterating any notion of craziness being brought on by its consumption. Essentially, there is no need to worry that you might chop off your own ear (as was allegedly the case with van Gogh).
Absinthe really is…
A beautifully complex spirit with strong flavors of anise supported by of herbs like melissa, hyssop, coriander and fennel. It has a very strong and powerful flavor and only takes a little splash to be noticed in a cocktail. For example, the Sazerac's defining character comes from washing the glass with absinthe. These complex flavors become subtler when water is added, the primary method in which absinthe is consumed. The best way to serve the spirit this way is with an absinthe fountain.
Absinthe is legal again
I just so happened to be at Tales of the Cocktail, the annual giant bartender geek fest in New Orleans, on the 17th of July 2007, the day absinthe became legal in the United States for the first time since its ban during Prohibition. It was declared that absinthe was in fact not a dangerous spirit with hallucinogenic qualities, and could now join other classic anise-flavored selections on the back bar. It suddenly seemed that fables and myths of the notoriously naughty drink were being challenged, with a potential risk of taking the fun out of drinking the "green fairy."
The traditional absinthe service
Absinthe should be drunk diluted, and there is no more lavish and beautiful way to dilute the drink than with an absinthe fountain. If you check out eBay, you can find vintage Belle Époque designs and modern fountains alike. For the service you will need: a glass of fine absinthe for each person, one absinthe fountain filled with chilled water, absinthe spoons and sugar cubes. The serve is simple: place the spoon over a filled glass of absinthe with the sugar cube on it and sit it underneath one of the taps on the fountain. Slowly drip water over the sugar until it has dissolved. You should look to have about four to six parts water per one part absinthe.
Recommended absinthes
Pernod Absinthe
Founded in 1805, Pernod Absinthe is undoubtedly one of the spirit world's true treasures. The brand is largely responsible for absinthe's popularity on the Parisian boulevards in the 1800s — just think of all those excellent Toulouse-Lautrec posters depicting Paris's bourgeoisie being served absinthe. It was re-launched in 2001 and is still one of the best, with a combination of flavorful herbs and an ABV of 68%.
St. George Absinthe Verte
This spirit is distilled in California by one of the craft distillers leading the way. It's a spicy absinthe with hints of soft herbs like basil on the finish.
Vieux Carré Absinthe
Named after the New Orleans French Quarter, a well-known place for absinthe consumption, Vieux Carré has flavors of spearmint, génépi and of course, star anise and wormwood.
Other spirits to try if you love absinthe and the flavor of anise:
Pastis
This anise-flavored spirit appeared in the coffee shops of Paris after the absinthe ban. Ricard is the most famous brand of pastis, also served best with water.
Ouzo
No trip to Greece is complete without a night on the ouzo. It's distilled from pressed grapes, berries and herbs, and its most dominating flavors are anise, fennel and liquorice.
Raki
The national spirit of Turkey is a non-sweet anise drink and is popular as an apéritif.
Sambuca
If you need a touch of sweet with your anise, this is the route for you. The anise and other spices are balanced with 350 grams of sugar per liter. It is a great as a digestif.
Herbsaint
Herbsaint is New Orleans's answer to absinthe and the closest thing to drinking it without consuming wormwood, if you are still suspicious of its qualities. It has been made by the Sazarac Company since 1934.
The best absinthe cocktail I ever tasted
In a moment of genius a few years ago, my good friend Charles Vexenat created the Green Beast, which is the best absinthe cocktail I have ever tasted. Absinthe has the starring role in this refreshing punch, which is unusual as it usually used plays a supporting role in cocktails.
The Green Beast
1 part Pernod Absinthe
1 part fresh lime juice
1 part fresh simple syrup
5 parts water
Thin cucumber slices
Build all ingredients into a punch bowl, add ice and decorate with cucumber slices. Stir and serve.
Death in the Afternoon
This cocktail was featured in Ernest Hemingway's book of the same name.
1 ounce Pernod Absinthe
4 ounces chilled Brut Champagne
Pour into a flute and serve.
A few places to drink absinthe in the United States
Be sure to check out Maison Premiere in Brooklyn, probably the finest oyster and absinthe house that I have been to. Also look out for The Dead Rabbit to open soon near Wall Street, as they will have a whole list dedicated to classic absinthe serves. Finally, you can always see a slice of absinthe-drinking history in New Orleans at the Old Absinthe House on Bourbon Street. Even though it is more suited to beer and shots these days, it remains a great bar to get a sense of drinking history.
More Drink Ford Tough on Food Republic: