"Not only is the filling a scrambled egg, the outside is also an egg—more specifically, egg yolk," explains chef Wylie Dufresne, as we poke and examine a curious yellow cube. The self-contained edible, an egg wizardly transformed into Scrambled Egg Ravioli, is the headline component in a dish from wd~50's "From the Vault" menu, a collection of the restaurant's greatest hits, so to speak.
Though the dish itself has become a golden oldie at Dufresne's groundbreaking restaurant, where gastronomy is perenially approached with original thinking, he tells us that its concept was originally inspired by a classic Italian pasta filled with scrambled egg. "I thought it'd be fun to do that, but what if the outside was eggs, as well as the inside."
On the plate, the "ravioli" is joined by charred avocado and pickled kanpachi (a type of Japanese amberjack). "In many ways, it's kind of like a breakfast," Dufresne says of the dish. "The way you'd have scrambled eggs, potatoes, maybe a little bit of fish." Pasta, eggs, breakfast…all such humble-seeming words that fade at first sight.
Read on to get the breakdown from Wylie himself.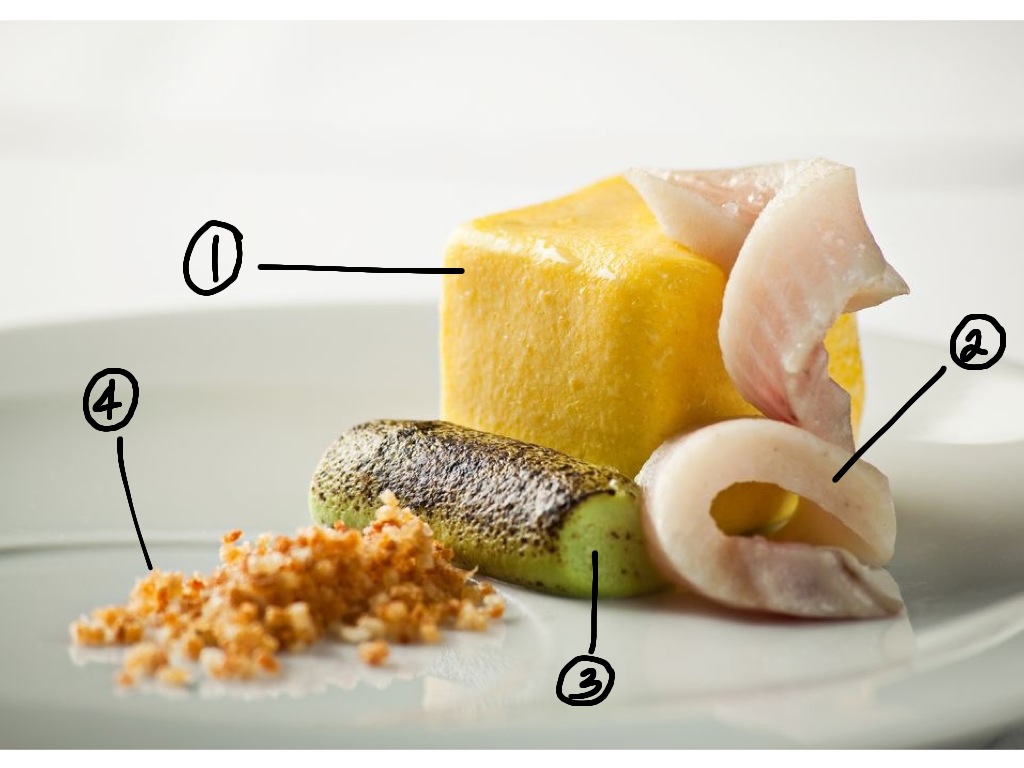 1. Scrambled Egg Ravioli | "The filling is scrambled egg and cream cheese, salt, cayenne and then some gelatin. We scramble a large portion of eggs, we put it into a pastry bag, then we pipe it into silicone square molds, which we freeze. Then we pop them out and they're like giant frozen egg ice cubes, but when they're hot, they have the consistency of creamy scrambled eggs."
2. Kindai Kanpachi | "It's a Japanese fish that's flown to us twice a week, and it's cured in sugar and salt and it's pickled in soy sauce and rice vinegar."
3. Charred Avocado | "This is avocado, and yogurt and mustard, blended together with lemon juice, and then it's piped out and burnt with a blow torch. It lends a nice smokey, charred element to the dish."
4. Potato | "This is an extremely small brunoise [finely diced preparation] of potato—fried potatoes."
wd-50, 50 Clinton St., New York, NY, 212-477-2900, wd-50.com
Other Plate Deconstructions on Food Republic: